The One Thing Fans Don't Fully Realize About Married At First Sight - Exclusive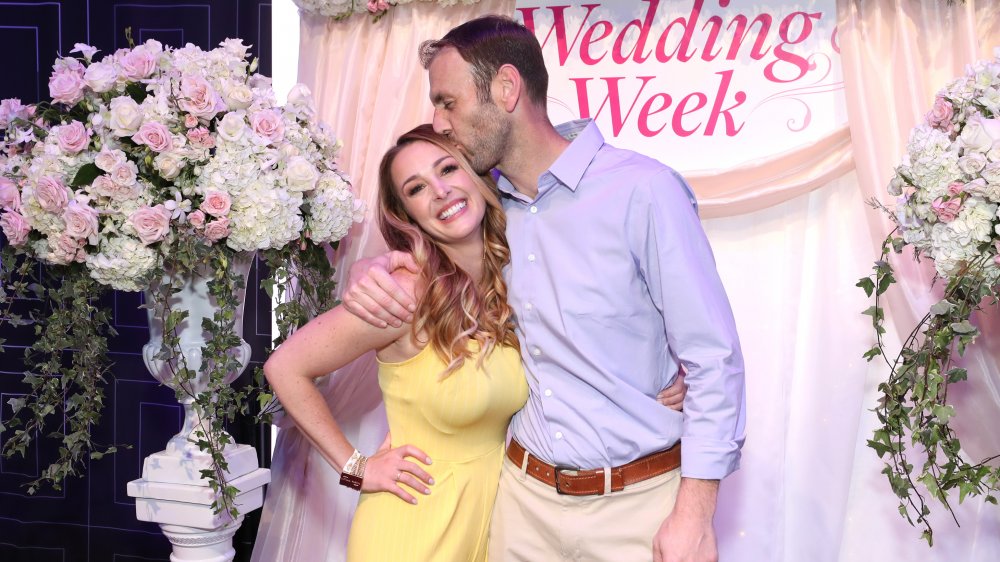 Cindy Ord/Getty Images
Reality TV doesn't get more exciting than watching a Married at First Sight couple marry, fall in love, and then decide if they want to stay together. You never know whether they'll part ways shortly after the honeymoon like Season 2's Molly and Jonathan, or say "no" at decision day, like Season 8's Kate and Luke. Of course, there's always the (thrilling) chance that the expertly paired couple will ride off into the sunset together like Season 1's Jamie Otis and Doug Hehner, who are still happily wed six years later and now parents to a toddler and a bouncing baby boy. 
But you probably do wonder how much of the drama on Married at First Sight is actually happening... or carefully produced?  With all of the tears and arguments and angry mothers-in-law, there has to be some level of staging going on, no? In an exclusive interview with The List, Jamie Otis dished on exactly how "real" this reality TV show is. 
The camera crew never goes away for Married at First Sight couples
Jamie laid any suspicions to rest that Married at First Sight is staged. "I would say that probably one thing that people don't necessarily know for sure is how real it is... It's so real," she told The List. "I think that's probably one question people ask all the time. It's just like, 'Is it just for TV or is it real?' It's definitely real!"
Unlike her experience on Bachelor and other reality TV shows that require leaving your life to live in an exotic locale, the production crew just shows up smack in the middle of your everyday life and the cameras start rolling, Jamie explained.
"I remember when we were shooting Married At First Sight, I was a nightmare," Jamie recounted of her experience in the 2014 pilot season. "I was working nights in the labor and delivery unit at Columbia Presbyterian and I would work nights and then I'd get home and there was a camera crew in my house and I was just exhausted. Every minute felt like we were filming."
Jamie cringes when she watches old episodes of Married at First Sight
With all of the cameras catching the couples in their most vulnerable states — sometimes sleep-deprived, sometimes raw from a recent argument — there is no air-brushing or sugar-coating on Married at First Sight, Jamie said. "They captured everything," she added. "It's just very raw and real. What you see is what you get."
This has made for some cringeworthy moments for Jamie, watching these episodes years later. "And then sometimes, I've watched it back myself and I was like, 'Jeez Louise, Jamie!' I had really high expectations, really hard on my husband, but that's just because I really wanted it," she said, referring to the lack of chemistry she felt when she saw Doug for the first time. "I really wanted true love and marriage. And I wasn't sure if he was as serious as I was, and as committed as I was."