The Truth About Costco's Kirkland Bacon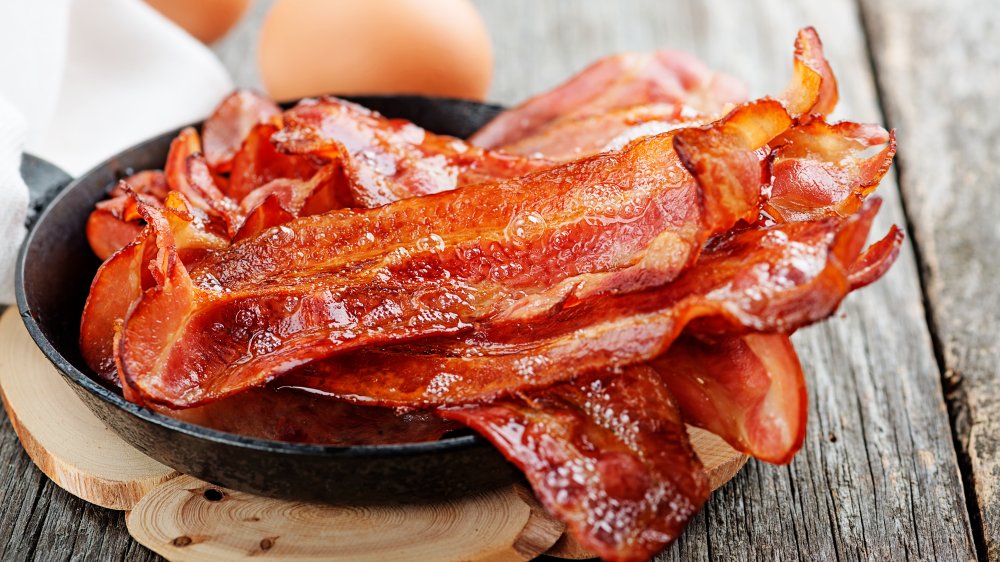 Shutterstock
Once upon a time, grocery store brands indicated a range of items that were less expensive, possibly less tasty, and likely of inferior quality. But Costco brought new meaning to private brands with Kirkland Signature, which covers everything from grocery staples to clothing lines (via Biechele-Royce). Since 1995 the Kirkland label has moved items from milk and toilet paper to household cleaners and baby diapers. While some items have been discontinued for certain reasons, others remain strong, year after year — and some, in the case of olive oil, are strong enough to attract unsolicited celebrity endorsement.
Costco's Kirkland Signature bacon got rave reviews from no less than Consumer Reports, who noted that of the different bacon brands it tested, "Kirkland Signature was the only excellent product. It crisped up nicely and consistently had balanced fat and meat flavors complemented by wood smoke and a hint of sweetness. The other pork bacons were close in quality and very good overall." In the same taste test, Consumer Reports also reported that Oscar Mayer Fully Cooked, which costs the most, rated lower than many others.
Costco's Kirkland bacon has its detractors
However, not all Costco shoppers agree with the stellar reviews of Kirkland Signature bacon. In fact, there are a few dissenting voices from reviewers who left comments on the Consumer Affairs site. One consumer wrote in November 2019: "The outside package is good, mostly meaty, but as you go further inside, it becomes white fatty, and slices are becoming so thin and cut small, that I can't properly cook them without them being burnt. Almost like a bait and switch." 
And the problem with hidden fattiness seemed to be fairly common. In a separate post dated October 2019, another consumer commented: "Looked through the packages and found what seemed to be a good looking pack. When we got home and opened the package, we noticed [two] slices weren't sticking to the others, and when we peeled them off, the rest of the package was totally different than the [two] slices. It was almost all fat! Totally deceptive packaging and a total disappointment in Kirkland Signature."
The bottomline: If you select a good package, you're sure to have the tastiest bacon at the best price — just try to choose wisely.