Here's Why You Should Be Buying Your Olive Oil From Costco
As any Costco fan will tell you, dropping name brands in favor of the warehouse store's private brand is one of the best decisions you can make when shopping at the store. According to Hip2Save, some of Costco's Kirkland Signature products are actually made by the big brands themselves — they're just available at a fraction of the cost. Cases in point: Starbucks makes Kirkland Signature coffee; Jelly Belly is behind Kirkland Signature jelly beans; and its specialty cheeses are actually from Italy and carry the all-important red Protected Designation of Origin (PDO) label, the promise from the EU that the production, processing, and processing took place in a specific region.
This brings us to Kirkland Signature's extra virgin olive oil, which continually does well in controlled taste tests. There's a reason for its success.
Costco's olive oil is top quality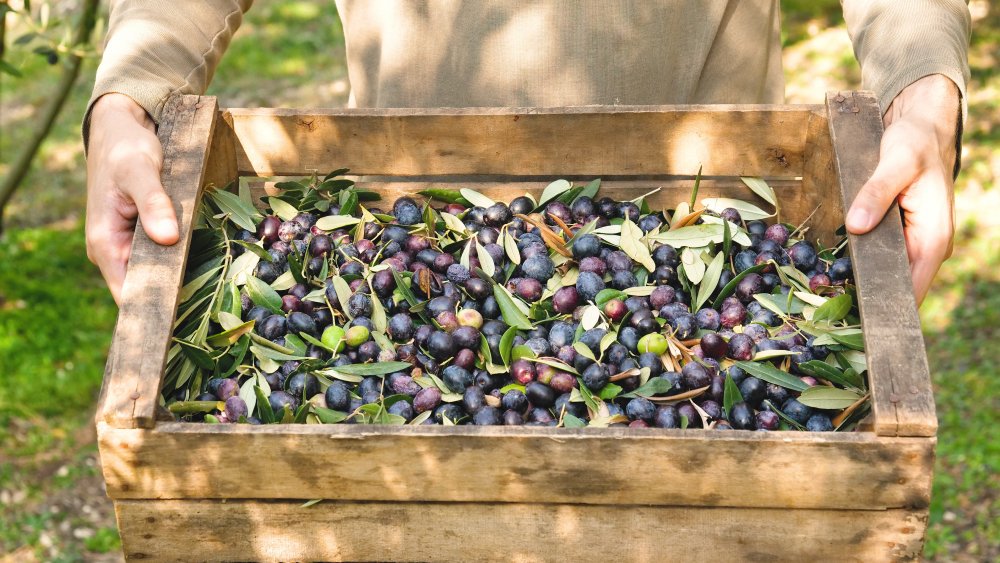 Shutterstock
There are many olive oils for sale that are not only of inferior quality, but also they can be diluted with less expensive palm oil, per the Olive Oil Times. And larger retailers that buy in bulk are more likely to get scammed, since it's harder to identify and weed out the bad oils. But that's not the case with Costco's oil.
In Costco Connection, Shauna Lopez, a corporate food buyer, said the company knew of the problems plaguing the olive oil market and had taken steps to ensure that its sourcing had integrity. "We have always been involved in this program by meeting the farmers and touring the mills and the processing plants in order to hold everyone in the olive oil production process accountable for the olives they bring in," Lopez said. "This ranges from the farmer who is registered with the mill, to the mill that grades and batches the olives as they come in daily."
The care has paid off with an endorsement from cooking star Samin Nosrat, of Netflix's Salt, Fat, Acid, Heat. Samin knows her olive oils, and the one brand she will name drop is — you guessed it — Kirkland Signature organic extra-virgin olive oil.  What can she say about it? "It's really good!" she told The Seattle Times.