Inside Naya Rivera's Relationship With Heather Morris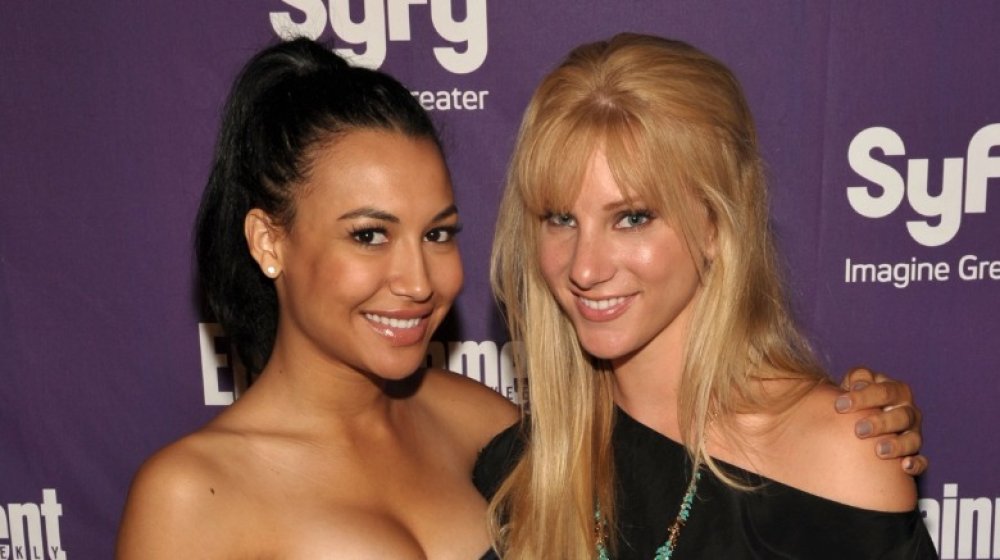 John Shearer/Getty Images
Heather Morris shared her hopes and heartbreak on the morning of July 9th when hearing about Naya Rivera's tragic water accident. In an Instagram Story she wrote, "We need all the prayers we can get to bring our Naya back home to us. We need your love and light." Unfortunately, the Ventura County Sheriff's Department has since confirmed that the body of Naya Rivera, 33, has been recovered, as reported by People on July 13. "We are confident the body we found is that of Naya Rivera," Ventura County Sheriff Bill Ayub said at a news conference. "It has been an extremely difficult time for her family throughout this ordeal ... our hearts are with them and we share in their grief for Naya's loss."
Reflecting on Glee's 10th anniversary last year, Morris shared her love of the time she played Brittany S. Pierce in partnership with Rivera's Santana Lopez. "I want to thank @mrrpmurphy @bradfalchukand #ianbrennan for the most incredible and breakthrough storyline anyone could've asked for. The fans spoke and they listened and it blossomed into something no one could've expected but I'm so honored to have represented such an incredible community. #glee10thanniversary," she wrote (via Instagram).
Sharing her love of this dynamic lesbian couple, Rivera noted that the TV relationship took time to grow and evolve, while still breaking boundaries. "In the beginning, Santana and Brittany, Heather's character, were just allowed quick pecks, because the writers had to assure the network that they were just dipping their toes in the gay pool," she explained (via Vulture).
The show ended, but the bond remained between Naya Rivera and Heather Morris
The cast of Glee continued to share bonds long after the show ended. As castmate Kevin McHale gushed in a 2019 interview, "...they immediately just sort of snapped into those roles. Like, how they ... watching them talk about their children is one of the most amazing things, because they're so obsessed with them in all the right ways, all the best ways" (via Life and Style Magazine). Rivera is survived by son Josey born in 2015, while Morris is mother to sons Elijah (born 2013) and Owen (born 2016) (via ABC News). Clearly this crew stayed in touch.
Rivera was there to root for Morris as she appeared on Dancing with the Stars in 2017. "I feel like Heather's got some big shoes to fill, but I'm not worried about her because she's a fantastic performer and a great dancer. I think she's going to bring so much fun to the show. I'm excited!" she said (via People). Continuing to promote each other's success the two ladies from Glee reunited for a 2019 trivia podcast led by fellow cast alums Jenna Ushkowitz and Kevin McHale that's full of laughs. Shared on Showmance on the LadyGang Network, Morris at one point remarks on guessing "whose line was it," "I think we get ours confused most of the time because we were together every time we said these lines."
With memories so intertwined, we can only imagine a hole has opened for Morris at this time. Our sincerest thoughts and wishes for healing are with both families.