The Royal Protocol Meghan Markle Just Violated
In her first public appearance since "Megxit" — when she and Prince Harry stepped down from their royal duties – Meghan Markle has just given the monarchy's official dress etiquette the cold shoulder. Wearing a stunning blue dress that did not hide her shoulders, Meghan delivered an empowering speech at the virtual 2020 Girl Up Leadership Summit. If you're following royal dress code — which, really, Meghan never has, even when she was acting in official capacity as the Duchess of Sussex — this is a big no-no. According to The Sun, exposed shoulders are among the many possible violations of a set of rules that Princess Diana also enjoyed ignoring. 
But given the content of Meghan's speech, perhaps that might have been the point? Speaking from her California home during a digital event aimed at empowering young women, Meghan said, "Your generation is often referred to as digital natives, and you understand that our online world has the power to affirm and support as much as it does to harm." Meghan's mic-drop comment, "We are not meant to be breaking each other down; we are meant to be building each other up," certainly does raise a point to anyone questioning why Meghan wasn't more covered up.
Meghan Markle is empowering young women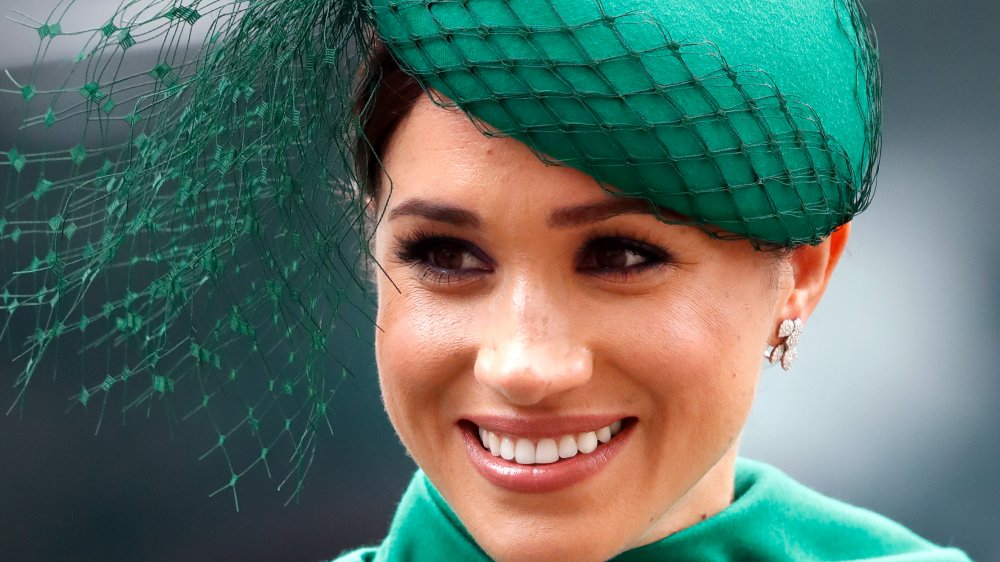 Max Mumby/indigo/Getty Images
In Meghan's eight-minute address to the Girl Up community, she repeatedly reminded young women that they have the power to shape the future. "Those in the halls and corridors of power, from lawmakers, to world leaders, to executives — all of those people — they depend upon you more than you will ever depend on them," she said. "This is a humanity that desperately needs you to push us forcefully in a more inclusive, more just, and more empathetic direction." The Girl Up speech follows the tone Meghan recently set in a high school graduation address she'd delivered to her alma matter, Immaculate Heart High School in Los Angeles, in which she spoke out against racial injustice.
Those who saw Meghan's Girl Up address did not seem at all bothered by the sight of her shoulders and praised her smart attire. "I love her speech. It was uplifting and inspiring. She looked young, gorgeous and beautiful. The world needs more people like her," commented one Instagram user. "Accomplished and eloquent have never looked more sexy," added another fan.