Kathie Lee Gifford Shares Heart-Wrenching Tribute To Regis Philbin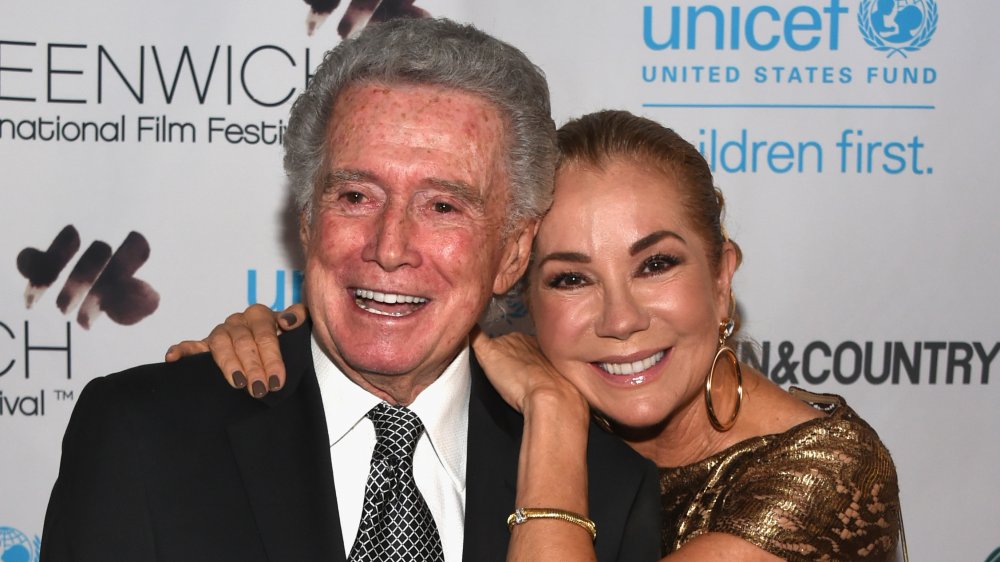 Andrew H. Walker/Getty Images
They sat next to each other for the better part of 15 years, day in and day out, simultaneously entertaining their fans and annoying their producer Gelman on the popular talk show Live! with Regis and Kathie Lee. Gifford and Philbin were what America woke up to Monday through Friday, and their rapport was something special. 
With the news that Regis Philbin has passed away Friday, July 24, at the age of 88, Hollywood is in mourning, and Kathie Lee is heartbroken at the loss of her longtime friend and colleague. Taking first to Twitter with the simple but true statement, Gifford said only: "REGIS. There will never be another." Shortly thereafter, however, Gifford took to Instagram to share more insight into her relationship with Philbin, expressing her thoughts on the sad death of the television legend. 
Regis and Kathie Lee shared a special bond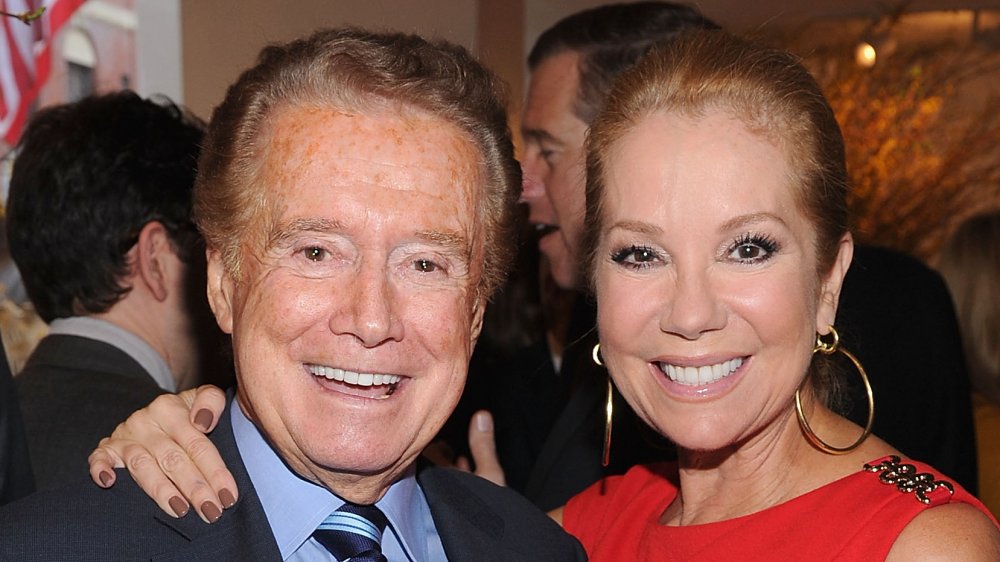 Dimitrios Kambouris/Getty Images
When you spend as much time together as Regis and Kathie Lee did, you're bound to both delight and annoy each other, and that was what made the pair so engaging. The close bond the two shared seemed more like that of family than of friends, and Gifford's statement on Philbin's passing reflects that. 
"There are no words to fully express the love I have for my precious friend, Regis. I simply adored him and every day with him was a gift," Gifford wrote on Instagram on July 25. "We spent 15 years together bantering and bickering and laughing ourselves silly — a tradition and a friendship we shared up to this very day. I smile knowing somewhere in Heaven, at this very moment, he's making someone laugh. It brings me great comfort knowing that he had a personal relationship with his Lord that brought him great peace. I send all the love in my heart to Joy, to his children, to the rest of his family and to the innumerable people he touched over his legendary life. There has never been anyone like him. And there never will be."
Touching tributes flow in from the pair's fans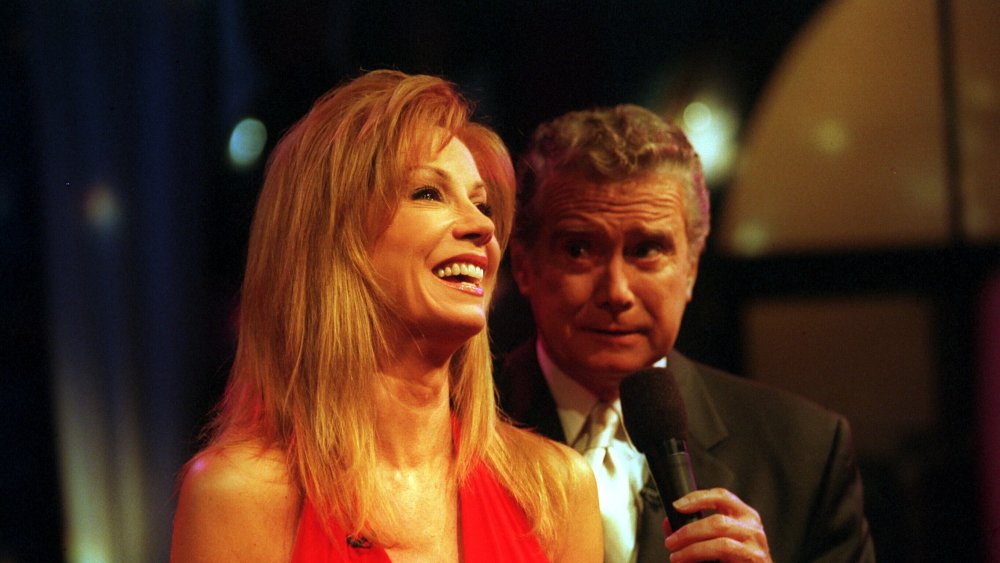 Evan Agostini/Getty Images
Kathie Lee's strong bond and easy, on-screen charm with Regis over the years, right in everyone's living room, meant that they were beloved for a very long time by many people. On Kathie Lee's touching Instagram tribute, fans reached out to tell her just how much the two of them really meant to their viewers. One commenter wrote, "RIP, loved him especially when he was with you, Kathie Lee! You, two, were magical together!" The memories didn't stop there. "Beautiful," another viewer wrote in response to Kathie Lee's tribute. "Together you were a joy to watch as I was beginning my family. Thank you for the memories."
Another commenter noted, "What a beautiful tribute. I immediately thought of you when I saw the news. You two had a special relationship. I am so sorry for your loss. He was one of a kind." Many people, as it turns out, thought of Kathie Lee right away when they found out Regis had passed away. "My first thoughts after hearing the news was for your loss of such a wonderful friendship!" another wrote.
Another viewer might have summed it up best. "I loved watching you and Regis together in the '80s and '90s," they wrote. "I always felt like I was having coffee with my friends while watching you. You had such a special chemistry together."
Kathie Lee last saw Regis two weeks ago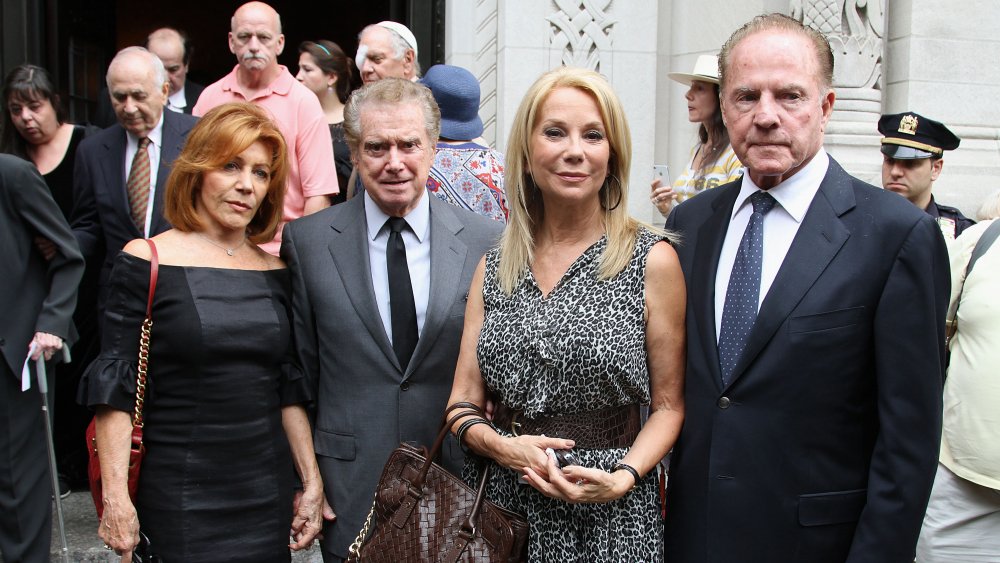 Rob Kim/Getty Images
According to Page Six, Kathie Lee last saw Regis just a couple of weeks ago, and she spoke with the Today show about their final get together. She felt something had changed with her friend this time, though — she explained that he seemed even more fragile than the last time she saw him just six months prior.
She recounted that two weeks ago, she had traveled to LA from her home in Tennessee and, as she often did, called Regis and Joy immediately so they could all catch up. She invited them to lunch, and they had an amazing time together. 
"We just had the best time," she remembered. After the couple left, though, she said, "I just thought to myself, 'Lord, is that the last time I'm going to see my friend?' Cause he was failing, I could tell."
After she received news of his death, she spoke with Joy, who told her that their recent visit had really boosted his spirits. Kathie Lee remembered, "And it was so precious because when I talked to Joy the day that I found out right after he had passed, she said, 'Kathie he hadn't laughed in a long, long time.'"