What Alanis Morissette's Reasons I Drink Is Really About
Alanis Morissette's song, "Reasons I Drink," was released as the lead single of her newest album, Such Pretty Forks in the Road. The entire song is powerful, starting with its opening lines (per Genius): "These are the reasons I drink/ The reasons I tell everybody I'm fine even though I am not/ These are the reasons I overdo it."
While the title suggests that the song is about alcohol, "Reasons I Drink" explores a broader theme of addiction. The music video for the song shows four different versions of Morissette as she attends Alcoholics Anonymous meetings (per Rolling Stone).
Morissette has been frank about her own battles with addiction. "I'm such an addict," she told The Guardian, listing her main addictions as "work addiction, love addiction, and food addiction." Morissette said her work addiction dates back to "when I was single digits," which she alludes to in her song with the lyric "I have been working since I can remember, since I was single digits." As noted by Hello!, Morissette started learning to play the piano when she was just 6, and landed her first record deal when she was still a teenager.
Alanis Morissette has 'a lot of empathy' for those struggling with addiction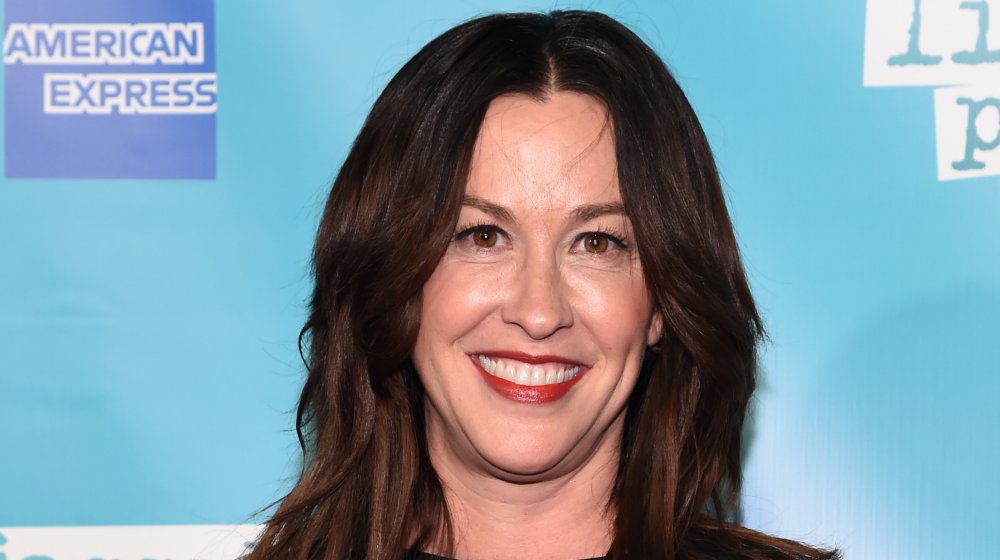 Daniel Zuchnik/Getty Images
Morissette also struggled with eating disorders as a young adult, something she has compared to the struggle of someone addicted to alcohol or drugs. "The big question for me around eating-disorder recovery is, 'What is sobriety with food?'" Morissette told Women's Health. "We know with alcohol, you just don't drink it and don't go to a bar. With heroin, you just don't go near it. Whereas with food, you have to eat, so how can one go from, in my case, bingeing and purging, starving, overeating, the scale going up and down — how can I go from that to a 'sober' approach?"
The singer touches on this in "Reasons I Drink," singing, "And here are the reasons I eat/ Reasons I feel everything so deeply when I'm not medicated."
In an interview with Rolling Stone, Morissette opened up about the meaning behind "Reasons I Drink." She said, "There's such a tendency to shame people and judge people who are reaching for the billions of whack-a-mole addictions that are out there. But the center of all of it is people — myself included — just seeking relief from being dysregulated... For those who have any kind of addiction — work, sex, alcohol, any kind of drugs — I have a lot of empathy for me and them, because not only are they struggling with seeking relief, but also with being judged."