Why Sister Wives Fans Think Meri And Kody Brown's Marriage Is In Trouble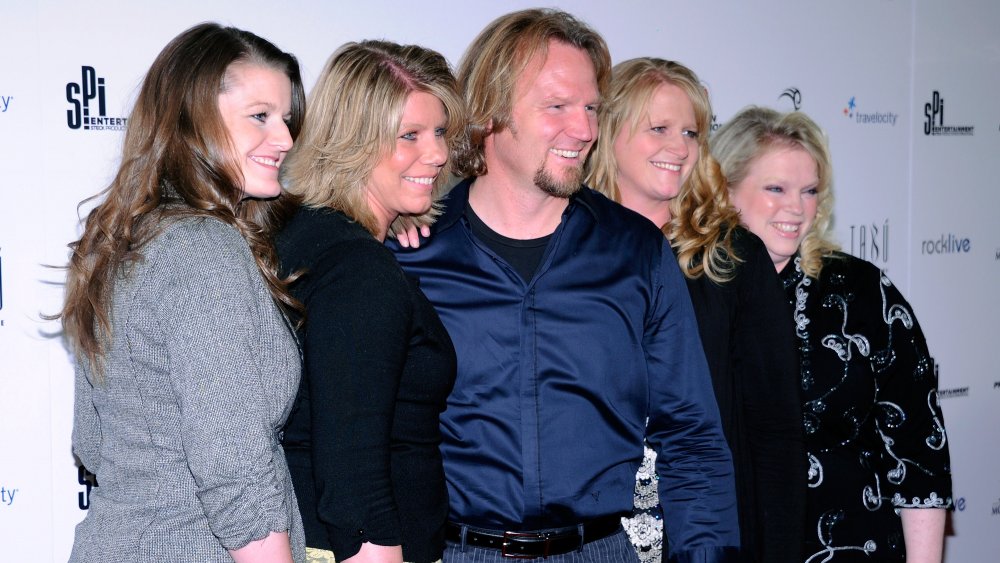 Ethan Miller/Getty Images
We may receive a commission on purchases made from links.
Every marriage has its rough patches, especially when one person is in more than one marriage, like Sister Wives star Kody Brown. Kody and his wives, Meri, Janelle, Christine, and Robyn, have shared their relationship issues with their fans since the series premiered on TLC in 2010 (via IMDb). So far, Kody's marriages have survived everything from catfishing to infertility. But fans have started to speculate that Kody and his first wife, Meri, might have actually split for good. What brought Kody and Meri's marriage to the brink? And has Meri left clues on her social media that she and Kody are officially done?
Meri and Kody have had issues in the past
In 2014, Meri and Kody legally divorced, allowing him to legally marry his newest wife, Robyn (via Good Housekeeping). The new marriage allowed Kody to legally adopt Robyn's children from her previous marriage. Despite the practical rationale, Meri initially struggled with the "legal restructure" of her almost 25-year marriage.
Things got even more complicated in 2015, when Meri was catfished by a notorious online scammer (via InTouch). Meri had an emotional relationship with someone she met on Twitter and knew as a man named "Sam Cooper," a businessman in his 40s. After six months of online communication, Meri learned Sam was actually Jackie Overton, a woman who had scammed others before. She ended the relationship, and Jackie retaliated by releasing her texts with Meri, even writing a book called Almost Meri'd. (You might want to skip it ー apart from publishing the book being a gross thing to do, reviews say Jackie isn't a great writer.) While Meri and Kody worked to mend their relationship after the scandal, they continued to bring the issue up in their on-show marriage counseling.
The clues about Meri and Kody's breakup
Fans have been scouring Meri's social media presence, looking for signs that she and Kody have finally broken up for good. Recently, Meri's Instagram seems to reveal that a breakup might be in the works (via The U.S. Sun). She's posted a few pictures where she's not wearing her wedding ring. Meri is pretty active on Instagram, but hasn't posted a photo with Kody since 2019. 
On Wednesday, Meri posted an adorable slideshow of throwback pictures for her daughter Mariah's 25th birthday. Kody was notably absent, both in the photos and the caption. Add that to the cryptic quotes she's been posting to her stories? It seems pretty obvious that something's brewing. Meri hasn't commented on her speculated split. Instead, she seems focused on her B&B, Lizzie's Heritage Inn in Parowan, Utah, and working out as part of her weight loss journey. Honestly, in all of Meri's recent posts, she's glowing. Who needs Kody Brown? Come on, girl, channel your inner Taylor Swift.