What Jennifer Lopez Really Looks Like Without All That Makeup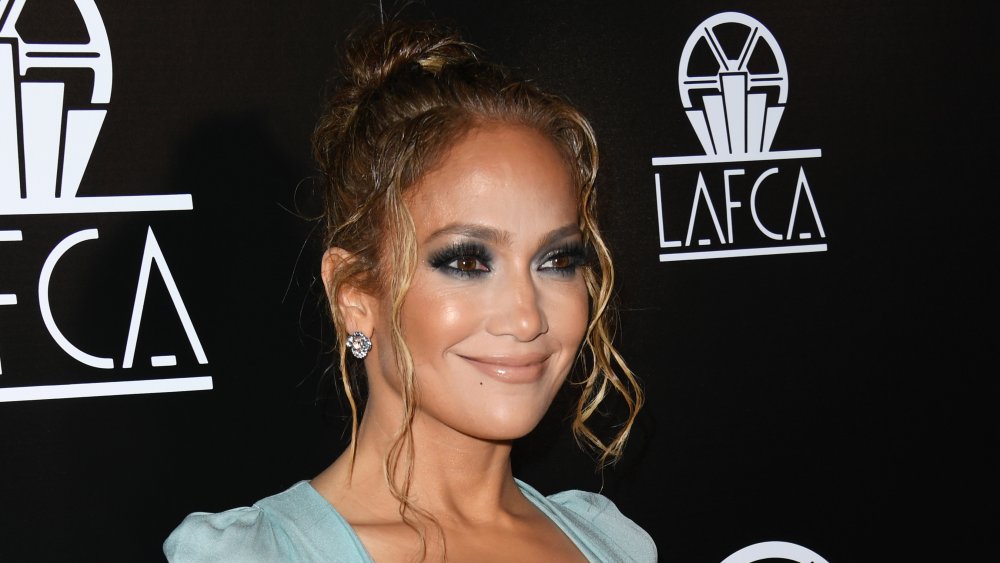 Jon Kopaloff/Getty Images
Looking at Jennifer Lopez's newest bare-faced selfie, it's hard to believe she's 51. When she's on the red carpet, Jenny from the Block isn't afraid to slap on some serious makeup. She loves to rock a super smoky eye and a nude glossed lip (via InStyle). Fans are so used to seeing Lopez with a full face for work, it's hard to imagine what she looks like relaxing around the house.
Normally, her schedule is jam-packed with acting, hosting, singing, dancing, and producing. But during quarantine with her kids and fiancé Alex Rodriguez, Lopez has taken the chance to let her hair down and show fans her more natural side. Recently, she posted a practically makeup free selfie to Instagram with the hashtag #morningface. She wore a cozy-looking white robe, with what looks like some eyeliner leftover from the night before. The post quickly accumulated over 2 million likes, with comments calling her "glowing." Other comments praised Lopez for being "real and beautiful," while others doubted whether Lopez had digitally enhanced her natural beauty. "Ugh not even my coffee filters like this...." one commenter speculated. 
As unbelievable as Lopez's skin might look, she soon posted another make-up free video in her robe. While she gushed about her excitement being back on set shooting a video, the morning sun showed off her smooth, blemish-free face. It's easy to envy how Lopez looks when she wakes up, but it turns out keeping her face looking wrinkle-free takes a lot of work.
How JLo keeps her skin looking great at 51
Jennifer Lopez hasn't been shy about sharing how she keeps her skin looking so incredible. First up: slather on the SPF. She told Hollywood Life, "I'm rarely in the sun, but if I am, I wear a lot of sunscreen. I've never been one to take a lot of sun, which is why my skin has maintained itself. And I don't drink or smoke or have caffeine. That really wrecks your skin as you get older." Lopez applies the same discipline to her diet that she does to her SPF. Lopez credits her skin's youthful glow with her habits of constantly drinking water and making sure to snack on plenty of fruits and vegetables (via People).
Of course, JLo's amazing skin doesn't just come from her healthy lifestyle. Naturally, there are skincare products involved. She told People that she loves glycolic acid "to get that healthy glow and clear skin." She also washes off her makeup at night religiously. While all that sounds overwhelming, there's one aspect of her beauty routine that's perfect for lazy girls: sleeping. "The number one tip is to always get enough sleep. I can't stress this enough. Ideally I would love to get nine or 10 hours of sleep, but either way, I always make sure I get at least eight," she told InStyle. Not only is it good for her skin, all that sleep must be why she's been able to resist the siren call of caffeine.
Jennifer Lopez's usual make-up routine is extensive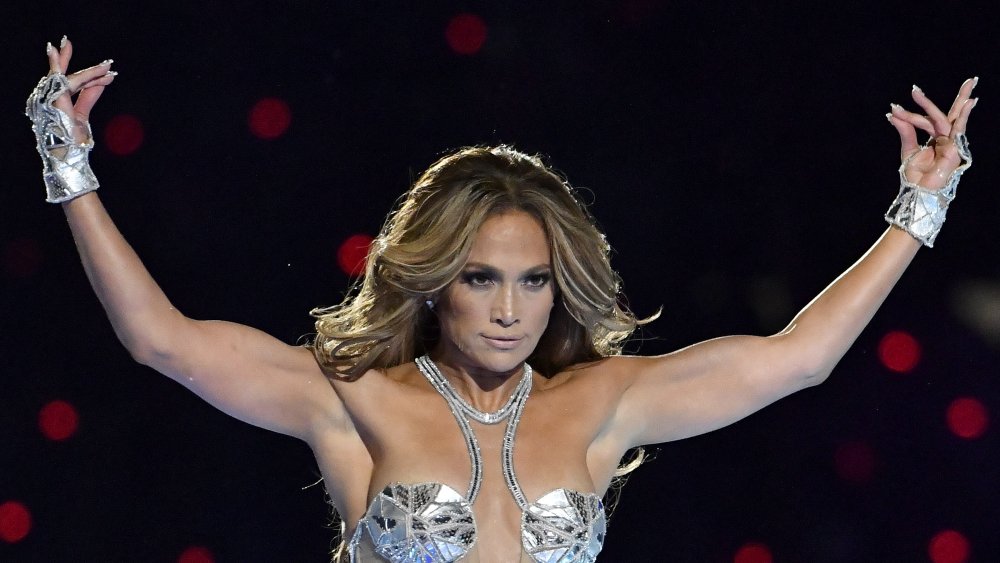 Focus On Sport/Getty Images
When Lopez is lounging at home, she might feel comfortable going bare-faced. However, when she's onstage, Lopez uses a seriously huge amount of products to match her major fashion and hair choices. In 2018, when Lopez was performing in her Las Vegas concert residency "All I Have," her longtime make-up artist, Scott Barnes, offered Allure a peek backstage at her dressing room. Her vanity was laid out with dozens of make-up products and cups full of well-maintained brushes. Makes sense, since Lopez's face has to shine under the bright lights of Vegas, and withstand dancing and costume changes.
In fact, when Allure asked Barnes to break down Lopez's most essential products, he could only narrow it down to eleven. Lopez's taste in make-up ranges from eye-wateringly pricy to surprisingly wallet-friendly. Lopez is big on La Mer The Moisturizing Soft Cream, which costs $190. Barnes told Byrdie, "Skin prep is really important because you want to make sure the skin is hydrated and plumped before applying foundation and concealer or it won't look right." Proper moisturizing keeps make-up from settling into any creases through long wear.
If La Mer isn't in the budget, you can still stay at Lopez's level with a popular lip salve which is a bargain at just $6. Lopez apparently lives for Rosebud Perfume Co. Rosebud Salve, which is a favorite among celebrities including Nicky Hilton. The rose-scented lip salve keeps Lopez's lips hydrated between frequent lipstick changes.