Body Language Expert Reveals What Meghan Markle Really Thinks About Kate Middleton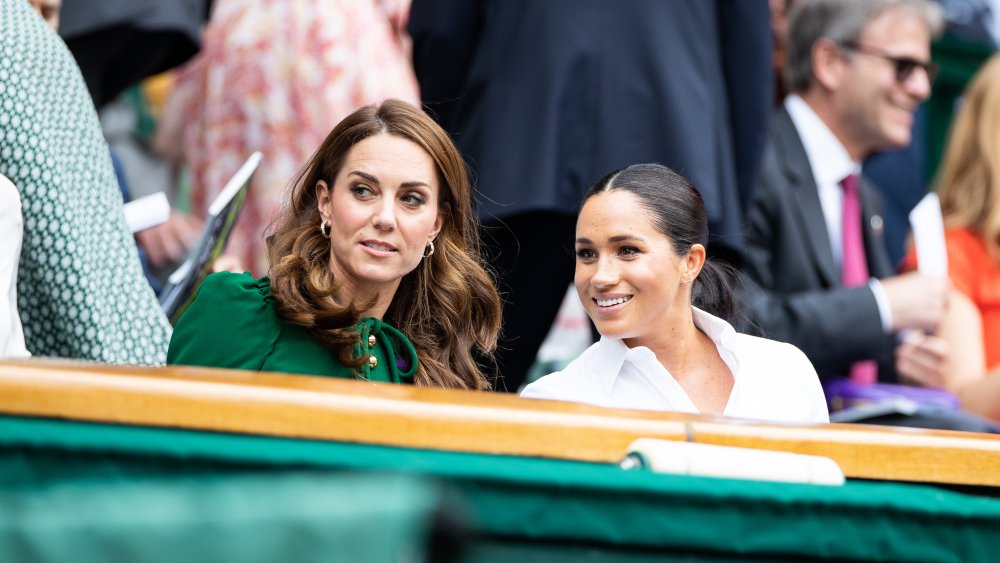 Simon M Bruty/Getty Images
Sisters-in-law Kate Middleton and Meghan Markle would seem to have so much in common. Both are in their late 30s, both are mothers, and most significantly, they are the wives of men born into the paparazzi-stalked royal family. Their spouses, Prince William and Prince Harry, are sons of the late Princess Diana, and they are subject to a level of an unwavering scrutiny more intense than what even Hollywood celebrities and politicians endure. 
You would think that the experience of marrying into the monarchy would have forged an enduring bond between Kate and Meghan. A forthcoming book written by royal reporters Omid Scobie and Elle.com royal contributor Carolyn Durand, however, suggests that there's been a rift since Megxit — when Meghan and Harry stepped away from their royal duties last year. In an excerpt from Finding Freedom: Harry and Meghan and the Making of a Modern Royal Family shared with Elle, the authors noted the "cordial but distant rapport" between Kate and Meghan at an event in July 2019 shortly after Archie was born. The book also revealed that the two couples took steps to repair their strained relationship in the second half of 2019, but Harry and Meghan's decision to take a step back as working members of the royal family in January 2020 "soured the good will," as Elle reported.
So are the women indeed on the outs? Body language expert Mollie Birney, a therapist and clinical coach, has picked up on subtle cues that suggest what Meghan Markle really thinks about Kate Middleton — and how her attitude may have changed post-Megxit. In an interview with The List, Birney explained how Meghan's gestures, facial expressions, and posture reveal how this Duchess of Sussex truly feels about the Duchess of Cambridge.
Meghan has been fake-smiling at Kate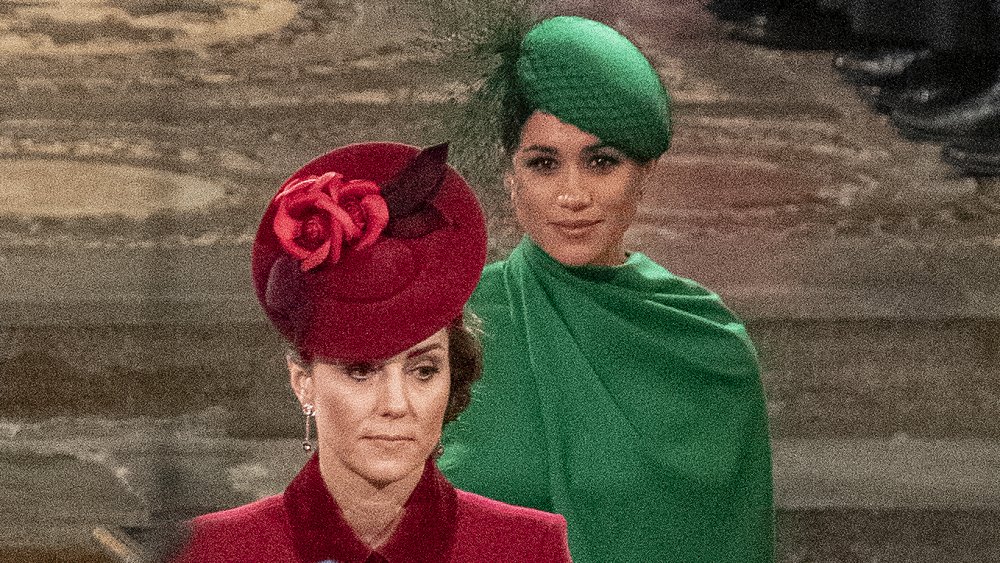 Wpa Pool/Getty Images
At the Commonwealth Day service at Westminster Abbey in March 2020, the most recent recorded event when Kate and Meghan were spotted together, the tension between the two ladies was detectable from both women, though in very different ways. For Meghan's part, the way she smiled at Kate (and everyone else) was indicative of something being off. On the flip side, Kate seemed to be totally indifferent — sometimes a lack of response speaks louder than words. 
"What I'm struck by most in the video is how Meghan's smile is absolutely unwavering throughout the procession, through finding her seat and observing the other guests, and has the appearance of being fairly forced. It's not a relaxed, authentic smile, it's tense and forced," Birney emphasized. Kate looks past Meghan, not giving her the time of day, but Meghan's grin is unwavering. "She continues to smile, despite being ignored by Kate, who makes absolutely no effort to make eye contact with her despite being well within her eye line. No one else around Meghan is smiling either, so it really does stand out," Birney said.
Could Meghan be smiling simply because she's... happy? Birney waved off that idea. "While it's possible she's just exuberantly happy to be at the event, this looks more like someone making a concerted effort to appear to be un-phased by being snubbed, and impervious to the rumors about the friction between her and Kate," Birney said. "Essentially, she's faking it."
Pre-Megxit, there was more warmth between Meghan and Kate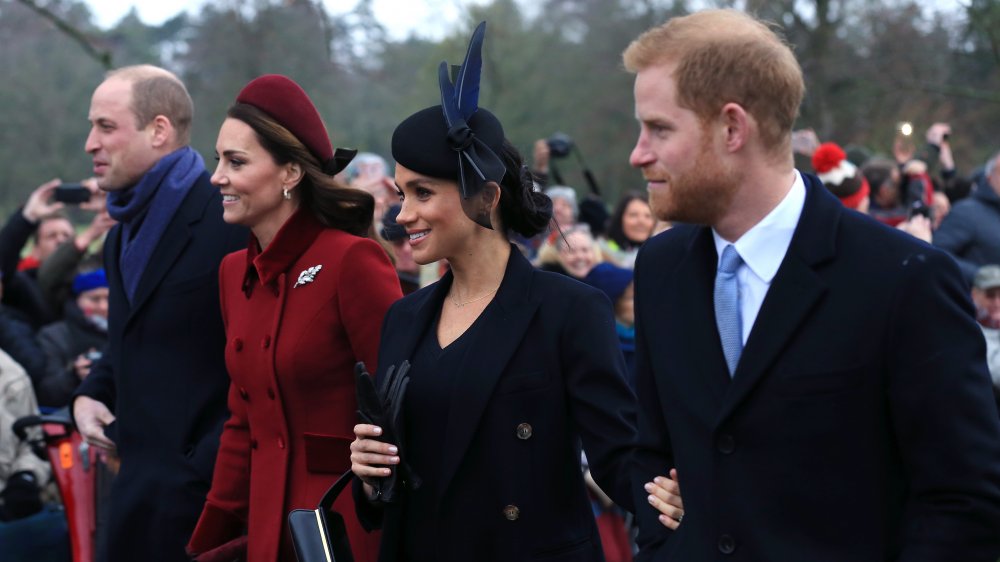 Stephen Pond/Getty Images
The body language between Meghan and Kate was much warmer in previous interactions, Birney observed. She pointed to a video of them interacting on Christmas Day, 2018. "It's a very different kind of interaction," Birney observed. "The two lean subtly in towards one another as they walk from the church," she said. "They do make repeated eye contact, and seem to have a much warmer, kinder interaction."
This connection, Birney observed, suggests genuine caring between the women. "Although it wasn't exactly intimate, the body language indicated warmth and even a little playfulness," Birney added. "You'll note in this 2018 video, Meghan's smile is softer, more authentic, and more reflected in her eyes than just her mouth." This wasn't the first Christmas the two couples enjoyed together. A source told People that Kate Middleton, Prince William, Prince Harry, and Meghan Markle spent Christmas together in 2017 as well, revealing that they "all had a wonderful time." The source elaborated: "I think the two women got on — they are definitely not best friends, but it was a really special time for them all to spend together."
The Finding Freedom book suggests Kate and Prince William were miffed that they weren't consulted about Meghan and Harry's departure from their royal responsibilities — this would certainly explain why the body language between the royals has cooled off since their earlier, happier days together.