The Surprising Friends Connection You Missed On Grace And Frankie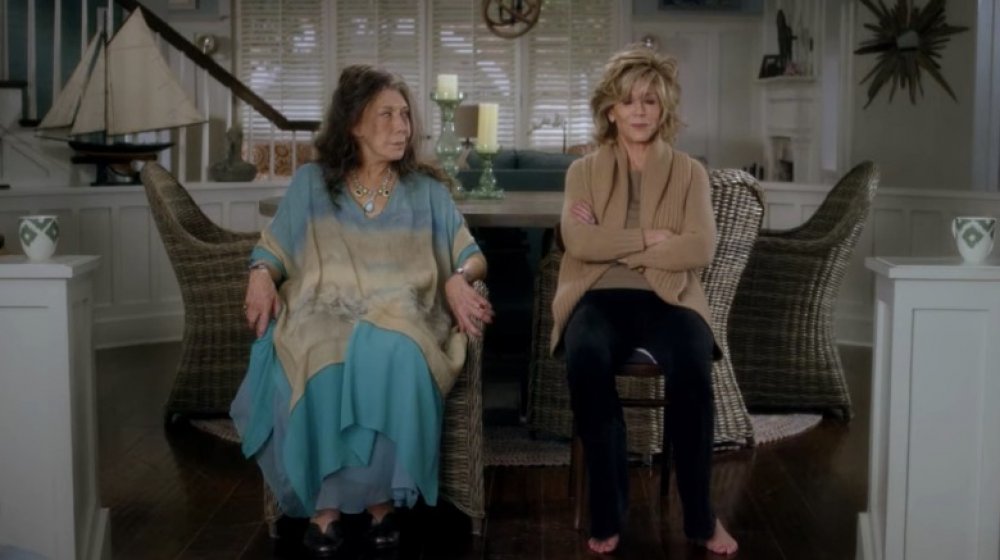 Netflix
You're still all busy crying over the imminent end to Grace and Frankie. We're crying with you. If nothing else, Grace and Frankie let the world know that women's lives don't stop being sexy, interesting, or purpose-driven after they reach the age of 50. And, while we won't have to say a final goodbye to the show until season 7 airs in 2021, none of us wants to envision a Netflix without it (via Pop Culture Times). 
While you're busy throwing your Grace-and-Frankie-shouldn't-be-canceld temper tantrum, we'll add another reason to punch the air in frustration. As it turns out, in waving goodbye to the hit sitcom, we're saying so long to another masterpiece created by Marta Kauffman. You probably remember Kauffman's last name from watching 10 years' worth of opening credits between 1994 to 2004. That's because she's none other than the co-creator of the show we grew up loving, Friends (via Cheatsheet). 
Once you make this connection, other themes in the hit Netflix series start to make sense. As Kauffman told Vanity Fair in 2012, while writing Friends, she was constantly pushing up against broadcast standards that censored even safe sex. "For a long time, we couldn't show a condom wrapper," Kauffman complained. Is it any wonder she was eager to push the boundaries in Grace and Frankie? 
Kauffman's connection to the series also demystifies Lisa Kudrow's guest appearance on the show. 
The story behind Lisa Kudrow's character in Grace and Frankie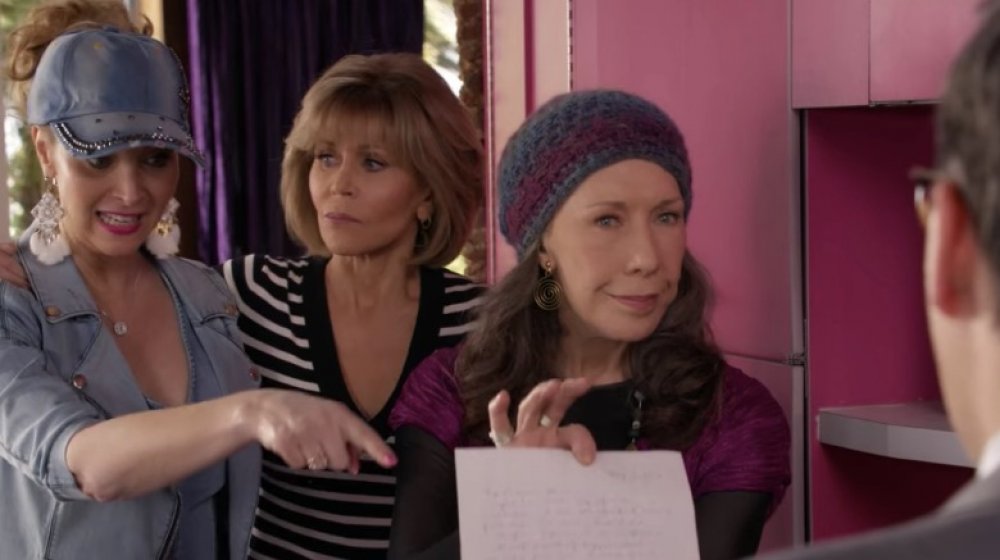 Netflix
For those of you who are still working your way through season 3 of Grace and Frankie, season 4 is one of our favorites. Critics call it "finely tuned" and "funnier than ever" (via Rotten Tomatoes). Jane Fonda (as Grace) and Lily Tomlin (as Frankie) rock it, as always. That's a given. But we suspect that one of the reasons the season stands out is Lisa Kudrow. 
Kudrow (aka Phoebe Buffay in Friends) guest-starred as Sheree, Grace's manicurist, and third wheel to Grace and Frankie (via The Hollywood Reporter). We would have loved Kudrow as Sheree for her rhinestone-studded accessories and velour tracksuits alone. But Kudrow's loveable performance makes Sheree into a memorable character, despite the fact she's only on the show for three of the season's 13 episodes (via IndieWire). 
How did Kudrow end up on Grace and Frankie? Thanks to Kauffman, of course. Kudrow told The Hollywood Reporter, "Marta called me up and said, 'Would you do three episodes?' I agreed to it before I knew the role."  In a confession that feels more true to her Phoebe character than anything else, Kudrow further told The Hollywood Reporter that her favorite scene was "the one with Rolo muffins. Because I got to save one and I was very excited to taste it."