The Reason Cameron Diaz Quit Acting
Tibrina Hobson/Getty Images
Cameron Diaz was once one of the brightest stars in Hollywood, but she hasn't done much acting lately. Her IMDb page is bursting with credits, but there hasn't been a new one since she played Hannigan in Annie, which was released in 2014. Where has Diaz been?
As Diaz explained to Gwyneth Paltrow on her digital series, In goop Health: The Sessions, she's just been living her life and welcoming the less frantic pace now that she isn't acting. "I just decided that I wanted different things out of my life," she said. "I had gone so hard for so long, working, making films and it's such a grind. I didn't really make any space for my personal life." Now that she isn't acting, Diaz said that her life is much happier. "I got a peace in my soul... I finally was taking care of myself," she said.
Diaz explained that stepping away from the industry has allowed her to focus on relationships with family and friends. "When you're making a movie, it's a perfect excuse — they own you," she said. "You're there for 12 hours a day for months on end and you have no time for anything else. Actors are infantilized. We're put in a position where everything is taken care of for us."
Will Cameron Diaz ever return to acting?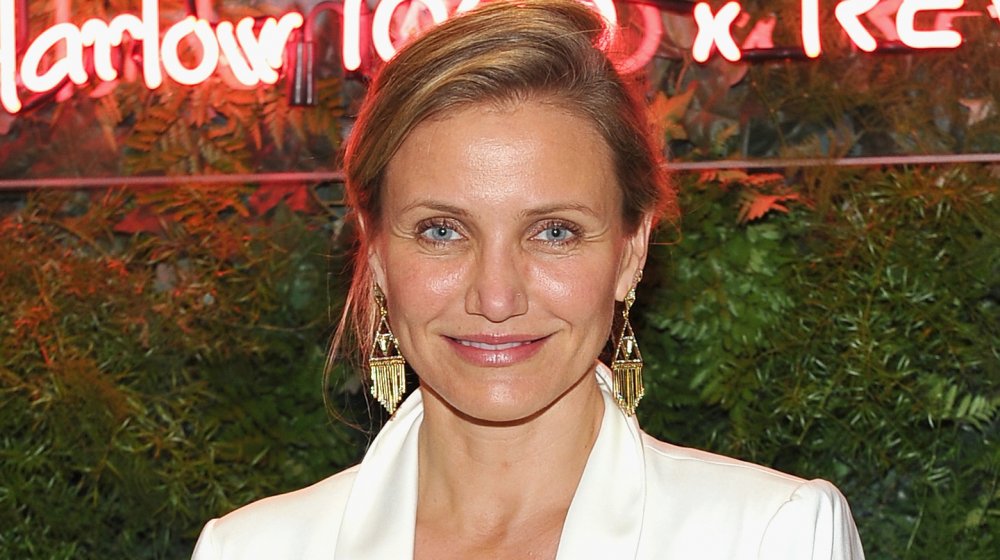 Donato Sardella/Getty Images
After she quit acting, Diaz was determined to be "self-sufficient" and focused on "putting all the pieces of my life together the way that I wanted it to be put together, not how other people thought it should go."
Stepping out of the public eye has been good for Diaz. "There's a lot of energy coming at you at all times when you're really visible as an actor and doing press and putting yourself out there," she said.
Now, she's focused on her family. The former actress tied the knot with Benji Madden in 2015 (per CNN) and welcomed their daughter, Raddix Madden, earlier this year. Diaz has also written two books since she quit acting, The Body Book and The Longevity Book. Diaz hasn't shut the door to a Hollywood comeback, though. "Look, I'm never going to say never," she said on Westman Atelier's web series Makeup & Friends in April. "I'm not a person who says never about anything."