The Real Reason Everyone Is Buying Flip Flops Right Now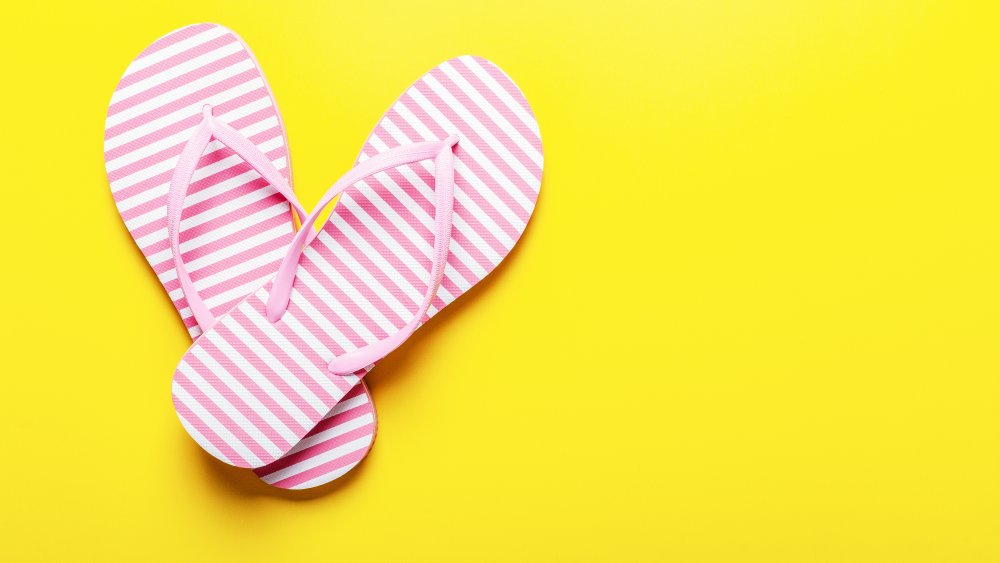 Shutterstock
Flip flops have long been a summer staple, but lately they have become more popular than ever. Sales of the footwear have surged recently. Lyst, an online fashion search business, reported that searches of flip flops have increased by 53 percent since June. Why are flip flops so popular right now? 
It's all about comfort. WIth more people working from home than ever due to the COVID-19 pandemic, people are doing away with their uncomfortable work clothes and opting for more relaxing styles. Lyst reported that searches for comfortable clothing have also been on the rise lately, with search terms like "oversized" and "loose-fitting" seeing more use.
"With remote work more popular than ever, buying patterns no longer have to centre around office attire or what someone's workplace might deem acceptable," Jesse Burnett, who co-founded footwear brand Tkees, told The Guardian. "Today, consumers are buying what they want to wear, rather than what they have to wear."
Flip flops aren't the only casual shoe seeing a rise in popularity
Shutterstock
While flip flops are often considered beachwear, they're actually quite versatile. Easy to take on and off, lightweight, and often inexpensive, people are now realizing the benefits of this casual shoe. As Elizabeth Semmelhack, senior curator of Canada's Bata Shoe Museum, said, "It is an exquisitely concise form of footwear. It does a very effective job of protecting the foot with a minimal amount of material."
Flip flops aren't the only comfy shoe on the rise. More and more people have also been wearing Crocs during the pandemic as they search for less restrictive styles. Meanwhile, denim sales have been tanking as people opt for stretchier pants. "They're living in comfort as much as they can," Tiffany Hogan, an apparel analyst for Kantar told The Washington Post.
After all, when your business meetings consist of Zoom calls, no one is really able to see what you're wearing below the waist.