Here's How Much Kamala Harris Is Really Worth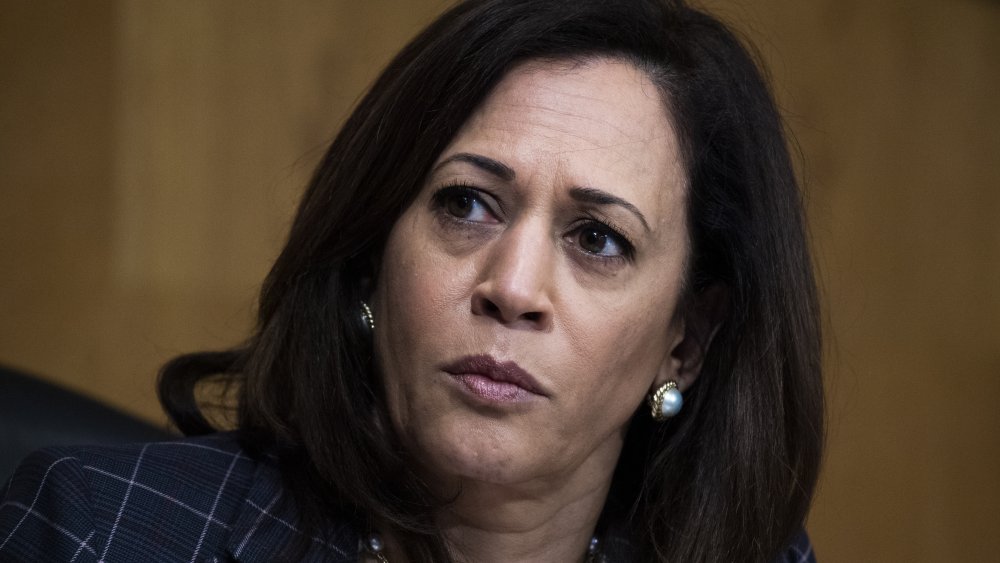 Pool/Getty Images
While Kamala Harris' own presidential run may have come to an early end, the California senator may very well wind up being our nation's very first female vice president, as well as its first VP of color. Harris, according to the BBC, is the daughter of a mother from India and a father from Jamaica. While Harris didn't always have things easy, being raised as the biracial daughter of a single mom, she nevertheless showed the characteristics of the lotus flower for which she was named. This important symbol in Indian culture is one that Harris describes as "grow[ing] underwater, its flowers rising above the surface while the roots are planted firmly in the river bottom," and according to Binghampton University, it can represent purity and enlightenment as well as rising above one's circumstances.
Harris wasn't raised in dire poverty, but nor was she born with a silver spoon in her mouth. According to her memoir entitled The Truths We Hold: An American Journey, she described her family as being not so "rich in financial terms," but having "a different kind of wealth" that was instead based on "the values we internalized." While it may have been those values that led Harris to pursue a career in politics, her success would also prove to be quite lucrative for her, as well.
Kamala Harris' wealth rose after she married Douglas Emhoff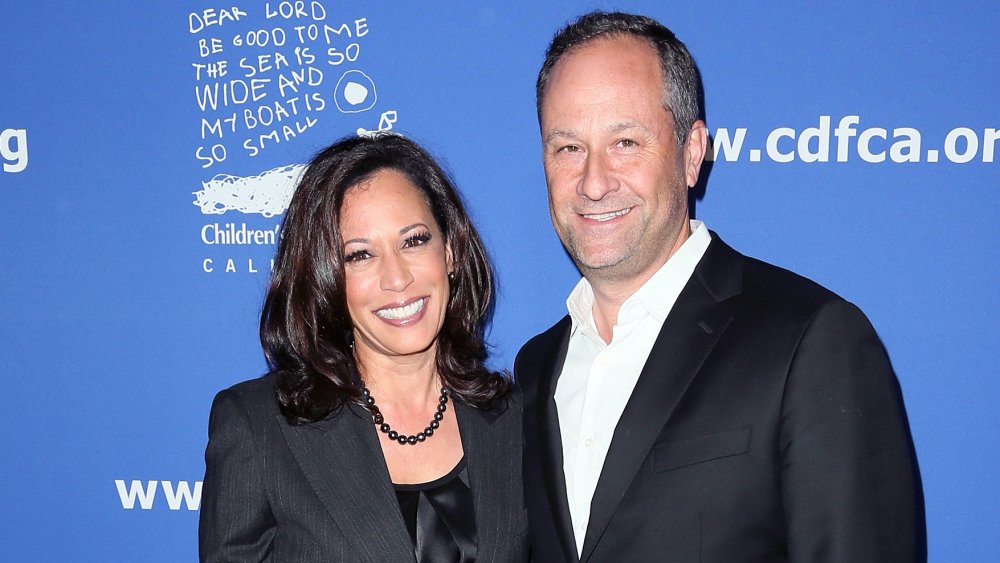 David Livingston/Getty Images
In 2019, CNBC said that Kamala Harris and her husband Douglas Emhoff reported an income of $1.9 million. But she wasn't always this wealthy. As District Attorney for the state of California, Harris made between $125,000 to $225,000 a year. Forbes reports Harris bought her San Francisco home, a condo, for $300,000 while she was working at the city's District Attorney's Office, and when she was making more than $140,000 a year. The home has since at least tripled in value (via The Heavy). Harris married the attorney in 2014, and in the first year they filed a joint tax return, their earnings were about $1.3 million.
Much of the couple's worth seems to have come from Doug Emhoff's earnings. Emhoff is a partner at DLA Piper, a global law firm with a presence in more than 40 countries; he has also been recognized as one of The Best Lawyers in America for Litigation. Emhoff, who specializes in intellectual property issues, has represented Hollywood heavyweights including movie studios, as well as former athletes, and wine companies. 
But Harris pulls her weight, too. In a 2018 tax return reported by The Washington Post showed Harris having earned a Senate salary of $157,352 as well as $320,125 from her memoir (reflecting pre-presidential campaign sales). Together, the couple reported a household income totaling $1,884,319.
Most of Kamala Harris and Douglas Emhoff's wealth is tied up in real estate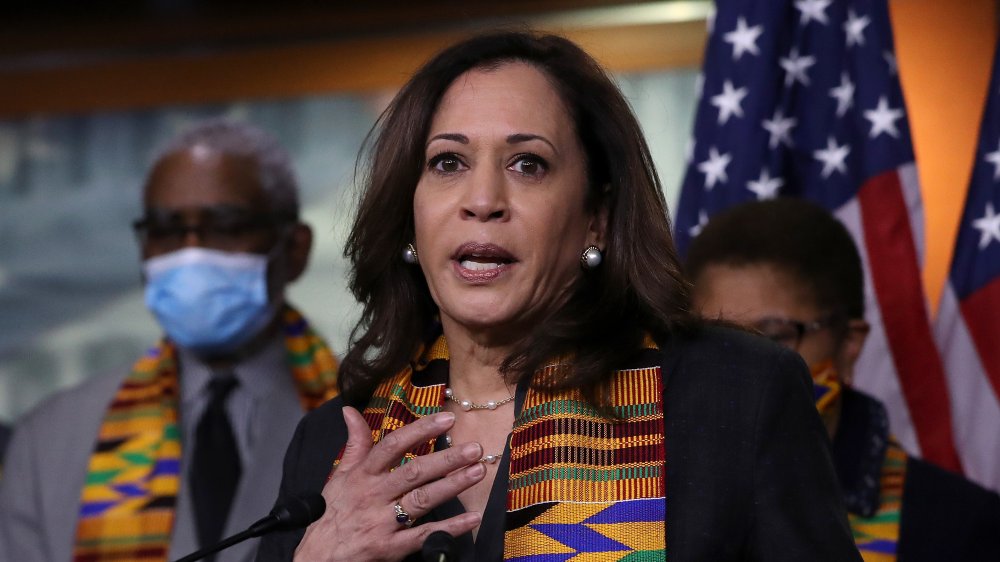 Chip Somodevilla/Getty Images
According to the 2019 Forbes article, Kamala Harris and Douglas Emhoff together have a net worth of around $6 million. Much of this wealth isn't in the form of ready cash, however — amongst the couple's assets are homes in Los Angeles, Washington, D.C., and San Francisco worth an estimated $5.8 million, but accounting for mortgage payments still owed they only account for $2.5 million of the couple's wealth. They also have retirement accounts that were worth at least $1.4 million last year, as well as another million dollars in capital accounts linked to law firms where Emhoff has worked.
Harris has made money from books that she's written. Other than the $550,000 in advance payments for her most recent book, The Truths We Hold — which sold 50,000 copies as of August last year — she's also written two other books: Smart on Crime; and a children's book, Superheroes Are Everywhere. 
Kamala Harris donates to charity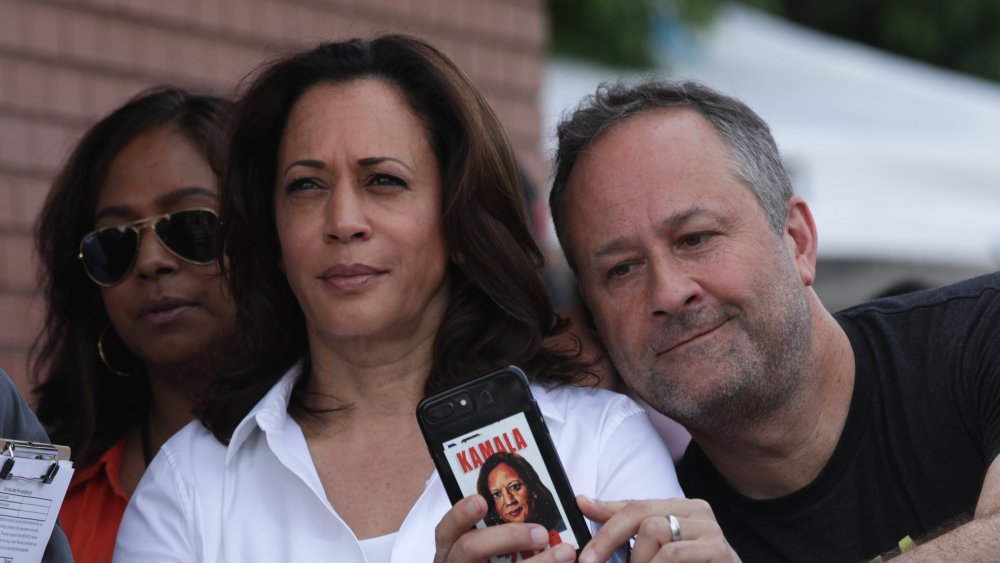 Alex Wong/Getty Images
As CNBC points out, Harris' net worth may put her in an awkward position — that of being a high-income candidate campaigning to help low-income Americans. But it appears Harris talks the talk, and walks the walk. Fox Business reports that Harris and her husband are known to give between 1 to 3 percent of their income to charitable causes, and she has been known to support causes without too many publicity strings attached. 
In 2019, the The New York Times reported that the Grateful Garment Project — a nonprofit which provides clothing in hospitals for victims of sexual violence — said they had received a check of nearly $30,000. The donation had come seemingly come from nowhere, and from an organization known as ActBlue. It was later discovered that the organization had cut the check at Harris' urging. 
If Harris faces any scrutiny about her bank accounts, it appears she is in the position to fight back.