The Boldest Looks From Kamala Harris So Far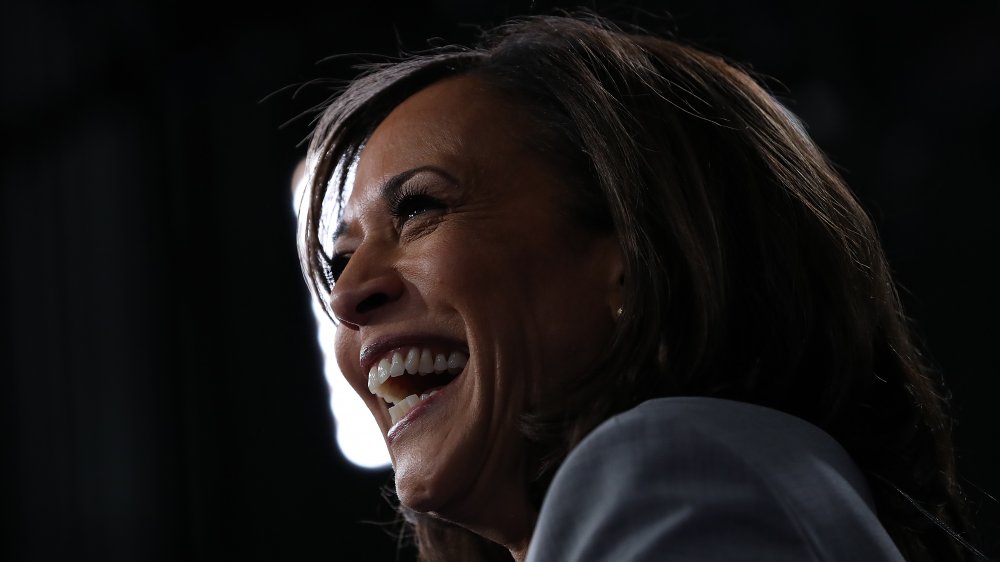 Joe Raedle/Getty Images
Fashion can be a double-edged sword for a female politician. It can be a channel for sexist criticism, like when reporter Eddie Scarry criticized Alexandria Ocasio-Cortez with a sneaky photo, commenting "that jacket and coat don't look like a girl who struggles" (via Vice). On the other hand, fashion can be used to send a message. In 2019, female Democrat Congress members wore white to the State of the Union, recalling the color worn by suffragettes to show solidarity with women across the country (via Time). And Hillary Clinton supporters rallied in the Facebook group Pantsuit Nation, in reference to Clinton's famous brightly-colored pantsuits (via BBC).
Now that Kamala Harris has been named as Joe Biden's running mate, the spotlight on all her public choices will be even brighter, including her fashion. Harris' personal style tends toward the practical, full of sneakers and pantsuits. Check out some of Harris's boldest looks and find out how the new vice presidential candidate expresses herself through fashion.
Kamala Harris wears white to make a statement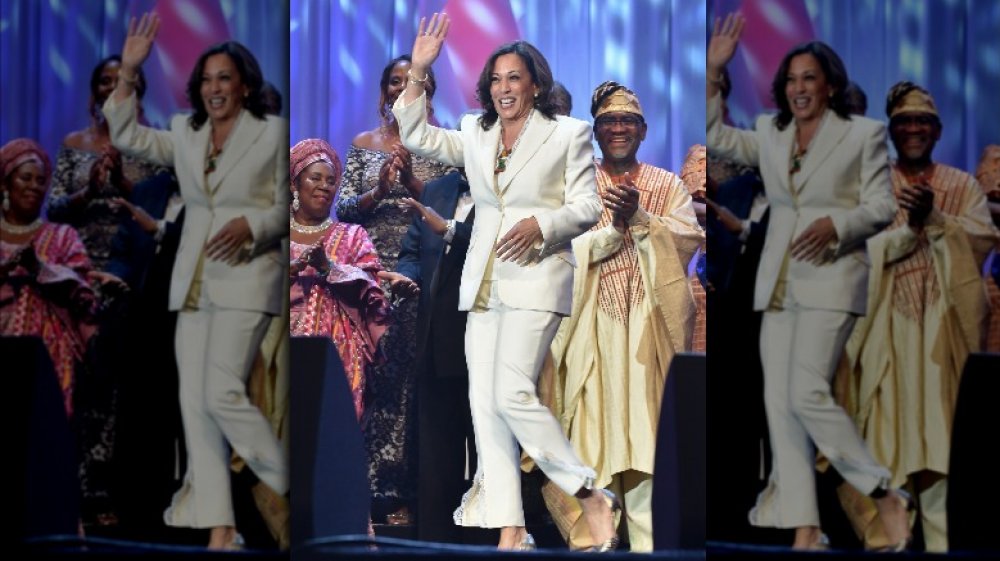 Aaron J. Thornton/Getty Images
Though she usually tends toward dark suits, Harris isn't afraid to wear white to make a statement. Apart from the associations between white suits and suffragettes, white helps Harris stand out against brightly colored backdrops and next to men in black and navy suits. She favored them early in her national political career, wearing a striking white skirt suit at the 2012 Democratic National Convention in Charlotte. Recently, she paired a white skirt-suit with a lacy shell and striking statement necklace to the Congressional Black Caucus Foundation's 2019 Phoenix Awards Dinner. The outfit was glam while still being appropriate for a prominent presidential candidate.
Kamala Harris utilizes statement jewelry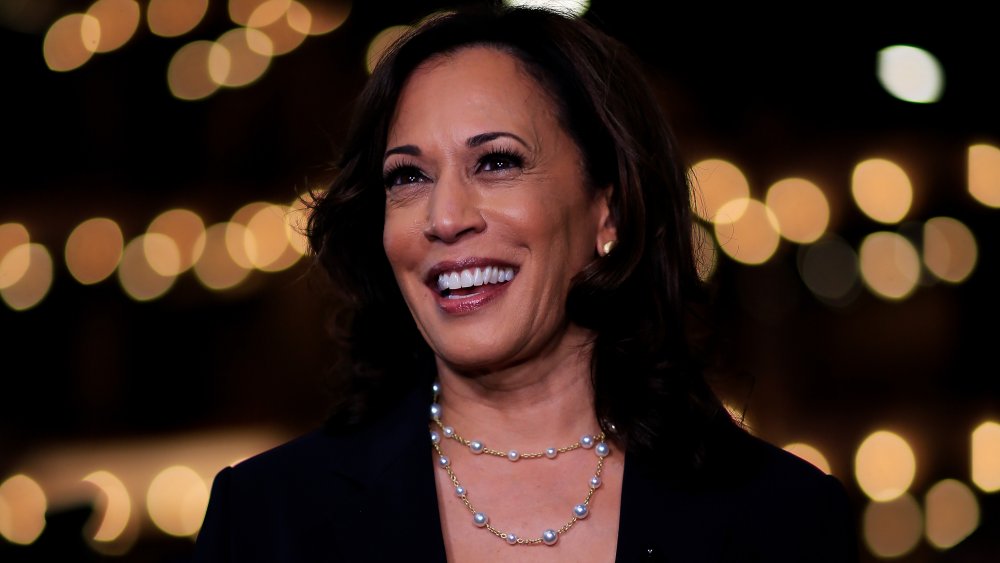 Cliff Hawkins/Getty Images
Harris often opts for pearl necklaces as accessories. And for the Miami debate in 2019, she gave her signature an upgrade. While her sleek black suit evoked her prosecutorial background, her multi-strand pearl necklace added a touch of femininity. Statement bracelets brought the eye to her hands as she spoke. The subdued outfit ensured that her ideas took center stage, but as the camera focused on her, there were fashion details to keep viewers' attention.
Kamala Harris loves sparkle when she goes glam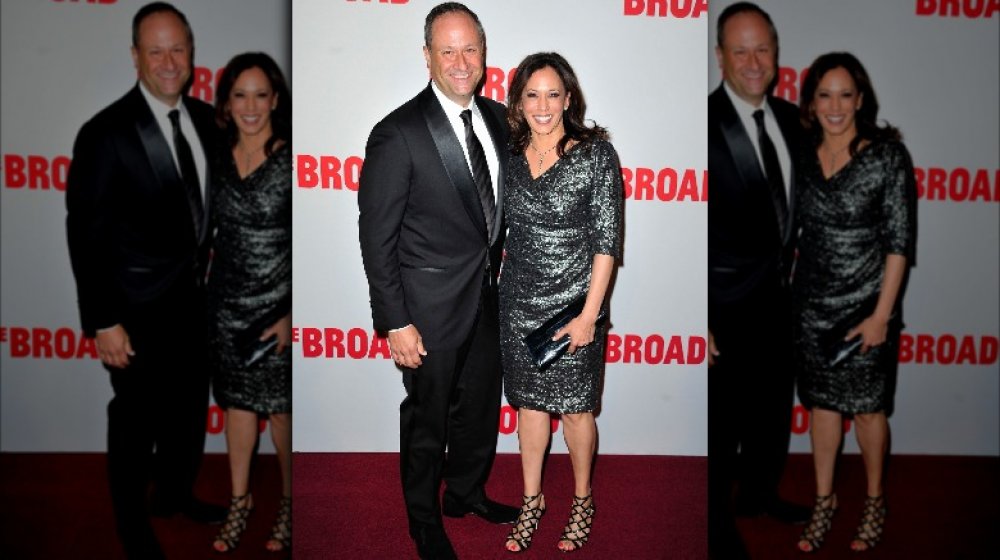 Jerod Harris/Getty Images
Though Harris usually steps out in professional suits or relaxed jeans, she's also gotten glammed up for some major events. While attending the opening of the Broad Museum in Los Angeles with her husband, lawyer Douglas Emhoff. Harris opted for a sparkly pewter dress accessorized by a simple necklace. The real surprise? Her strappy black high-heeled sandals with a flawless red pedicure. It's strikingly on-trend for a public figure who usually prefers to keep things simple.
Kamala Harris showed her pride with denim and sparkles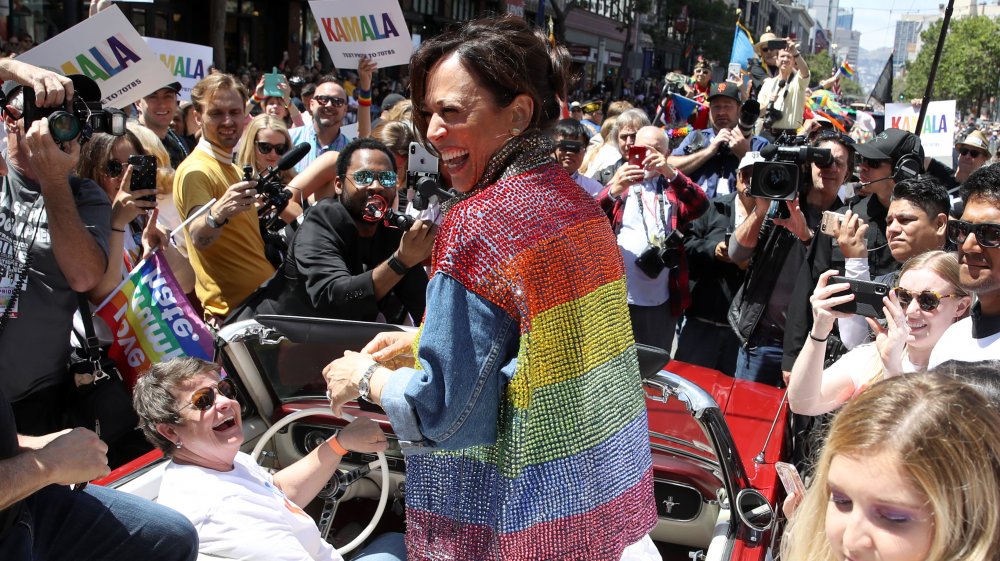 Justin Sullivan/Getty Images
Speaking of sparkles, one of Harris' most striking looks was worn at San Francisco Pride in 2019. The California Senator blinged up a casual staple, donning an oversized denim jacket with a bedazzled rainbow flag. The jacket was made by Levi's, a company based in San Francisco (via Glamour). Underneath, Harris wore a black t-shirt with a simple bedazzled "Pride." Harris appeared along the parade route with her husband, as well as Kris Perry and Sandy Tier, Proposition 8 plaintiffs whose wedding Harris officiated in 2013.
Kamala Harris loves Converse sneakers
Frederick M. Brown/Getty Images
Harris generally wears two kinds of shoes: business-like pumps, and Converse sneakers. In an interview with The Cut, Harris revealed she has multiple kinds of Converses for every occasion. "The kind I wear in hot weather, the kind I wear in cold weather, and the platform kind for when I'm wearing a pantsuit," Harris said. She explained that part of her love for Converses is how easy they make it to run to a late flight in the airport. Harris is so attached to her Converses, she'll bend the rules to wear them. In 2019, reporter Erica Werner tweeted that Harris had to enter the Senate chamber through a coat room, since her sneakers violated the strict dress code. This quintessential Harris look combines jeans, Converses, and a statement belt.
Kamala Harris goes mad for plaid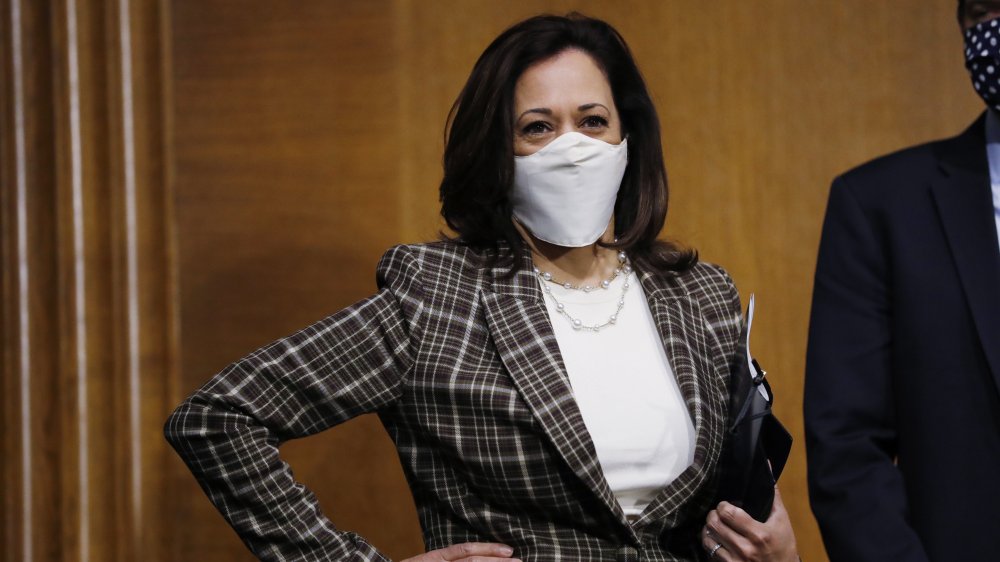 Pool/Getty Images
While Harris tends toward solids as a rule, when she chooses patterned clothes, they tend to be plaid. The practical print evokes slightly masculine undertones, which Harris often pairs with simple sheaths and her favorite pearl necklaces. Some of Harris's most memed moments happened while she was wearing plaid, from the gray plaid blazer she wore while waving goodbye (via BuzzFeed) to the subtle checked blazer she wore when she saw her campaign bus (via Twitter). Here, she makes masks stylish as her simple white mask picks up colors from her suit, sheath and jewelry.