You've Been Brushing Your Hair All Wrong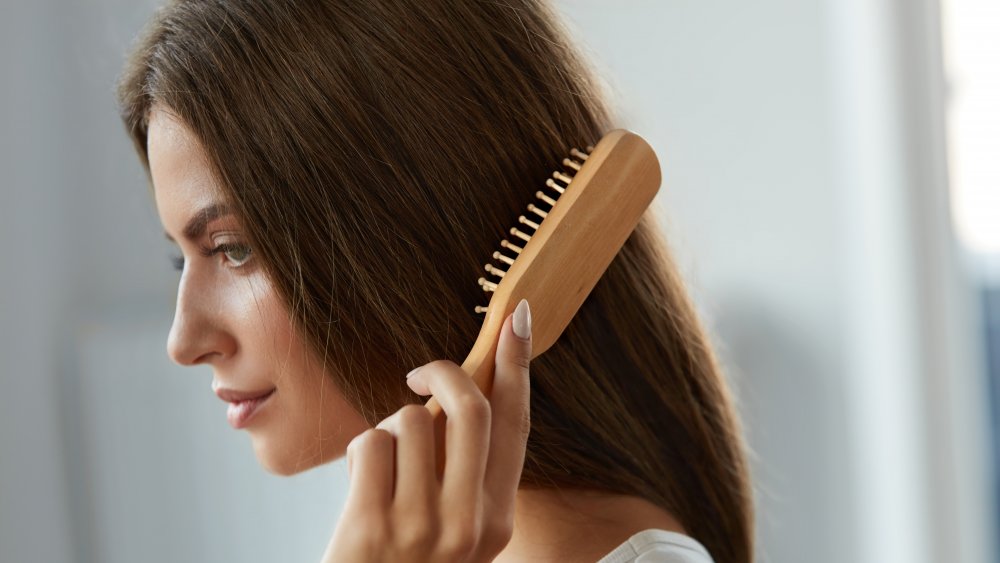 Shutterstock
While hair brushing best practices may not be a topic that you frequently ponder, it's valuable to know how to keep your mane tangle-free without damaging your hair. Obviously, it's important to brush your hair from bottom to top to avoid pulling delicate strands too tightly. But, there are a few more nuanced tips you should know when it comes to taking care of your hair.
One of the most common mistakes many people make — whether you have fine hair or thicker locks –  is brushing their hair while it's wet. This isn't to say you need to sit with sopping, uncombed hair for an hour before you brush it out; it just means that you should find the right brush. According to Travel+Leisure, water weakens hair strands by filling them with moisture, making them more susceptible to breakage. If you tear through your wet hair with hard bristles, it can lead to intense damage. Instead, when brushing wet hair, try dampening your brush firsts or using wide-toothed comb. These are much gentler on your strands and still detangle your tresses. Also smart: Before you brush, add a leave-in conditioner treatment to help protect strands by loosening tangles.
More smart tips to brush your hair the right way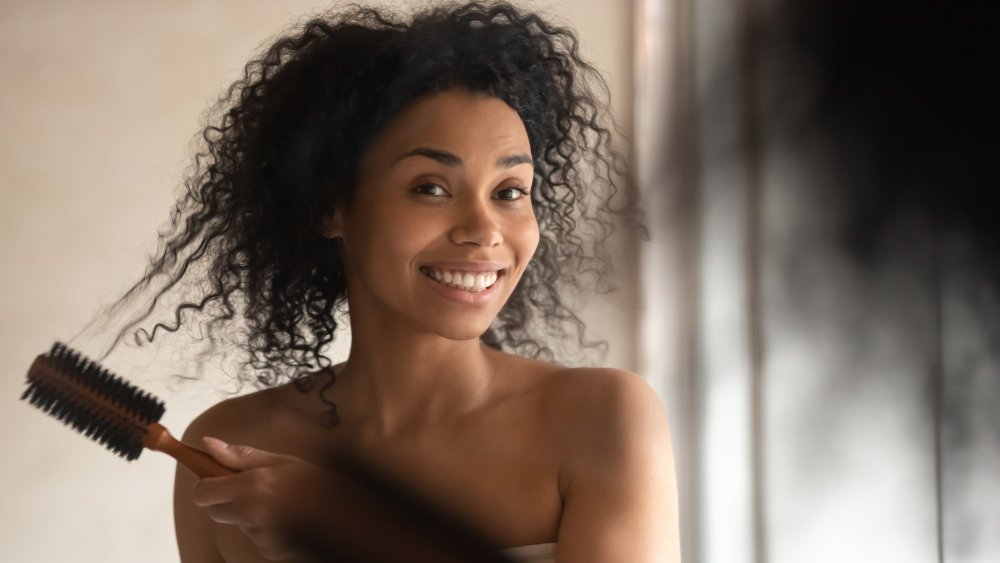 Shutterstock
Much like other cosmetic brushes, hair brushes need to be washed regularly. According to Allure, you should be doing a deep clean of your hairbrush at least once a month while spray-cleaning it once a week. Without deep cleansing, your brush can become a hot-bed for bacteria and can accumulate a buildup of residual hair product and even lint. Making matters worse, every time you run it through your hair, you're transferring it to your strands. So, if you're brushing with bristles that haven't been cleaned in ages, it's time to do a deep cleanse.
Once your brushes are buildup-free, focus on combing through smaller sections at a time. By brushing smaller sections, you reduce tension on your strands and lessen the impact of your movements. This also protects from over-pulling of your roots as well (via Travel+Leisure). Lastly, avoid over-brushing. Since detangling can be intense for your strands, it's best to stick to a thorough brushing no more than once a day (via Real Simple).
By using these simple tips, you'll see a huge difference in the health of your hair. Try them out and notice higher levels of shine and strength.