Why You Should Think Twice Before Buying A Wedding Dress Online
For many women, the most important and most expensive dress they'll ever wear is their wedding dress (unless, of course, that invite to the Met Gala comes through ... ). But ask any bride-to-be in the midst of wedding planning if their dress budget and their dream dress fall into the same category, and you'll realize how quickly that dream of a one-of-a-kind Pnina Tornai unravels into a battle of the brides at designer trunk shows and sample sales. Instead of altering their expectations, and choosing the perfect dress from a reputable bridal shop that's actually affordable, many brides-to-be turn to the internet in search of that unicorn dress that is somehow covered in Swarovski crystals at less than half the price. 
The majority of these online retailers are running a counterfeit operation, however, and instead of your dream dress you'll end up with a polyester and crinoline nightmare that you won't be able to return — and an even smaller dress budget because you aren't getting a dime back (via The Pink Bride). In an interview with Inside Weddings, Hedy Lapkin, the executive director of the International Bridal Manufacturers Association, warned brides to stay away from any website offering a deal that seems too good to be true, because it's likely a scam. In case you still aren't convinced, here's why you should seriously think twice before buying your wedding dress online.
An online wedding dress won't look like the photo
Don't trust photos. That's all you really need to know. According to Lapkin, the professional photos of designer dresses these online knockoff sites use to lure you in might be real, but they are likely stolen from the actual designer's site. Only authorized retailers can use these photos and a site offering a $5,000 dress for $500 is not an authorized retailer (via Inside Weddings). Just because the knockoff site promises to use the same materials and design patterns as the original dress does not mean that's what you'll get (via The Pink Bride).
Thankfully, we can learn from the angry customers who have come before us. Facebook pages like Brides Beware and Knock Off Nightmares expose the reality of these sites so other brides aren't lured in by the promise of a bargain (via Garnett and Grace). The page creators of Knockoff Nightmares, detail their mission of Facebook explaining, "There are no online sites that show stock designer photos at a fraction of the real price that we ever would recommend. You are not getting the dress in the photo, you are getting their knock off version — which can vary from 'ok, I can get away with this' to 'not on my worst day would I wear this.'"
An online wedding dress likely can't be returned for a refund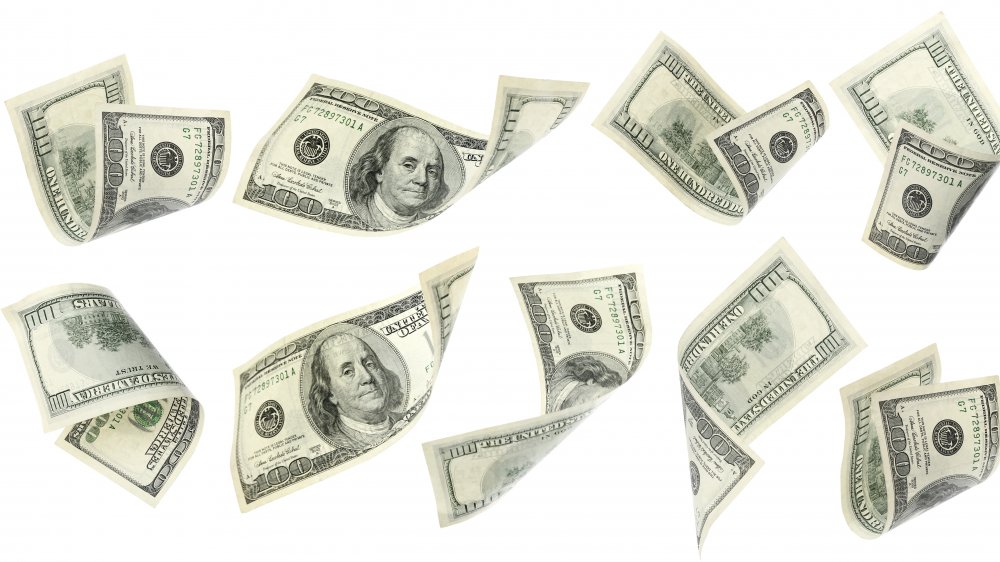 Shutterstock
When it comes right down to it, if you buy from a questionable retailer you're definitely not getting a refund, and you might not even get a product. For a bride trying to save some money, that's a serious blow to the budget. In many cases, you might not even be able to contact the seller, because these sites will disappear almost immediately after you give them your credit card information (via Pink Bride). What's worse, as Lapkin explains, "Once you give them your credit card, I don't even know if the credit card company will stand behind you. You're just on your own to deal with everything (via Inside Weddings)." You'll end up with less money than you had for your original dress budget, less time to shop for a replacement, and you'll likely spend more for expedited tailoring (via Allure Bridals).
Buying a wedding dress online just brings more stress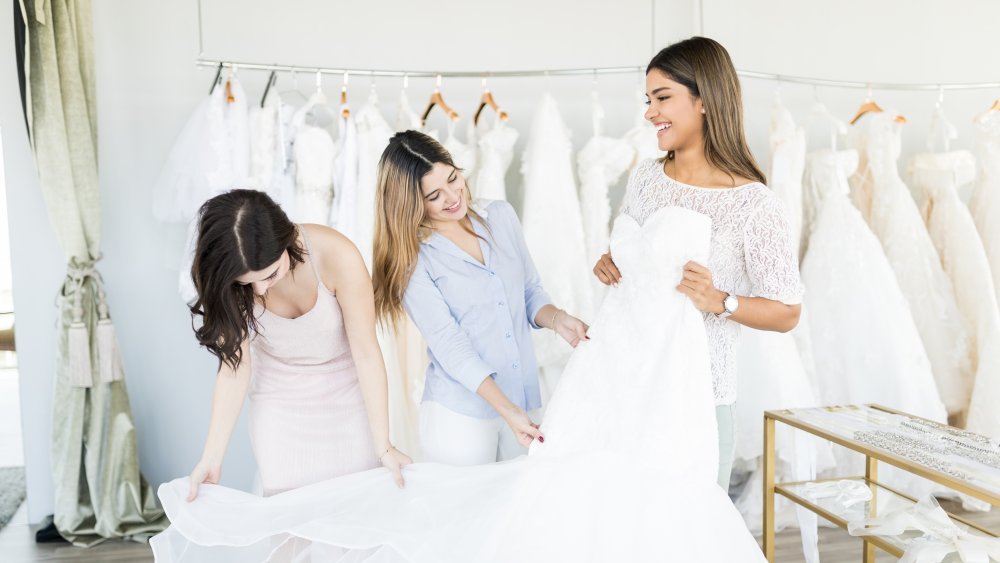 Shutterstock
Every year more than 600,000 fake wedding dresses are purchased online, leaving countless brides disappointed during what should be a very happy time in their lives (via ABC News). Taking advantage of the services of a reputable bridal salon will eliminate all that stress and heartache. Not only is wedding dress shopping with your closest family and friends an important rite of passage for every bride-to-be, it's also the only way you can guarantee that you'll get a perfectly tailored dress ready to wear on your big day (via Ireland's Wedding Journal).
There is a dress for every bride and every budget, but you have to follow these important tips: Be open and honest with your bridal consultant about your expectations and your budget; accept that the dream dress you have in your head might not be the dream dress for your body or your bank account; and give yourself at least nine months from the time you purchase your dress until the wedding for all the proper fittings and alterations (via Cecilie Melli).