Todd Chrisley's Latest Selfie Looks Nothing Like Him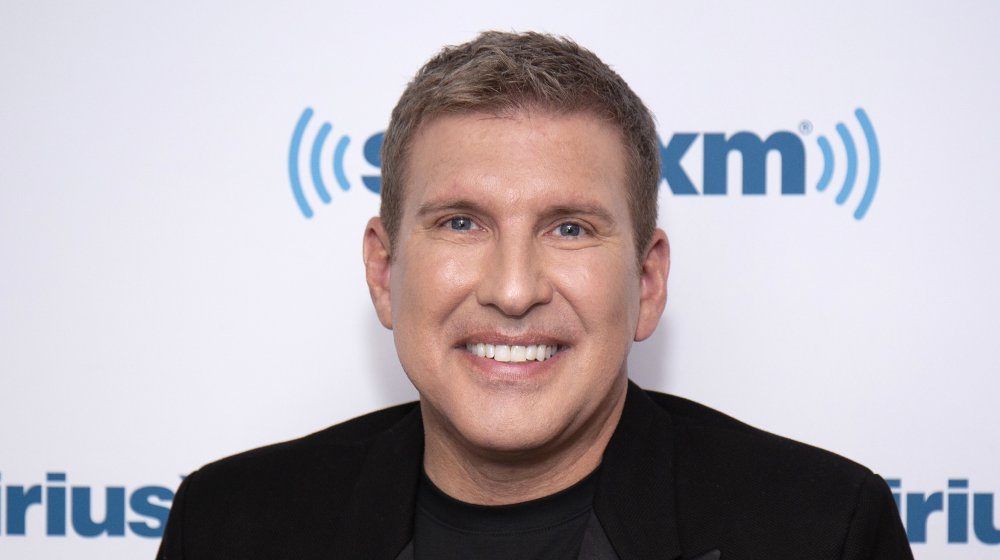 Santiago Felipe/Getty Images
Has Todd Chrisley located the elusive fountain of youth and, if so, how do we get access to fill up our water bottles accordingly? By now fans of the show know to expect that the Chrisley Knows Best star will always put his best foot forward when it comes to his looks and his style. Whether it's the newest fashion trends, a cutting edge haircut, or the latest viral skincare hack, the Chrisley patriarch does what he needs to do to look like his best (and youngest) self. In fact, chatter of his ability to age in reverse has been going on for years, with USA devoting an entire post to the subject in 2018, astounded by Chrisley's appearance for the five years prior. 
But even with that knowledge, Chrisley has social media followers equal parts confused and impressed thanks to a new selfie, which might as well have been taken of his son, Chase (who needless to say, is not the same age as his father). Chrisley was previously rocking his version of a quarantine beard, comprised of a wisp of facial hair that, although it wasn't full-on Jason Momoa style, was still a completely different look for the typically refined reality star. He posted his bearded look to Instagram a few days ago, acknowledging that others may not think it's his best look, writing, "To shave or not to shave, now that's the question? Ignore the bedhead, but if it brings you joy to talk s***, GO FOR IT."
It now seems that his wife, Julie Chrisley, wasn't quite as enamored with the bearded look as the patriarch himself and demanded that he shave it off. As a result, fans and famous friends of the Chrisley Knows Best star alike were left absolutely gobsmacked by just how young he looks without it. Seriously, we'll have a double helping of whatever it is he's having.
Todd Chrisley seems to be aging in reverse
Todd Chrisley took to Instagram the very next day to let everyone know that, sadly(?), his quarantine facial hair was no more, lamenting the fact that he had returned to his former clean-shaven self. "As you might have guessed, @juliechrisley didn't like the facial hair so i am back to basic and boring," the reality star said. 
However, aside from mourning the loss of his stylish beard and mustache combo, several commenters pointed out how the reality star now looks like an actual teenager (via Page Six). "You age backwards I swear," remarked one, while another wondered, "Why do you look 14?" Fellow celebs were equally confounded, with Real Housewives of Beverly Hills icon Lisa Rinna noting, "You look 12," while former Real Housewives of Orange County star Tamra Judge guessed slightly higher at 18.
Several fans suggested Chrisley must have had some work done, maybe even a facelift, with one demanding to know "what else" the doctors are putting in his Botox injections, but the Chrisley Knows Best star insisted it's nothing more than "laser, Botox and prayer" in his response to Rinna — and that's Botox every six months for those of you wondering what it takes to look like Todd. Chrisley also confirmed separately that he swears by "hydro facials." Whatever it is he's doing, it's obviously working.
Some suspected that Todd Chrisley was leaning on the fillers and filters
If plastic surgery and other cosmetic enhancements (besides lasers and Botox, of course) are off the table, then it's got to be something, right? Others in the comment section guessed it had to be fillers or filters. 
One fan, presumably not meaning this in a complimentary way, said to Chrisley, "Thank your plastic surgeon... your face is allllll filler..." Chrisley responded in the way any southern gentleman would by saying, "You are so kind, I actually have no filler in my face, but if you sleep better thinking that, then consider me fillered up." That settles that, then. 
Another fan declared that Chrisley's fresh-faced look had to be the result of some serious social media filters, saying that it had to be a Snapchat feature, but a quick scroll through his feed reveals that all his recent pictures do look strikingly similar. Is there simply a filter on all his images? We may never know, as Extra reports the Chrisley isn't confirming one way or the other.
One thing we do know: Todd Chrisley is not necessarily opposed to the idea of more invasive cosmetic procedures. On the idea of having filler or a facelift he said, "...maybe in the future."