The Truth About Oleandrin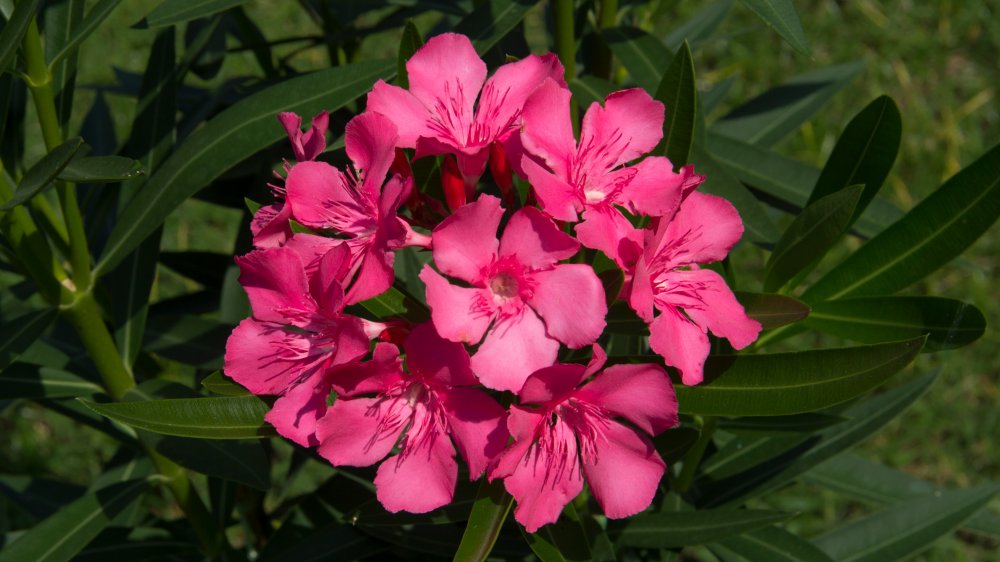 Shutterstock
It is easy to understand why both large pharmaceutical companies and alternative medicine firms are racing to find vaccines, cures, or both to try and get the coronavirus pandemic under control. But doctors are up in arms over the buzz surrounding oleandrin, which highlights an unproven theory that the highly poisonous extract of a common plant could be used as a possible cure for coronavirus.
The chatter around oleandrin comes from an unpublished study, which has not been peer-reviewed. Researchers claim the extract appears to be effective against COVID-19, but there is no data showing that the toxic substance has actually been tested on humans or animals. Oleandrin is manufactured by Phoenix Biotechnology, which is trying to get oleandrin into the market, either with the approval of the FDA, or on its own as a dietary supplement (via Axios).
The use of oleandrin was first raised as a possible treatment by MyPillow CEO Mike Lindell, who visited the White House to talk about the plant extract in July. Since then, oleandrin has been embraced as a treatment by Housing and Urban Development Secretary Ben Carson. Lindell told Axios that the president "basically said: ...'The FDA should be approving it.'" Lindell, has also told CNN's Anderson Cooper that he, and more than 100 friends have been taking the extract since April. "This thing works. It's the miracle of all time. ... It saved my family and friends' lives," Lindell said (via The Washington Post).
Oleandrin is highly toxic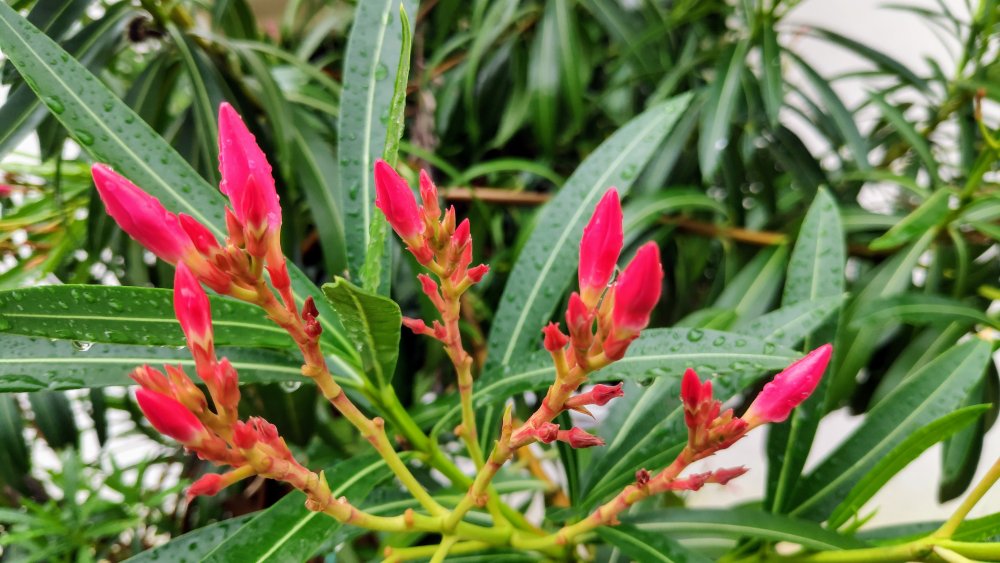 Shutterstock
The oleander plant, which oleandrin comes from, is commonly used in landscaping, but the plant is also responsible for many cases of accidental poisoning incidents around the world. The extract is so toxic that it makes every part of the plant poisonous. In a review of the plant published in 2010, researchers say the extract has sickened adults who have either ingested the oleander plant through folk medicine, or by contamination when food has come into accidental contact with it (via Heart Views). People who suffer from oleander leaf extract poisoning, experience vomiting, lightheadedness, and heart block, and has been compared to another herbal toxin, foxglove. Another case report says that just 4 grams of oleander leaves could be considered fatal. 
David Juurlink, a Canadian internal medicine doctor and pharmacologist, noted: "No one should take oleandrin to prevent COVID. Anyone gullible and foolish enough to take it despite this advice should get their affairs in order beforehand" (via MedPage Today ). In a response to the suggestion that oleandrin could be used to treat coronavirus, Canadian medical doctor Jennifer Gunter also added her voice, tweeting: "Just upping this, it's easier to kill a person with oleandrin than COVID-19."