The Surprising Way Kamala Harris Watched The DNC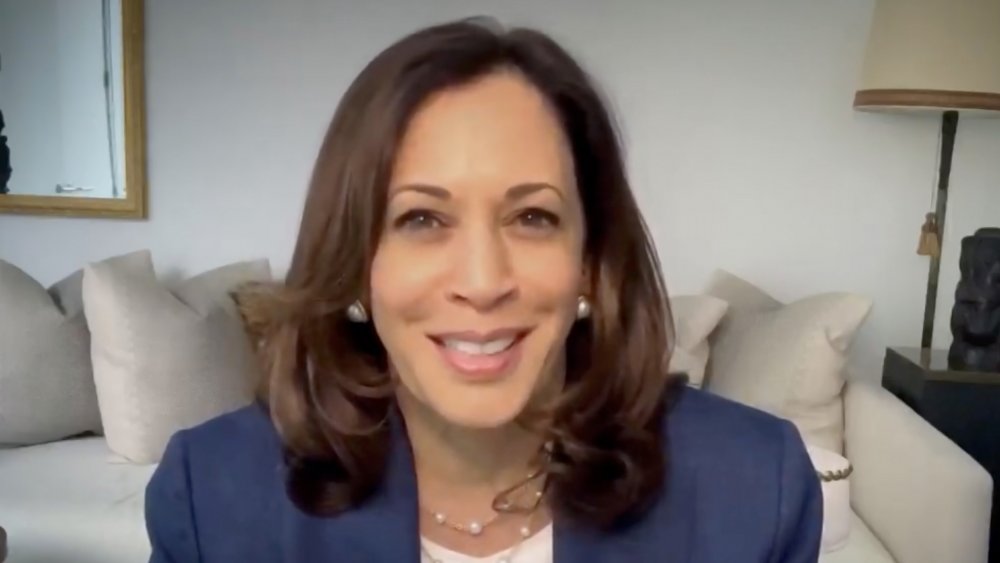 Handout/Getty Images
Despite being a main figure on the Democratic ticket, Kamala Harris watched the Democratic National Convention in a pretty relatable way: on the couch in a college sweatshirt. Harris' husband, Doug Emhoff, posted a photo of the California senator watching from her living room with the caption, "Kamala is loving this roll call" (via Twitter). So far, the pic has been a huge hit, garnering 6,700 comments and retweets, as well as nearly 73,000 likes.
On a night when Alexandria Ocasio-Cortez was given about a minute to speak, the DNC's video roll call was rather long. Each state took the chance to highlight their most pressing issues (via CNN). Some took a chance to speak to recent tragedies, like Iowa, which spoke about the storms which devastated the state last week. Florida remembered the 2018 shooting at Marjory Stoneman Douglas High School. In the most meme-able state roll call of the night, Rhode Island featured a chef in a black mask holding a plate of calamari, their state appetizer. Yes, apparently that's a thing.
Kamala Harris watched the DNC with her college pride on display
Harris' college sweatshirt was hardly a surprise, since she's a proud graduate of Howard University (via NPR). When she was selecting a college, Harris already knew that she intended to pursue the law, she wrote in her book, The Truths We Hold. "So when it came to college, I wanted to get off on the right foot. And what better place to do that, I thought, than at Thurgood Marshall's alma mater?" Harris recalled that while at Howard, she ran for elected office for the first time, winning to become a representative of the Liberal Arts Student Council.
Harris' school spirit hasn't waned since graduation. Howard was one of Harris's first stops when she was campaigning for president herself, and while on the campaign trail in South Carolina, she spoke at an event hosted by her college sorority, Alpha Kappa Alpha. Harris also delivered the commencement speech to Howard graduates in 2017.