The Real Reason Lori Loughlin's Sentence Is So Much Harsher Than Felicity Huffman's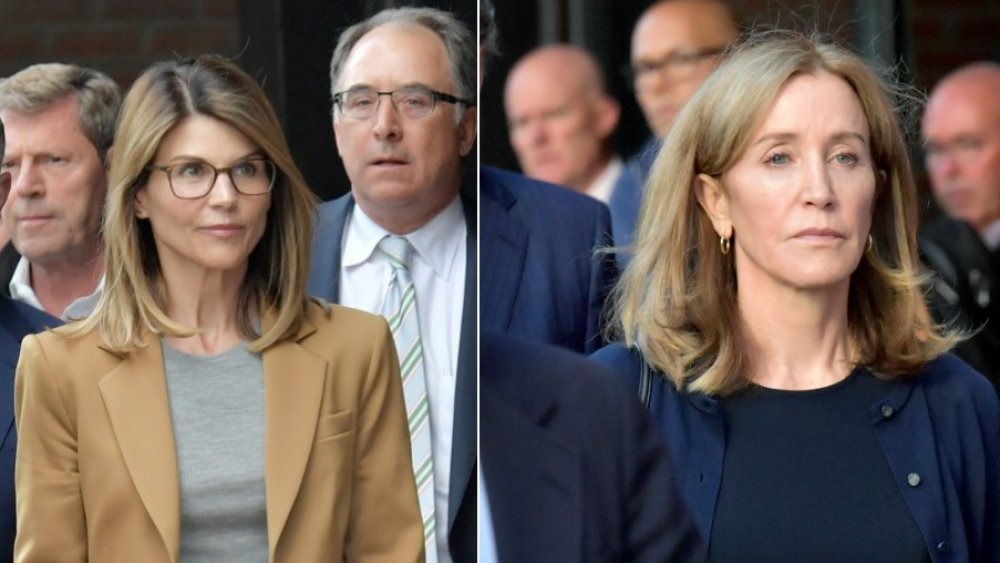 Paul Marotta/Getty Images
For the last few months, Lori Loughlin, who we know best as "Aunt Becky," and her husband Mossimo Giannulli both insisted they didn't do anything wrong and were innocent of the fraud and money laundering charges made against them in the college cheating scandal known as "Operation Varsity Blues" (via Us Weekly). The scheme had brought together a group of wealthy parents and a college prep organization who either fixed SAT or ACT scores, or created fake athletic profiles to help children get into the schools of their choice (via Glamour). Loughlin and fellow actress Felicity Huffman were two of the most high-profile parents to get caught in the scandal. Huffman has since been sentenced to serve 14 days in prison (she served 11 days), while Loughlin was sentenced today to serve two months.
The differences in the sentences came down to how both actresses responded to their indictments. Huffman was indicted in April, and just a month later, she went to court to plead guilty, while Loughlin and Giannulli spent more than a year arguing in court that they weren't guilty — and they even tried several strategies to get the charges dropped. The Associated Press also reports that unlike the other parents involved in the scandal, Loughlin and Giannulli did not present statements showing regret or remorse, neither did they show letters of support from family and friends in the days leading up to the sentencing.
Lori Loughlin has been sentenced to serve two months in prison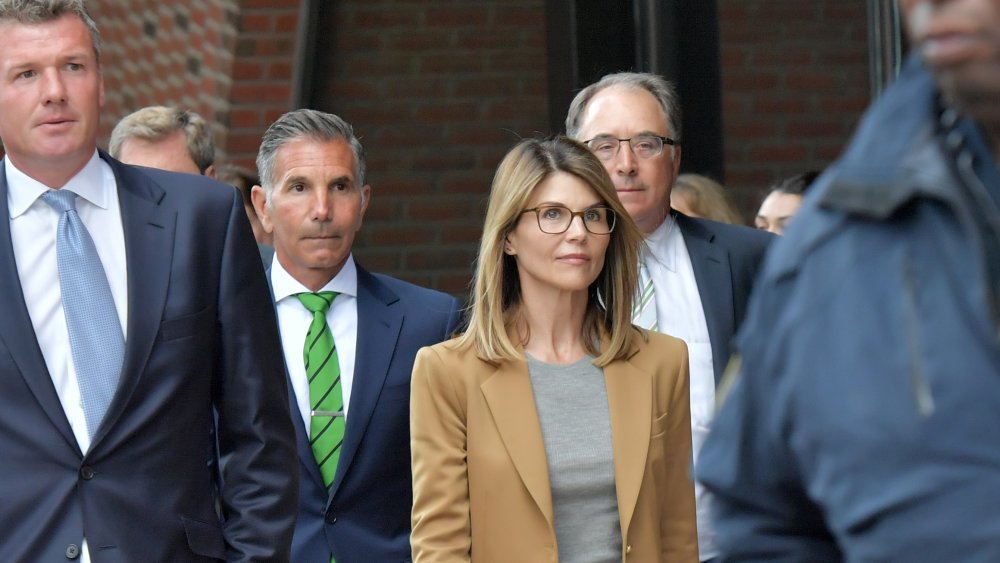 Paul Marotta/Getty Images
Prosecutors say Loughlin and Giannulli paid the scheme's mastermind, William Rick Singer, $500,000 to guarantee that their daughters would get into the University of Southern California. The couple allegedly used bribes to push Isabella's admission as a rowing athlete, even though she had never done the sport. Giannulli even sent Singer a photo of Isabella on a rowing machine. The couple then proceeded to carry out a similar plan for Isabella's sister, Olivia (via Insider). Prosecutors say by doing this, the couple allowed their daughters to be complicit in crime (via AP).
Loughlin's penalty was eventually made as part of a plea agreement. She agreed to serve two months in jail, spend two years under supervised release, serve 100 hours in community service, and pay a $150,000. Mossimo Giannulli would spend five months in prison, spend two years under supervised release, serve 250 hours of community service, and pay a $250,000 fine.
L.A. lawyer Gregory Stone tells Fox News that Lori Loughlin was lucky to get off with that, and it happened because she pleaded guilty to the charges made against her. "Pleading guilty was a great call. It's a very light sentence considering the potential exposure she was facing. Had Loughlin gone to trial and lost she could have faced years in prison and if there was a guilty verdict after a jury trial it is not likely the court would've been so generous with the sentencing." 
Felicity Huffman served just 11 days in prison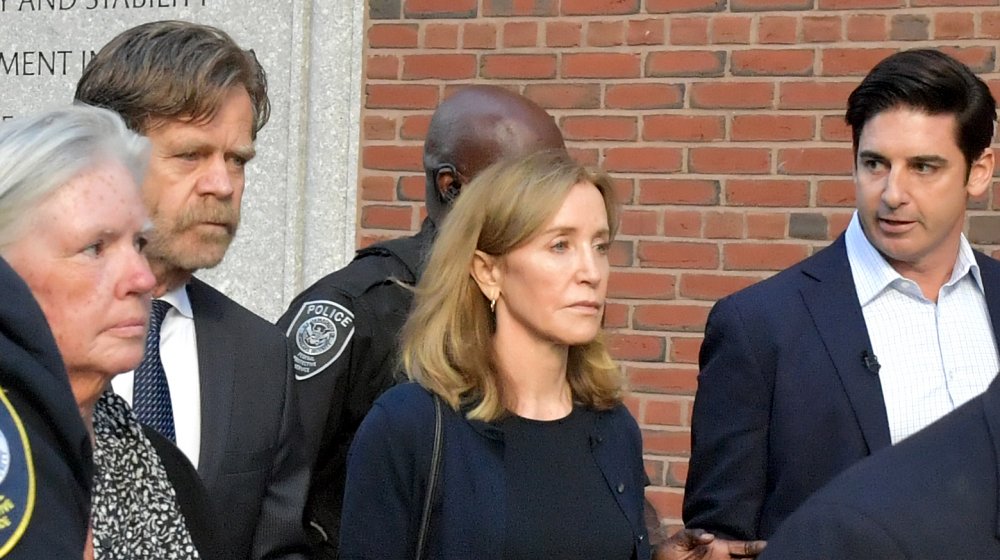 Paul Marotta/Getty Images
Felicity Huffman did things differently. According to an affidavit, Huffman had her daughter take her SATs at the West Hollywood Test Center, then her daughter's answers were later corrected. Huffman later paid $15,000 disguised as a charitable donation for young people. The actress pleaded guilty to committing federal crimes and was sentenced to 14 days in prison, 250 hours of community service, a year's probation, and a $30,000 fine (via ABC). Prosecutors had originally wanted to ask for a 10 month jail sentence (via Insider), but she eventually served just 11 of the 14 days owing to a technicality in October of last year (via CNN).
After she was sentenced, Huffman released a statement saying, "I accept the court's decision today without reservation. I have always been prepared to accept whatever punishment Judge Talwani imposed. I broke the law. I have admitted that and I pleaded guilty to this crime. There are no excuses or justifications for my actions. Period. I would like to apologize again to my daughter, my husband, my family and the educational community for my actions. And I especially want to apologize to the students who work hard every day to get into college, and to their parents who make tremendous sacrifices supporting their children."