Kamala Harris' Husband Is Unrecognizable At 20 In Throwback Photo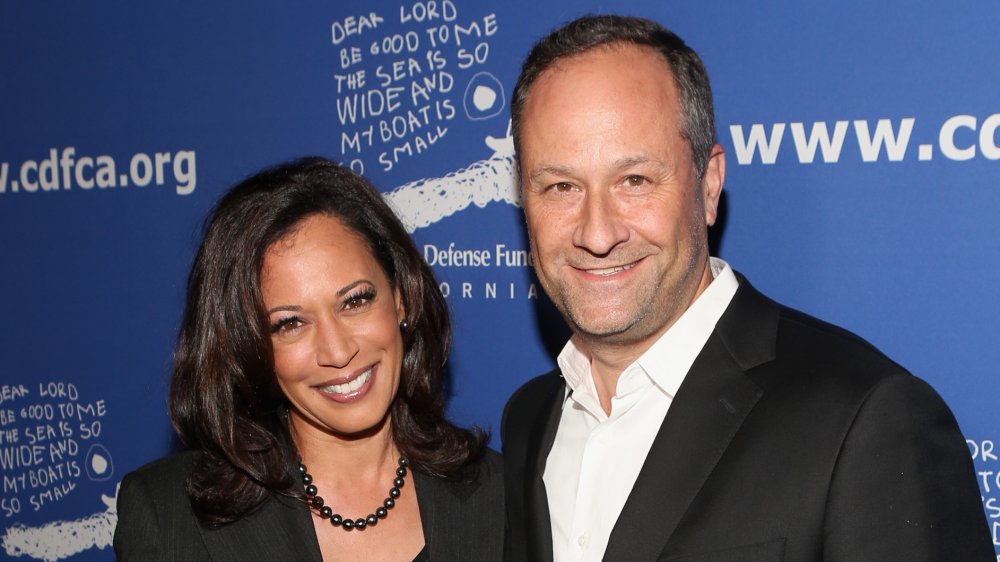 Jesse Grant/Getty Images
Douglas Emhoff, aka Kamala Harris' husband and possibly the nation's first second gentleman if Biden and Harris win the 2020 presidential race, has become a familiar face this year. He was an ardent cheerleader for his wife during her own presidential campaign, and he's a become a presence on social media as he fiercely supports Harris and the Democratic ticket. For all his serious posts, though, Emhoff is known to have a bit of a goofy side, according to the Los Angeles Times, and he's not above posting silly GIFs and fun candid shots that give us all a peek into the man behind the woman.
But none of his posts have been quite as surprising as the throwback photo Emhoff recently posted. 
This is Doug Emhoff 35 years ago
Earlier this year, Emhoff posted a throwback photo to Twitter captioned, "#MeAt20." It didn't take long to set off a string of reactions, including plenty of fire emojis, comparisons to Dylan McKay, Luke Perry's character on Beverly Hills 90210, and proclamations that the #KHive (that's what Kamala Harris' supporters call themselves) were generally swooning. 
It's clear from seeing the couple together that Harris feels the same way about Emhoff as the KHive does. In fact, coach and relationship expert Nicole Moore recently told The List that their body language says a lot about their relationship, and point blank, Harris really digs him. "[Emhoff's] confident in who he is, brings his own value to the table and [Harris] loves that about him," she explained. "She's into him!" Moore further analyzed the couple, saying, "She leans on him... a LOT. In pictures on the campaign trail, Kamala and Doug are often pictured standing strong together side by side, the body language depicting, 'We are two powerful people choosing to stand strong together.' Or, they're seen with Doug slightly behind her, standing powerful and confident and letting his wife have the space to have the spotlight on her."