Here's How Much Mike Pence Is Really Worth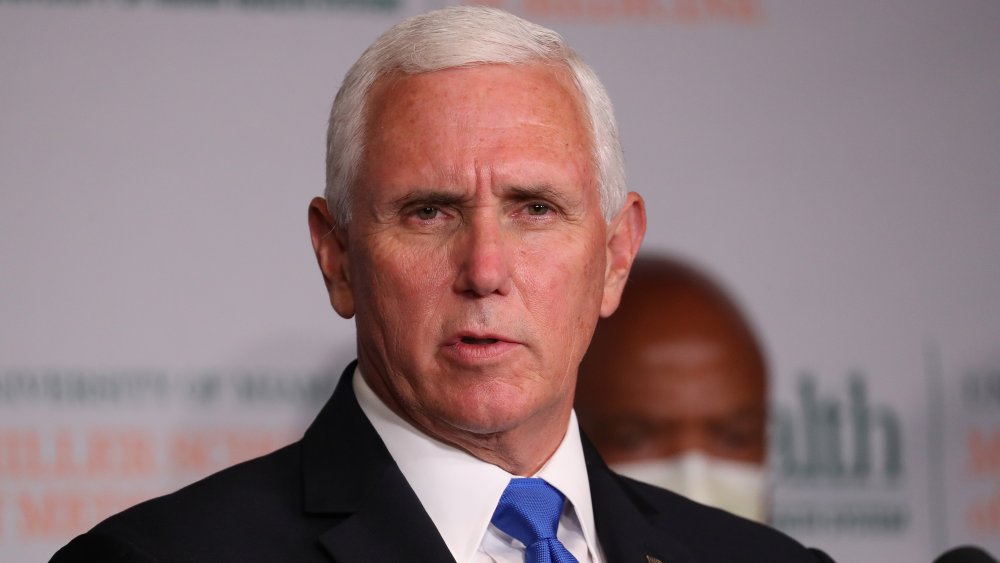 Joe Raedle/Getty Images
If President Donald Trump invites his second-in-command Mike Pence out to lunch, we're going to guess that the boss picks up the tab. That's because compared to Trump's estimated $2.7 billion net worth (per Bloomberg), Pence is just worth $1.2 million, according to Forbes. While the average American likely would be thrilled to have a seven-figure net worth, he's certainly not the wealthiest vice president; Dick Cheney's net worth is estimated at $100 million, Al Gore's is $300 million, and Nelson Rockefeller, who was President Gerald Ford's vice president from 1973-1977, had a net worth of $1 billion (per Cheat Sheet). That being said, Pence sure has fared better than President Jimmy Carter's co-pilot, Walter Mondale, who had a net worth of only $15,000.
The bulk of Pence's portfolio comes from his federal pension from serving as veep and U.S. congressman, and his state pension from serving as governor of Indiana from 2012 to 2016, according to Forbes. Those funds combined will pay him $85,000 a year forever. But unlike his boss, whose assets include commercial and residential real estate, golf courses, and a fleet of helicopters (per Business Insider), Pence only has $65,000 in index funds and $15,000 in his bank account. Forbes also reported that Pence does not own a home.
Mike Pence and his wife owe six-figures in student loans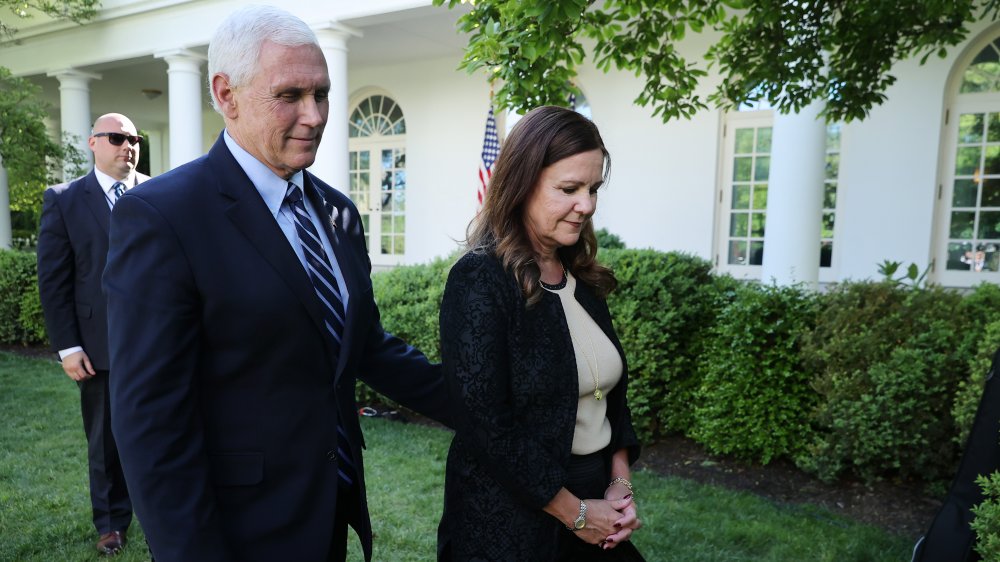 Chip Somodevilla/Getty Images
Most parents of college-age kids can relate to the gut-punch of tuition fees, and the expensive, elite universities the children of Mike and Karen Pence attended hit their bank accounts pretty hard. In fact, as of 2019, the Pences owed between $100,000 and $245,000 over eight Parent PLUS student loans they took out to help put their three children through college, according to Forbes. Pence's children weren't exactly community college kids, either. Daughter Charlotte went to DePaul University and is currently studying divinity at Harvard (per Christian Post), while her sister, Audrey, went to Northwestern University in Chicago, and is now at Yale Law School (via The Washington Post). Meanwhile, son Michael Pence, Jr., who is a marine, attended Purdue University.
With such impressive pedigrees, surely the Pence children will be successful and may even be able to shower their parents in luxury later in life. Not that the Pences will need that, necessarily. It's certainly possible that our current veep could follow in the footsteps of former vice president Al Gore, who, like him, had a relatively modest net worth of $1.7 million while in office, but grew his fortune with his book and movie, An Inconvenient Truth, which grossed $24 million in box office sales alone in 2006 (per HuffPost).