Mike Lindell's Surprising Life Before Becoming The MyPillow Guy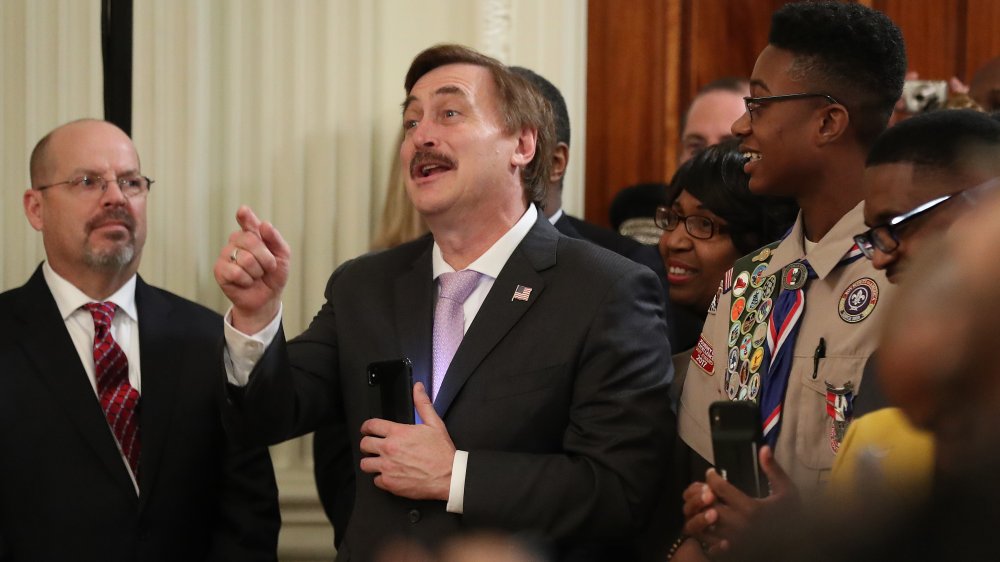 Chip Somodevilla/Getty Images
If everything that surrounds Mike Lindell, CEO of "as seen on TV" company MyPillow, seems like a dream, that's because parts of his life may as well be. In his own-published book entitled What Are the Odds? From Crack Addict to CEO, Lindell positions himself as the boy who grew up in trailer parks, quit the University of Minnesota because, as he puts it, "I was working two jobs, I felt like I was just wasting my time," failed at several jobs including carpet cleaning, professional card dealing, pig farming, and bartending, and that was before he bought a bar. He admits his investment was a bad idea, because he was also a cocaine addict at the time (via CNBC).
Lindell also claims in his book excerpts that he battled a crack cocaine addiction for almost two decades, and that "it got so bad that he once had 'so much crack cocaine pounding through his bloodstream he hadn't slept for two weeks,' so his crack dealers actually refused to sell him drugs." He also credits a dealer for the photo on his book cover, which was taken as a souvenir "of what it looked like at rock bottom." 
All of his misfortunes, of course, happened before a dream changed the course of his life in 2004. "I got up in the middle of the night — it was about 2 in the morning — and I had 'My Pillow' written everywhere in the kitchen and all over the house," he says.
Mike Lindell has been accused of misrepresenting his products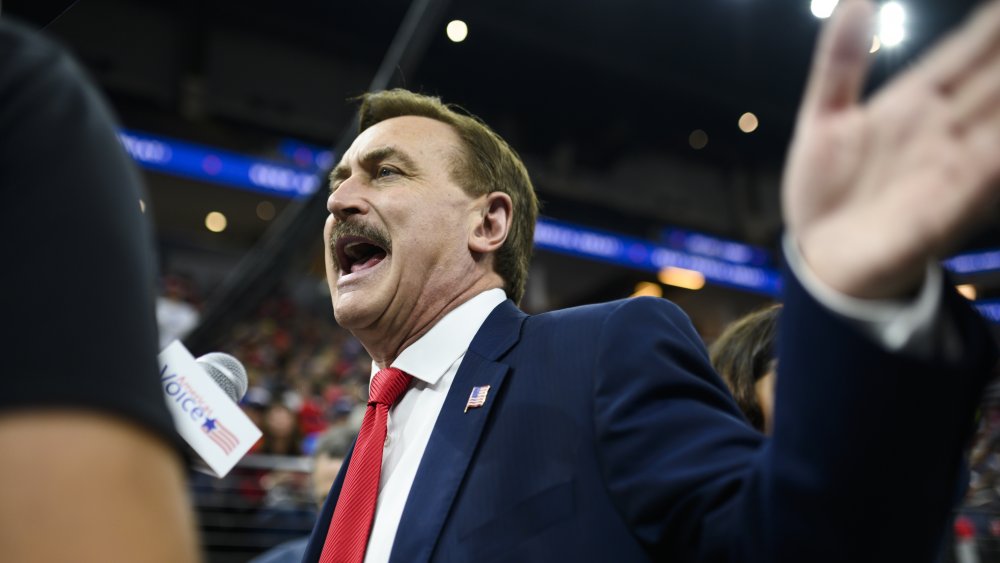 Stephen Maturen/Getty Images
The government has in the past accused Mike Lindell of using dreams instead of facts to peddle his pillows, which he claims can go through the laundry and still maintain their shape. In 2016, a nightmare came in the form of 10 California district attorneys, who sued his company for using fake and misleading ads by implying that his pillows could head off sleep loss caused by insomnia, restless leg syndrome, neck pain, fibromyalgia, sleep apnea and migraines (via The Washington Post). CNBC says that lawsuit, which saw him paying $1 million in fines, forced him to redo advertising and triggered layoffs. 
Lindell's also lost sleep over the Better Business Bureau (BBB), which rescinded MyPillows A+ rating, and gave it an F, because the company offers a perpetual 2-for-1 price deal; the "bargain" goes against the BBB's standards because Lindell is selling products he makes himself, making him his own wholesaler.
Mike Lindell now appears to be committed to helping other people follow their dreams. He's opened an e-commerce platform called My Store which sits within his MyPillow site. He has also invested in one of them, Phoenix Biotechnology, which produces oleandrin, the controversial, unproven treatment for COVID-19 that he wants the government to approve. For our sakes, we hope that latter dream doesn't turn into a collective nightmare for those of us desperate to seek help for a potentially deadly disease.