The Truth About Mike Pence's Policy Not To Dine Alone With Women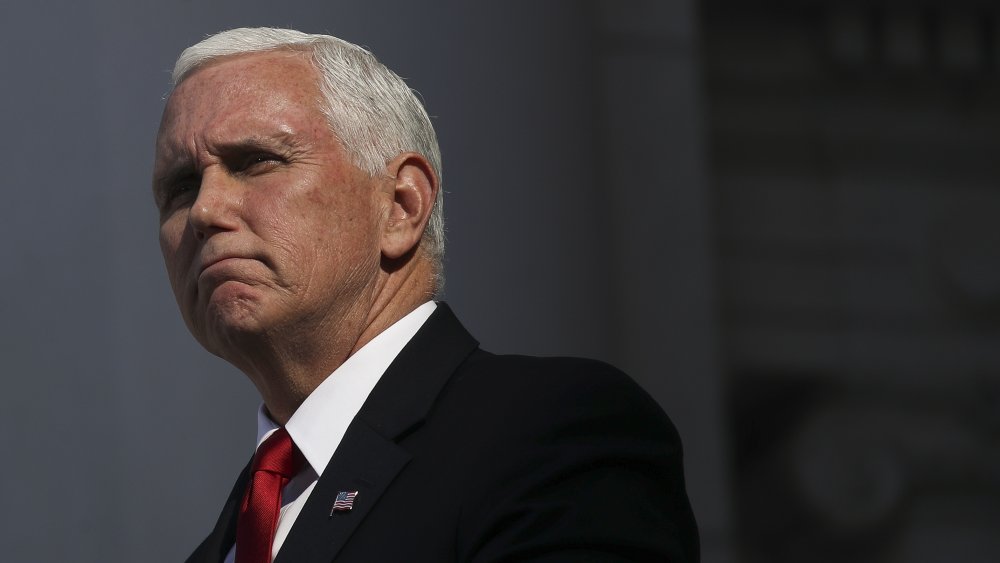 Drew Angerer/Getty Images
It's not uncommon for colleagues of different genders to grab a bite to eat together, whether it's sharing a pizza to power through a brainstorming session, or going out for lunch to negotiate a contract. But Vice President Mike Pence will never dine alone with a woman, even for a work-related event, according to a Washington Post profile of his wife, Karen. Pence also won't consume alcohol if his wife isn't by his side. "If there's alcohol being served and people are being loose, I want to have the best-looking brunette in the room standing next to me," Pence told The Hill in 2012 (via The Atlantic). Okay... but why?
Pence himself hasn't publicly elaborated since that 2012 interview about the logic behind what many now call the "Mike Pence rule, according to Forbes. But others who share his evangelical Catholic faith have defended this practice. Conservative blogger Matt Walsh tweeted in 2017, "Seriously what's the appropriate reason for a married person to go out for a meal alone with a member of the other sex (outside of family)?" In fact, Pence did not invent this restriction; the "no mixed company" approach to dining can be traced to the late evangelist minister Billy Graham's "Modesto Manifesto," which was a pledge he took with his followers during a 1948 gathering in Modesto, California, to never be in a room alone with women other than their wives (per Reuters).
Critics say 'the Mike Pence rule' damages women's careers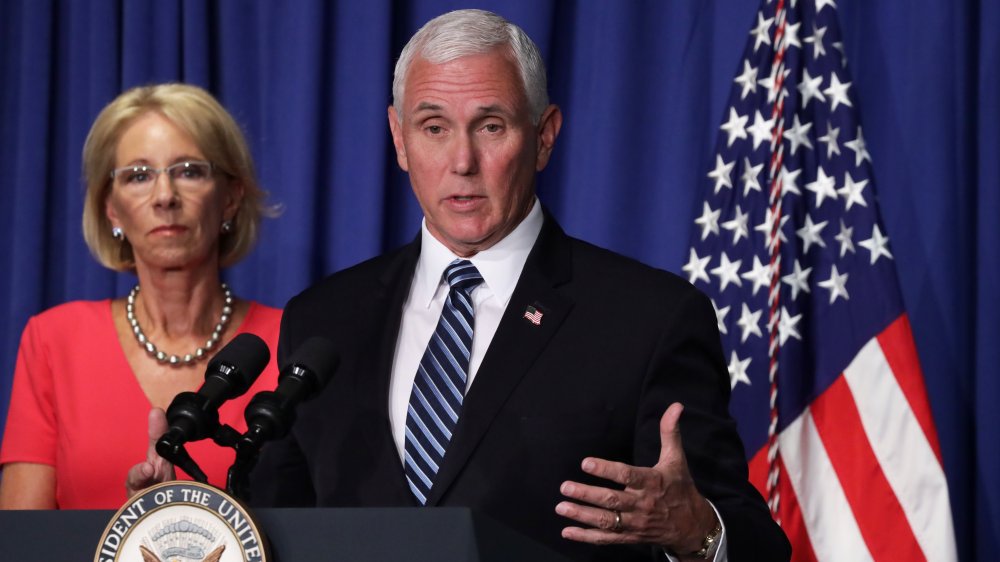 Alex Wong/Getty Images
Professional women have been vocal about their disapproval of "the Mike Pence rule," many of them saying they would be at a disadvantage if they couldn't socialize with a male boss, while a peer who was a man did have this access. "Men vastly outnumber women as managers and senior leaders, so when they avoid, ice out, or exclude women, we pay the price," Facebook's chief operating officer Sheryl Sandberg posted on Facebook. "As for the Pence rule — if you insist on following it, adopt a revised version. Don't want to have dinner alone with a female colleague? Fine. But make access equal: no dinners alone with anyone. Breakfast or lunches for all. Or group dinners only, nothing one-on-one. Whatever you choose, treat women and men equally."
Meanwhile, Pence's democratic opponent in the 2020 presidential race, California Senator Kamala Harris, said she finds this rule appalling. "I disagree with him when he suggests it's not possible to have meetings with women alone by himself," she told MSNBC (via The Hill). "I think that's ridiculous — the idea that you would deny a professional woman the opportunity to have a meeting with the vice president of the United States is outrageous." Pence's (female) press secretary, Alyssa Farah, however, said Harris was wrong that the current veep hasn't supported women. "He's elevated women to positions of leadership throughout his career & relies on their advice & counsel," she tweeted. "Get your facts straight."