Body Language Expert Reveals The Truth About Donald Trump Jr. And Kimberly Guilfoyle's Relationship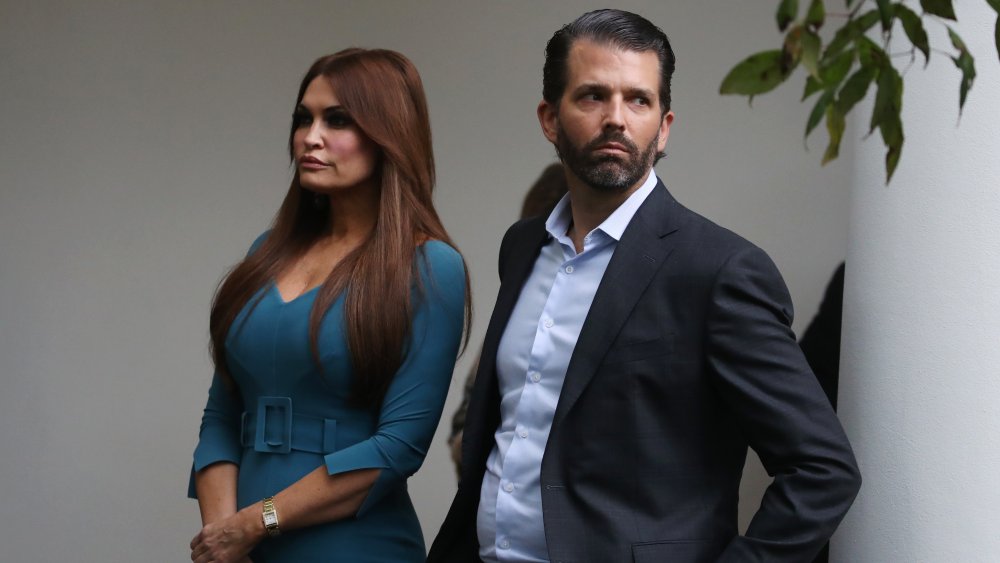 Mark Wilson/Getty Images
She might not be his daughter-in-law (yet), but Kimberly Guilfoyle is already part of President Donald Trump's political family. A key member of his 2020 reelection campaign, Guilfoyle was chosen to help kick off the first night of the Republican National Convention, and has been sharing on Instagram how pumped she is to help re-elect the senior Donald. "President Trump has restored America's promise, and I truly believe that the best is yet to come!" she posted. Guilfoyle has also shared plenty of snaps of her posing with Donald Jr. at fundraising gigs, but some may wonder: Is she driven by love for Donald Jr., fandom of Donald Sr., political ambition... or is it all of the above?
In an interview with The List, body language expert and psychologist Dr. Reneé Carr, who is a political and corporate advisor, explained how the interactions of Kimberly Guilfoyle and Donald Trump Jr. provide subtle cues about how the two GOP A-listers really feel about each other.
Donald Trump Jr. and Kimberly Guilfoyle don't have an emotional connection, expert says
As much as they may love-bomb on social media, according to Carr, the body language between Guilfoyle and Trump during a rally for Arizona Republican Martha McSally suggested they may not be so cozy. "When couples are in love they sit as close to each other as possible," she explained. "Both Kimberly and Donald Jr. are leaning to their left — with body language directed toward the presenter — rather than their bodies leaning inward toward each other. This shows unity in their relationship goals for external needs being met, rather than intimate or love needs being pursued."
The two didn't even look at each other much, Carr added. "Couples look into each other's eyes or will look at the other person when she/he is speaking. Although the other panelists/speakers are interested in what Donald Jr. or Kimberly have to say, neither Kimberly or Donald are that much interested in the words of their partner," she observed. Carr observed a similar phenomenon during an interview by FreedomWorks President Adam Brandon. "Kimberly is slightly nervous, as seen by her rubbing her own thumb to self-soothe," she noted. But instead of comforting her, "Donald Jr.'s arms are straight down and still except when talking." In contrast, according to Carr, "when a heart-connected partner is nervous she/he is likely to hold the hand of the partner they deem as a source of strength, comfort, or protection. However, the couple does not hold hands or have a back hug (i.e., hugging from the back of the person). Instead, Kimberly comforts herself."
Kimberly Guilfoyle is the dominant one in the relationship, according to expert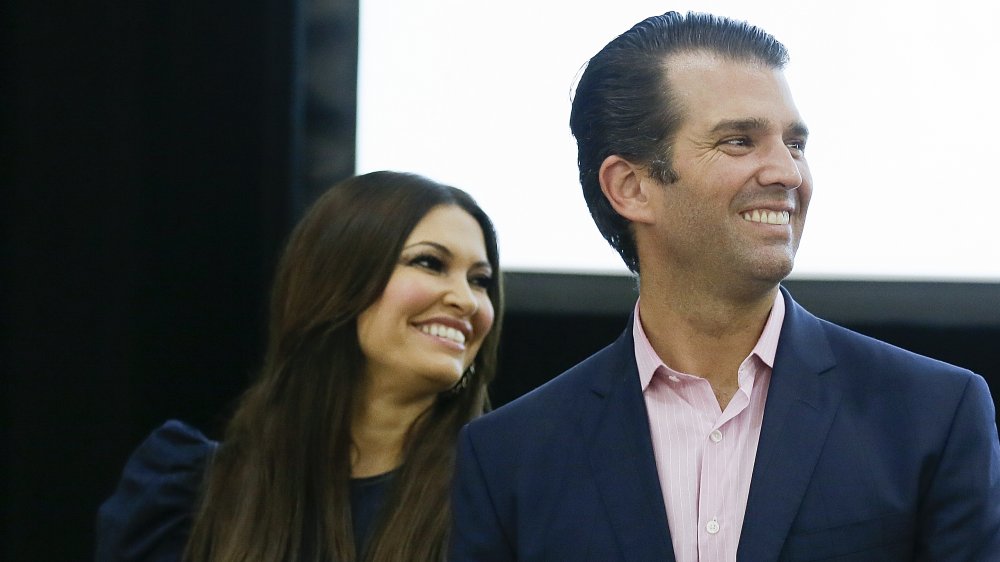 Bob Levey/Getty Images
According to Carr, Guilfoyle's body language suggests that she's the dominant force in the relationship. "Kimberly is poised and aware of her presence, the weight of her words, and her physical positioning in front of the camera. Kimberly has high aspirations and is a leader. She is likely a leader in the relationship, as well, as evidenced by her line positioning when walking with Donald Jr. She walks in front of him rather than next to him," Carr points out. "Kimberly is poised and aware of her presence, the weight of her words, and her physical positioning in front of the camera."
"Alternatively, Donald Jr. is relaxed in his body and holding of the microphone. He speaks mostly from left-brained content — wording that is emotion-based or from his emotions rather than from a prepared dialogue," she explains. This certainly makes the younger Donald Trump an apple falling not far from the anti-teleprompter tree!
As a couple, the pair prefers to look elsewhere instead at one another while speaking. "They look at the crowd, down, or as if thinking, rather than looking at their partner speak," she said.
Are Donald Trump Jr. and Kimberly Guilfoyle in love?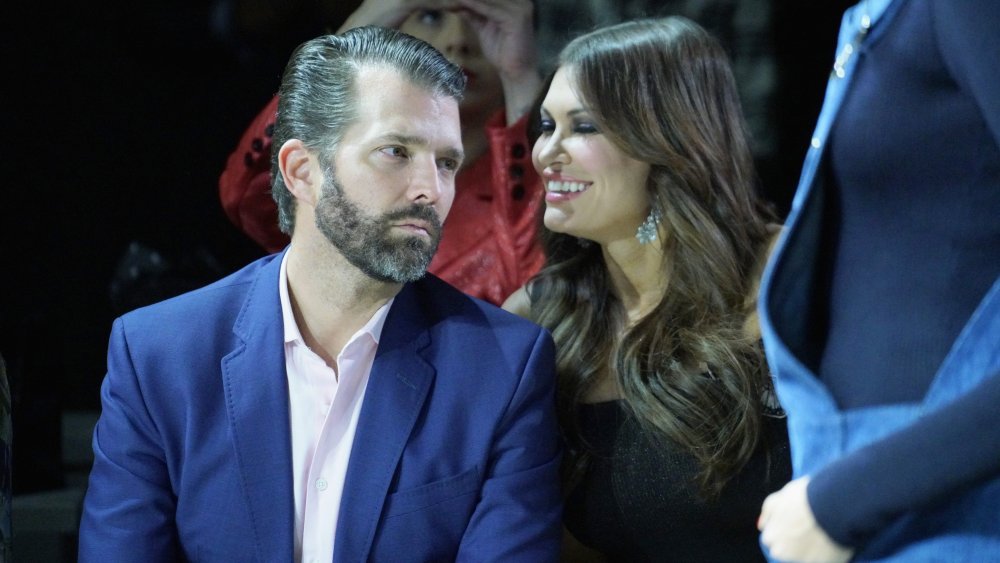 Manny Carabel/Getty Images
The couple's body language leads Carr to believe that, "Kimberly is strategic in her relationship with Donald Jr. and the opportunities that will come as a result of their dating. While she may have feelings of love for him, she is not in love with him as evidenced by rarely looking into his eyes or holding his hands and rubbing fingers." Other, even more subtle cues, suggest she's not smitten. "When she does look at him while he talks, it is with a smile that is not as wide and with pupils that are not as dilated as a person would have when in love," Carr observed. 
If you're worried about Donald Jr.'s feelings, don't. "Donald Jr. does not appear to be in love with her," Carr said. "His feelings for her appear to be more heart-based with an understanding of what their partnership can bring; while Kimberly appears to be more logic-based and goal-oriented in their relationship."