The Truth About Melania Trump's Sister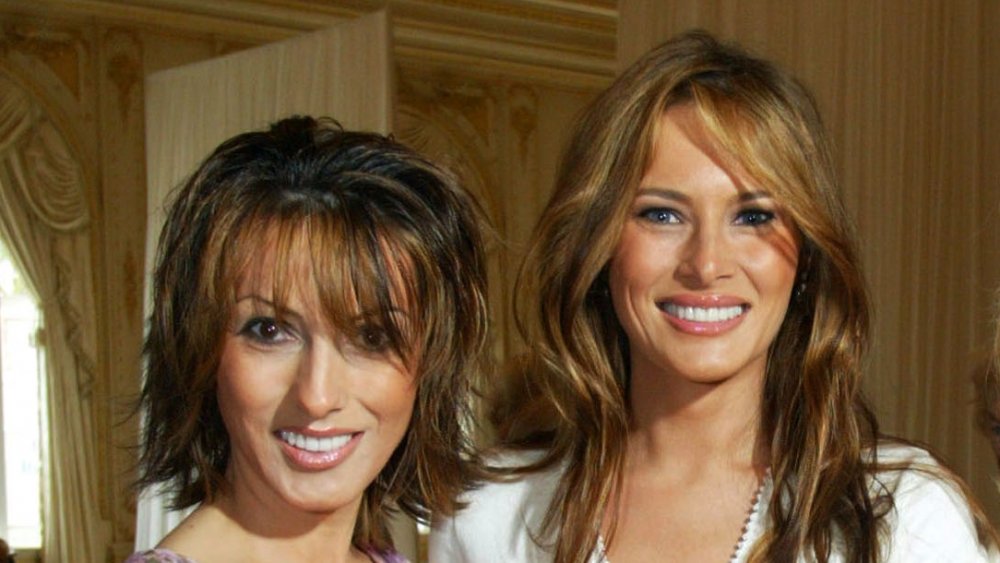 Capehart/Getty Images
Where President Donald Trump is bold, and an often outspoken open book, First Lady Melania Trump is a steel vault of information, especially when it comes to her personal life and family. So, it might come as a surprise to know that FLOTUS has an older sister, 52-year-old Ines Knauss — and that she is Melania's most trusted friend and confidante (via Allure). While not much is known about their childhood in Slovenia, the two sisters moved to Milan, Italy, in the early '90s. That's when Melania got her start in modeling, while Ines tried her hand at fashion design (via Town & Country). They've been tight ever since, and Ines Knauss is totally devoted to her younger sister, according to the New York Post.
In addition to simply being a private person, there's another reason Melania might want to keep her family out of the press. Less than two years after her husband became president, Melania Trump was able to secure naturalized citizenship for both her parents, Viktor and Amalija Knavs, and permanent residency status for her sister Ines, who was already living in New York City at the time. This eventually sparked major controversy because of President Donald Trump's staunch opposition on immigration issues specifically "chain migration," the process that allows US citizens to request residency for their immediate family (via Washington Examiner).
Melania Trump clearly values her bond with her sister, Ines Knauss
Initially, it was thought that Melania was waiting for her son Barron's school year to come to a close before she made the move to the White House. But it has come to light that she also was hesitant to leave her sister, who lives just a few blocks from Melania's NYC home in a $2 million dollar Park Avenue apartment owned by the Trump Organization (via New York Post). 
In her recently released book, The Art of Her Deal: The Untold Story of Melania Trump, Mary Jordan wrote, "Her efforts to keep her family close have succeeded. After her husband became president of the United States, her parents would join her as naturalized U.S. citizens. Without any public notice, her sister would also become a legal permanent resident" (via Washington Examiner). The book also revealed that while it would be relatively easy for FLOTUS to secure citizenship for her parents, it would likely take more than 20 years to get permanent residence status for her sister. 
Perhaps this is just a moment of "do as I say, not as I do" for the President and First Lady. Or perhaps it's Melania doing what she thinks is right and living her life on her own terms. What we do know is that it was Ines Knauss who Melania relied on most when Barron was born; it was her sister who defended Melania from the Slovenian tabloids during President Trump's campaign; and it's clearly Ines Knauss who holds the position of trusted confidante for her sister (via New York Post).