The Real Reason Rey Soul Replaced Fergie In The Black Eyed Peas
Remember the summer of 2009? You could not set foot out of the house without hearing "I Gotta Feeling" or "Boom Boom Pow" or another one of the hits from the Black Eyed Peas' chart-topping album The E.N.D. (via Billboard). The Peas were on top of the world back then, a run that continued through their 2011 Super Bowl halftime performance. 
The group seemingly went dormant for much of the 20-teens, however, and when core member Fergie departed in 2017, either to concentrate on her solo career as her rep stated at the time (via In Touch) or to "focus... on being a mom," which was what Will.i.am told Billboard in a June 2020 interview, people may have thought it was all over for the Peas. As it turns out, though, they were merely going in another direction. They've now made things official by announcing the addition of a new Pea: Filipina singer J. Rey Soul.
How Rey Soul came to join the Black Eyed Peas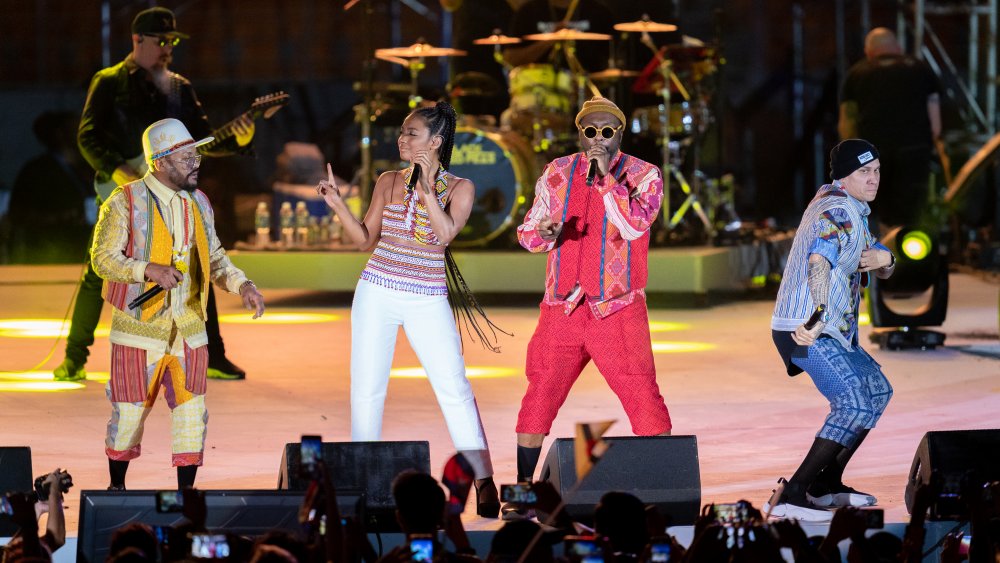 Gary Tyson/Getty Images
Soul, whose real name is Jessica Reynoso, originally came to meet the group when Apl.de.ap chose her for the Philippines version of The Voice in 2013. After Fergie left the group, Soul made a guest appearance on the 2018 Peas project Masters of the Sun Vol. 1, and subsequently accompanied the group on their world tour the following year (via Billboard). More recently the song "Mamacita," her collaboration with the Peas and Ozuna, has become the group's latest hit. No wonder they're taking things to the next level by offering her a permanent position instead of having her remain a part-time Pea.
As to why the Peas chose Soul, specifically, to replace Fergie, it seems to be part of their push to adopt a more global style. Will.i.am, speaking to Billboard about Latin music and culture, calls it "the most creative world right now," and despite being technically an Asian country, the Philippines was under Spanish rule for over 350 years (via NBC News) and thus is considered by many to be part of that Latin world. Will.i.am also noted that between 2003 and 2011, the Black Eyed Peas were even more popular in Latin America and in Spain than they were in the U.S., so it seems likely that the group's more international focus, with Soul front and center, will play well on a global stage throughout the 2020s.