The Real Meaning Behind Demi Lovato's 'I Love Me'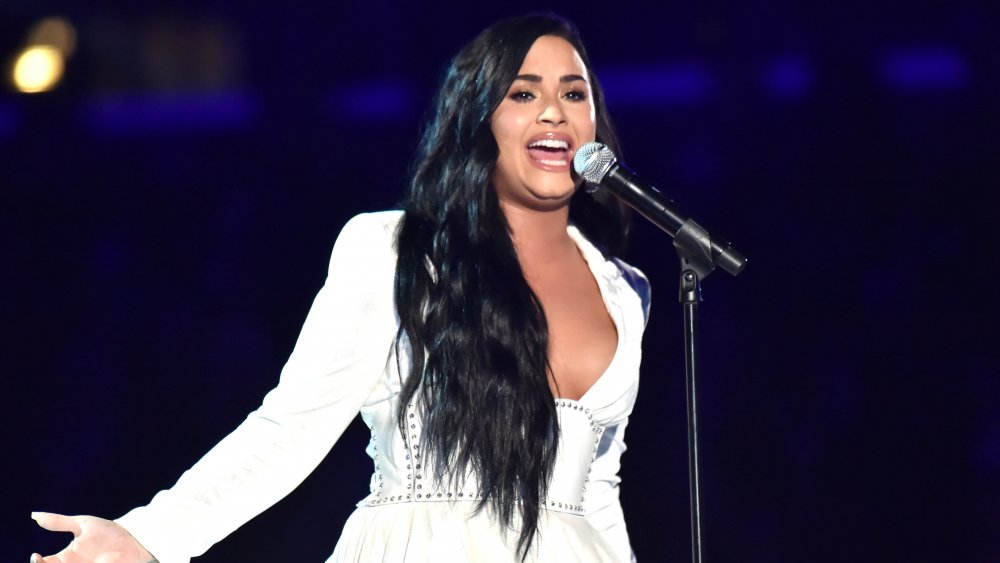 Jeff Kravitz/Getty Images
To say 2018 wasn't kind to Demi Lovato would be an understatement, whose relapse into an eating disorder and exercise addiction fed into her subsequent heroin overdose, and ultimately her admission into rehab (via The Washington Post). But you knew that already. The world was watching. After rehab, Lovato looked inward, telling Ellen on her show (via CNN) in March 2020, "I am the type of person that will find any way to regulate when I'm sad or lonely or whatever... I have to fight those battles on my own."
Now, her music video, "I Love Me" (that she released around the time she confessed to Ellen) is nominated both in the Video For Good categories and Best Visual Effect categories in the 2020 MTV VMAs (via BuzzFeed). "I wanted to make an anthem that is all about self-love, erasing that negative self-talk and trying to re-frame your thinking about yourself," Lovato explained of her work to USA Today.  
The lyrics are a testament to her achievement. "Cause I'm a black belt when I'm beating up on myself, but I'm an expert at giving love to somebody else," sings Lovato, "I wonder when I love me is enough." She's real, she's raw, and she's unapologetically vulnerable about the work she keeps on putting into her mental health. It's refreshing honesty, especially coming from a superstar whose life might otherwise come off as a series of soap-operatic, but nonetheless picture-perfect, Instagrammable moments. 
Demi Lovato's 'I Love Me' is about more than just self love, it's about us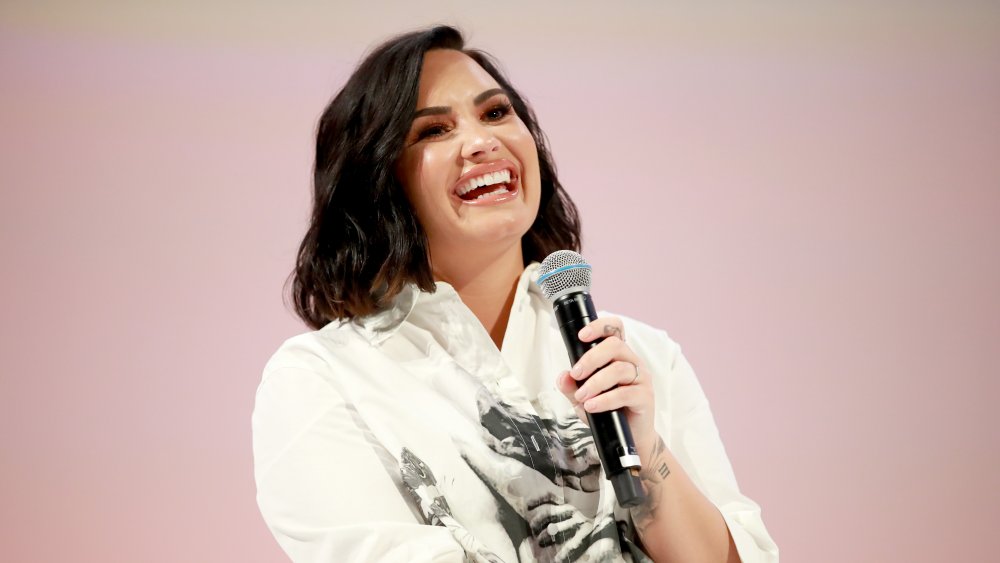 Rich Fury/Getty Images
In "I Love Me," Demi Lovato takes full responsibility for "beating up" on herself. But if she doesn't name names, she doesn't need to. We've been gossiping about them for years. In case you haven't already, Insider went ahead and put together a list of all the life events that Lovato referenced in her hit track. From her childhood to her collaboration with the Jonas Brothers, to her overdose, her life is on display in "I Love Me," in an almost unbearable intimacy. Should we really be peeking?
Of course, peeking is what we thrive at. (Who didn't follow the ups and downs of her eating disorder?) That's another point that Lovato is quick to make. Both to USA Today, while discussing her hit track ("What would be amazing is if people stopped writing about people's weight. It's not important," Lovato said), and in the song itself. "Flipping through all of these magazines, telling me who I'm supposed to be ... can't see what I am, I just see what I'm not," Lovato starts her song. She continues, verses later, calling out the negative social media attention that she's weathered. "Haters that live on the internet, live in my head, should be paying rent, I'm way to good at listening," sings Lovato. Again, she doesn't point directly at anyone. But then, she doesn't have to.