The Stunning Transformation Of Doja Cat
Multi-talented performing artist Doja Cat is well known for her outrageous style and super-honest, if somewhat controversial, internet presence. Doja Cat (aka Amalaratna Zandile Dlamini) was born in California and briefly lived in New York City, before returning to Cali and moving to the Los Angeles area (via Dazed.) The child of two artists working in different media, Doja Cat began dancing at the age of 11 and then dropped out of high school to pursue music. The name Doja Cat comes from the pop star's love of cats and weed, stating that at the time she was " ... heavily addicted to weed and weed culture, so when I began rapping I thought of the word 'doja' and how it sounds like a girl's name."
Dazed states that admirers and haters alike flock to her Instagram Live videos, which the artist has historically used to connect with her fans and share her song-writing process. Doja Cat's first hit, "Mooo!", (The video for which has now received over 78 million views on YouTube) was even written in part using the platform, as she shared that it was kind of a joke with her fans, created during one of her Instagram Live streams. 
Doja Cat has been making music since her teens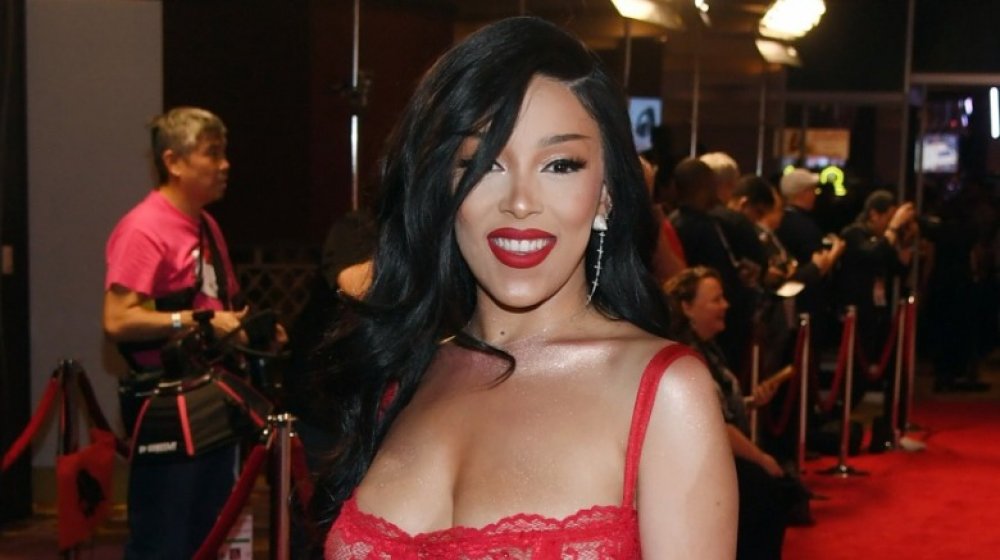 Ethan Miller/Getty Images
Insider states that Doja Cat signed with RCA Records imprint Kemosabe in 2014. The first song that began to gain her attention in the music world was one she released on the platform Soundcloud when she was still in high school. Her song, "So High", was featured on the hit television show Empire in season one, episode three, which premiered in 2015 (via IMDb.)
According to Insider, the singer-songwriter's career really took off after her song "Say So" went viral on the social media platform TikTok. One fan created a simple dance to the chorus of "Say So", which became a huge trend, catapulting the song — and Doja Cat — into the spotlight. A remix of the song, featuring pop star Niki Minaj, eventually became Doja Cat's first number-one hit in May of this year, when it officially reached number-one on Billboard's Hot 100 Songs Chart. Doja Cat was so psyched on the song becoming popular through TikTok, she even performed the viral dance with the fan who created it in her official music video.
In 2019, the artist told the LA Times that she was moving onto a second act in her career, and that she had quit using marijuana constantly. She says she still values her ability to have fun and be creative, but also desires the space to be vulnerable and emotional.