Lady Gaga's 2020 VMAs Outfit Turned Heads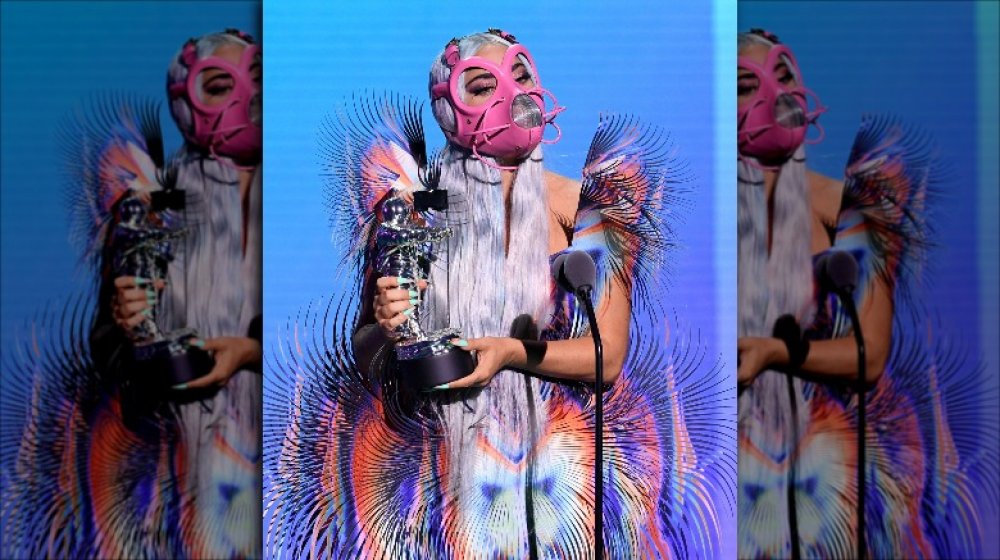 Kevin Winter/mtv Vmas 2020/Getty Images
When Lady Gaga walked on stage at MTV's VMAs her outfit said it all: winner. She was, indeed, accepting the award for Best Collaboration for the song Rain On Me, which she created with fellow pop queen Ariana Grande and her ensemble was definitely fit for the moment. Lady Gaga's fashion has always served up plenty of surprises, but tonight's multi-colored dress, sky-high platform shoes, and bright pink mask took the singer's stunning, eccentric style to another level.
Gaga's dress almost seemed to move on its own thanks to a kaleidoscope of colors and the 3-D effect of structured, feather-like plumes adorning her shoulders and hips. The black platform boots were similar to the ones she rocked on the red carpet earlier this evening, if not the very same (via Elle). The height of those heels made us dizzy just looking at them but the 5'1" singer showed no fear in strutting up to the mic. At this point, there's no dress or shoe Lady Gaga can't pull off. Never one to let us down, her accessories were on point, too. Tonight's pink cage-like mask was everything.
Lady Gaga's mask game is on point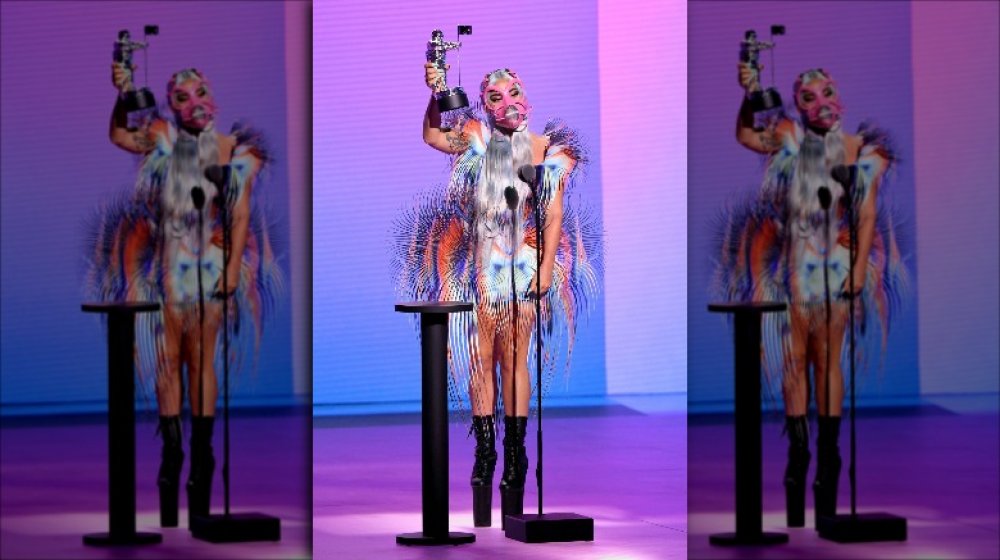 Kevin Winter/MTV VMAs 202/Getty Images
The year 2020 might be the year of the mask, but as Lady Gaga pointed out on Twitter, she "was wearing face shields before it was a thing." That's true. At the 2009 VMAs, she accepted her Best New Artist award in a red lace Alexander McQueen dress with an elaborate matching face mask and crown (via Page Six). Tonight should be no different and of course it could not be, in light of the Covid-19 pandemic.
Gaga has been outspoken about the importance of wearing a mask and protecting our communities, as recently as July 3rd. She posted a selfie showing off a spiked Chromatica face mask on Instagram and captioned the photo, "Be yourself, but wear a mask! I believe in being kind to yourself, the community, and the planet. I challenge my awesome friends to show off their mask game!" Fans will have to get pretty creative to top the star's VMA mask, though. It was more work of art than personal protective equipment, with pink metal encircling her eyes and covering the lower half of her face, accented by silver mesh over her mouth. As with most everything Lady Gaga touches, her outfit tonight was truly unforgettable.