Miley Cyrus' 2020 VMAs Performance Explained
Usually remembered for her over-the-top awards show antics, pop superstar Miley Cyrus' 2020 VMA performance was a stripped down, uncomplicated act compared to the artists' VMA performances of the past. In Cyrus' performance of the new single "Midnight Sky," the star paid homage to female music trailblazers of the '70s and '80s with her styling and the bare set's striking visuals.
Cyrus' platinum blond locks were sheared earlier this year in a style reminiscent to the signature shag worn by punk icon Joan Jett of The Runaways and Joan Jett & The Blackhearts, which Cyrus' stylist described to Harpers Bazaar as an "edgy ... modern mullet", while the mod, single colored lighting and glitzy dress screamed Blondie front woman Debbie Harry. And who could possibly see those layered silver chains, massive cross, and stacked bracelets not immediately think of Madonna in the '80s?
It's worth noting that this performance of "Midnight Sky" took many visual cues from the music video for the single, released earlier this year, which Clash Music states was self-directed and inspired by the New York glamour-infused punk scene of the 1980s.
Miley Cyrus alluded to another female performer in her 2020 VMA performance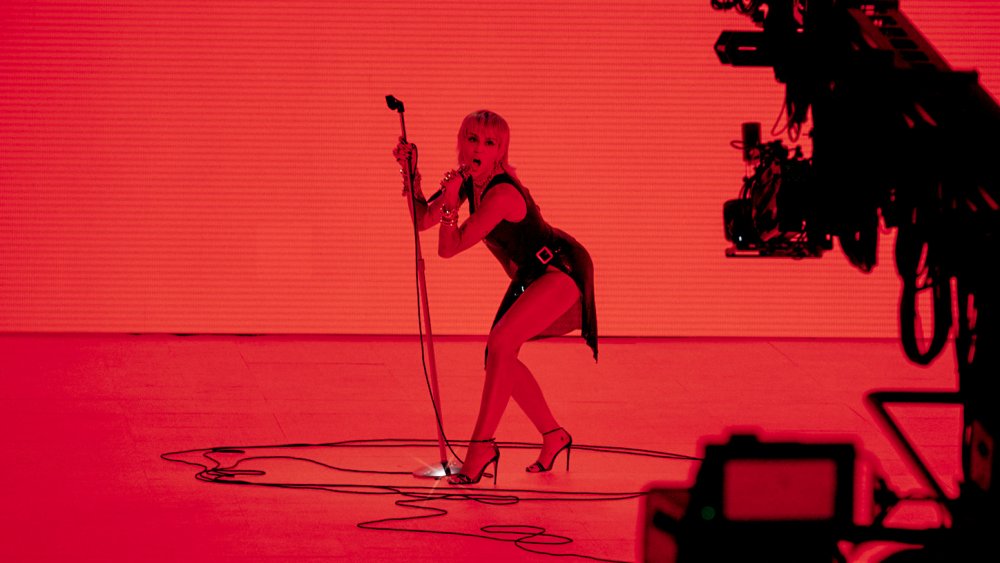 Vijat Mohindra/mtv Vmas 2020/Getty Images
Miley Cyrus also decided to not-so-subtly reference one other rebellious female musician in her 2020 VMA performance of "Midnight Sky" — herself! At the end of Cyrus' performance, we saw her strip off the bottom half of her sequined dress, leaving her clad in a pair of black underpants and a glittering tank top. The genre-bending musician then straddled a huge, sparkling disco ball and began to swing, directly alluding to the music video for her number one hit single "Wrecking Ball" from 2013 (via Billboard.) The outfit Cyurs stripped down to is the inverse of the all white ensemble she wore for most of the "Wrecking Ball" video, where she can be seen swinging on (of course) a wrecking ball.
MTV says that this was the first time Miley Cyrus has performed the song "Midnight Sky" live. They state that the artist told Billboard earlier this year that the song is about finding her independence and the idea of remaining in love forever, saying, "You never know who you're going to evolve to be and who they're going to evolve to be. So I think that we, especially as women in relationships, a lot of the time we can get villainized when 'forever' doesn't happen."