The Truth About Chadwick Boseman's Relationship With Kobe Bryant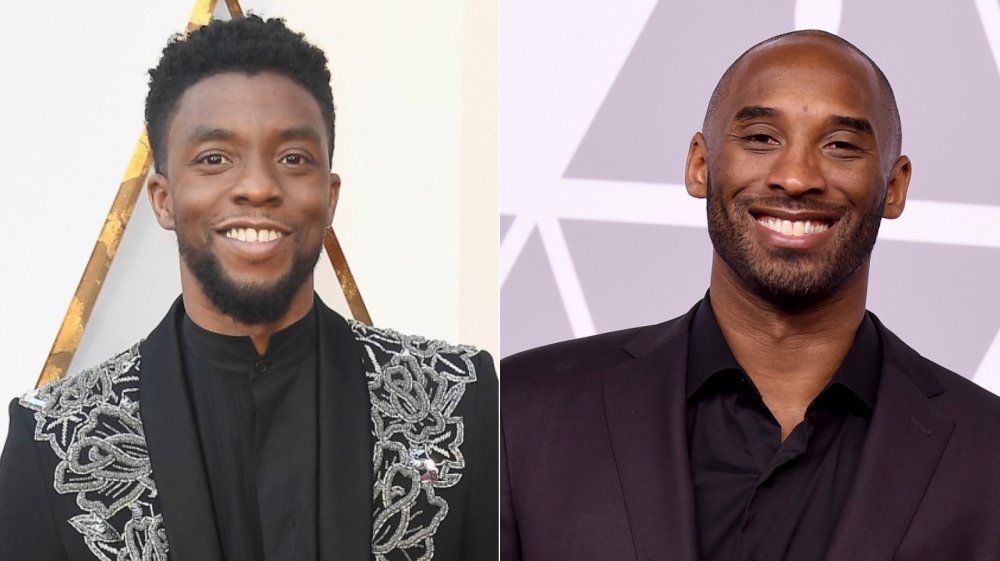 Frazer Harrison, Kevin Winter/Getty Images
The death of Chadwick Boseman has fans reeling. His passing was announced in what Variety noted is now the most-liked post in Twitter history. "It is with immeasurable grief that we confirm the passing of Chadwick Boseman," read the tweet, which was posted on August 28. "Chadwick was diagnosed with stage III colon cancer in 2016, and battled with it these last 4 years as it progressed to stage IV."
Boseman's death is one of many celebrity losses that have hit the public hard in 2020. Another such death is that of basketball legend Kobe Bryant, who passed away in January in a helicopter crash that killed eight other people, including his daughter, Gianna Bryant.
Boseman was deeply affected by the death of Bryant, speaking of the friendship that the two of them shared. While Boseman and Bryant didn't know each other very well, they still had a special connection that impacted Boseman's life.
Chadwick Boseman and Kobe Bryant planned to work together one day
"He's not somebody that I was best friends with or that I knew really well," Boseman said on HBO's The Shop: Uninterrupted (via Twitter). "But the crazy thing is that in those four conversations, it felt like somebody that I knew really well." Boseman revealed that the two first met "before he won the Oscar," referring to Bryant's 2018 win for Best Animated Short (per People). "It was crazy because we were sitting in the party talking about philosophy and poetry — that's who he was," said Boseman. "He was like, 'This is what I'm into right now as an artist, not as a basketball player.'"
Boseman and Bryant even discussed collaborating together. "We started talking about it, I'm like 'Yo we should do something together'," said Boseman. "He was applying the same type of focus that he's applied to basketball, as a producer or director, whatever. He looked at me and I saw his eyes go in like he was meditating... like he was seeing it. And he looked up at me and he said, 'Two years.' It's like he saw the whole thing unfold. He was like, 'I need two years.'"
Sadly, the collaboration came about. It's clear that the two men both respected each other, in spite of not getting to know each other better . "I'm heartbroken," Boseman wrote on Twitter after Bryant's death. "Shocked. Husband, Father, Strategist, Philosopher-Poet, Warrior-Athlete, Filmmaker...your focus is magnetic, Kobe. My love goes out to you and your family."