The Truth About 90 Day Fiancé's Colt Johnson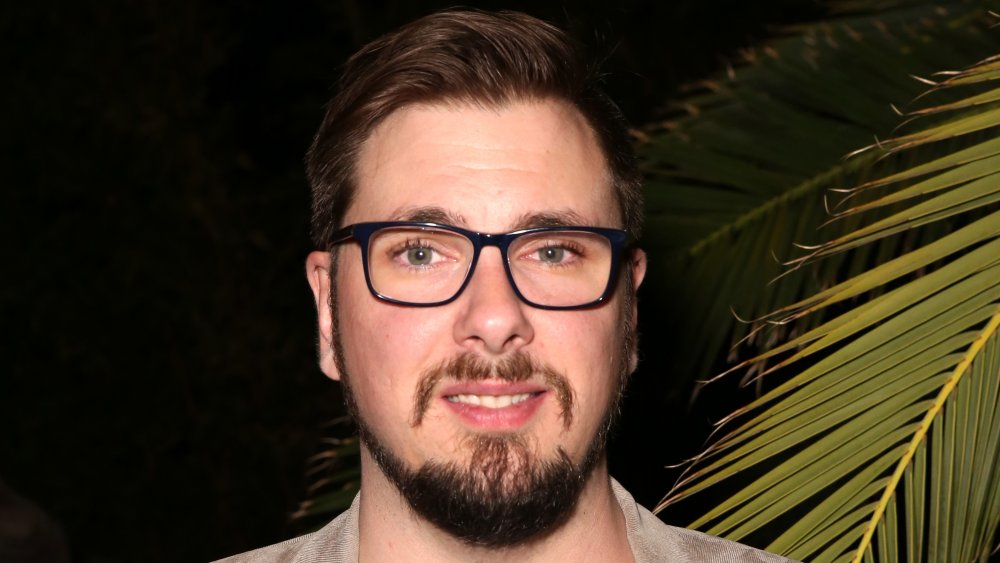 Gabe Ginsberg/Getty Images
TLC's 90 Day Fiancé 's Colt Johnson is an interesting personality for sure. And we mean that in the way you'd call someone's unflattering outfit "interesting..." Ok, he's not that bad. Sure, he's a momma's boy, but he also supported his mother following the death of his father. And we kind of love the awkward, super-close relationship he and momma Debbie share onscreen (via Screen Rant). Johnson is also admittedly a "crazy cat guy," at one point owning 15 felines as he revealed on the new season of 90 Day Fiancé : Happily Ever After (via YouTube). We can't really hate on an animal lover, though.
Then there's "Savage Colt J"'s Instagram profile, which simply states "Born with a crown." Ok, so Johnson has an enormous ego. Some of that may be due to Debbie's tendency to always clean up after her son, do his laundry, and drive him around town. But a big ego is also to be expected of a TLC star with 184,000 followers. Plus, that heightened sense of self seems to be forcing a bit of change for the 35-year-old software engineer lately. Let's take a look into the truth about who Colt Johnson is and what's happening with him today.
Colt Johnson brings the drama
There's something about Colt Johnson that just seems to attract drama. His first televised conquest for love appeared on season six of 90 Day Fiancé when Johnson met up with his future wife, Brazilian Larissa Dos Santos Lima. He proposed to her after five short days, and the two were married in June of 2018. But things soon went south. Fiery arguments ensued, Lima was arrested for domestic violence three times, and Johnson finally filed for divorce in January of 2019, according to Us Weekly.
Now, on 90 Day Fiancé: Happily Ever After? tension has erupted again between Johnson and his new Brazilian love, Jess Caroline. This time, though, the drama seems entirely self-inflicted. According to In Touch, Caroline received some pretty compelling evidence of Johnson having sent inappropriate, possibly suggestive, photos to other women in the time that they've been together. Caroline claimed she'd received direct messages from eight different women with screenshots of Johnson's unseemly photos and said the women informed her he had said he was single. Johnson said he was "mortified" but also admitted he felt he "wasn't part of the relationship" at the time he sent the scandalous pics. To her credit, Johnson's smothering mother declined to look at the photos in question when Caroline offered. Thank goodness. Perhaps Colt can work "fidelity" and "phone manners" into the self-improvement he seems to be doing lately.
The new Colt Johnson is slimmer and happier
Fans may have noticed Johnson's striking slim-down on his social media lately, particularly in a photo posted on his 35th birthday, revealing a rather chiseled-looking jawline and some defined cheekbones (via Instagram). Fine, we'll say it: Johnson looks pretty good. He also seems to be choosing happiness, despite losing his job at the beginning of quarantine. According to Screen Rant, Colt was employed as a software engineer for Konami Gaming, Inc., but was laid off from his position in April 2020. Johnson reportedly felt "angry and disappointed" after being let go but appears to have new outlook these days. 
An Instagram post on July 26 stated, "I have been through a lot lately and it looks like these trying times will continue to press on. It's important now to not become overwhelmed by the world around us. Take every day, every moment as it's isolated from the next. Today you too can be happy. How do you find happiness now?" Well, Colt, we find happiness through watching your shenanigans on 90 Day Fiancé so, please, keep the drama coming.