What Kamala Harris' Converse Really Say About Her
Kamala Harris is a woman of firsts. She is the first Black woman, and person of Indian descent to be nominated for national office by a major party (via The New York Times). She's also got another first under her belt, and it's as intentional as it is refreshing. She is the first prominent candidate to wear sneakers while campaigning (via The Guardian)!
A pair of low top Converse seem innocuous enough, but her choice of footwear is not solely about comfort and trends. Kamala Harris is making a bold statement about the perception of women in power, and her Converse are a tool in her arsenal against the misconceptions perpetuated in a culture that still cares more about how women look, rather than what they think (via The New York Times). 
Just think about the Oscars' red carpet. Men get asked about the roles they are nominated for and women get asked about what designer they are wearing and how long it took them to get ready (via Refinery 29). The same thing happens on the political stage. Remember when Michelle Obama dared to show off her bare arms in a dress (via ABC News)? Or how about Hillary Clinton's choice to don a pantsuit for her official White House portrait (via CNN)? Sadly, these were major scandals at one time.
Now, Harris is sending a message to America with her kicks and we are here for it!
Kamala Harris is breaking gender stereotypes and telling the U.S. she's ready to get to work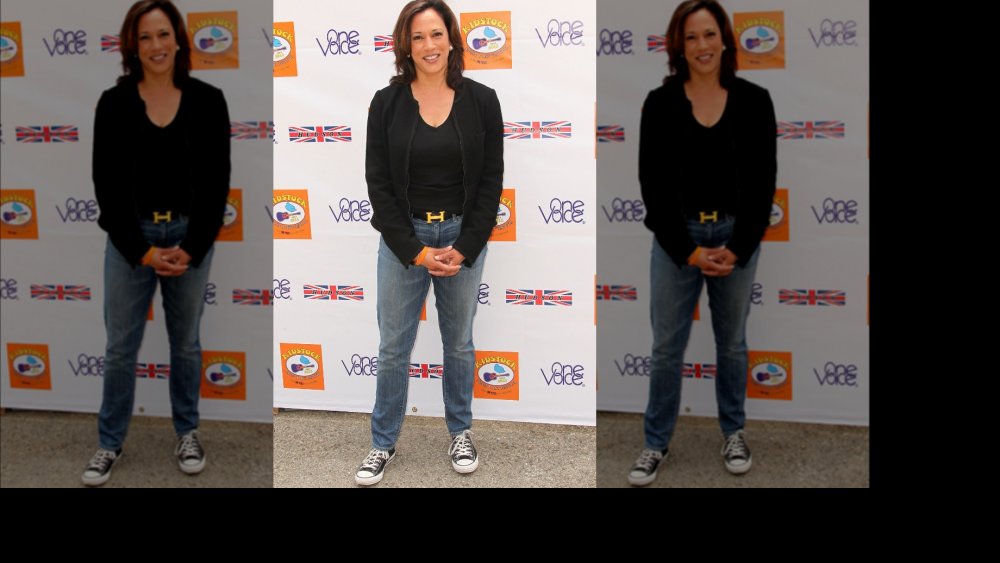 Frederick M. Brown/Getty Images
Kamala Harris couldn't have picked a better pair of sneakers as a signature shoe. The sneaker has a storied past that makes them perfect for the message of her campaign. Historically, Converse low tops were the shoes of rebels like James Dean and Curt Kobain. These were figures who demanded that their work and artistry speak rather than their appearance. Not only that, but they are unisex in design and appearance. In an interview with The Guardian, Elizabeth Semmelhack, the author of Sneakers X Culture: Collab explained, "Chuck Taylors have a long history of being used to convey ideas of authenticity rather than hype." 
This a great way for Harris to connect to younger voters, too, and it's also her way of telling the American public that she is ready to shed, as The Times puts it, her "reputation as a buttoned-up prosecutor in a dark suit."
Harris is putting on her sneakers in the same way one would wear workout gear — you don't run a marathon in stilettos. Semmelhack explains, "The sneakers are acting as the sartorial equivalent of being willing to roll up her sleeves." They suggest Harris "is a woman of action." And let's be real here, whether she's rocking her Chuck T's through the airport or during a rousing campaign speech, she looks darn good wearing them! If Hillary had #pantsuitnation, Harris should get #ConverseCountry.