The Real Reason Taylor Swift Doesn't Have Any Tattoos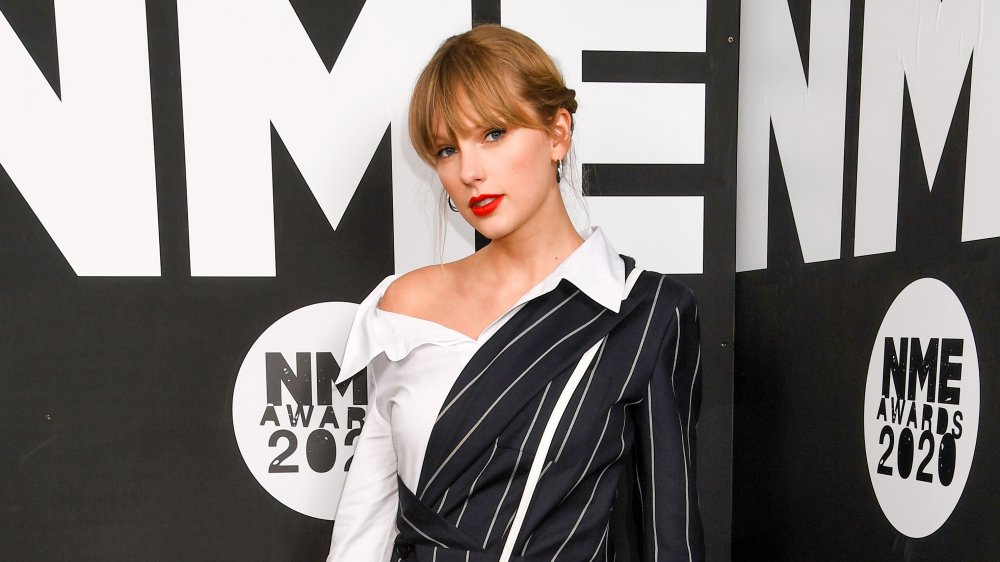 Dave J Hogan/Getty Images
In late 2018, celebrity tattoo artist JonBoy posted a picture of a woman with a small rose tattoo on her neck on Instagram. Then, he tagged Taylor Swift's account (via In Style). Was it really a photo of a freshly inked Swift? The internet couldn't seem to decide. Swift's diehard fans, on the other hand, didn't think twice. "That isn't her hair FYI," wrote one admirer in JonBoy's Instagram comments. "That isn't even her hair color, the shape of her head, her neck length, or her ears," confirmed another. "She only wears 1 specific necklace and that's not it," wrote a third. 
Swift never went out of the way to confirm or deny the rumors, but in hindsight, it seems clear it probably wasn't her in the photo. In 2012, Swift told Taste of Country that she would never get a tattoo. "I don't think I could ever commit to something permanent," she declared."If I was going to get something, it would be a 13." For all you recent initiates into the Taylor Swift fan club, 13 is her lucky number. Doesn't sound like the tattoo in the photo.
What did Taylor Swift's fake tattoo mean?
In June 2019, Taylor Swift and her (lack of) tattoos made headlines again. This time, the singer herself posted a picture on her Instagram to promote the release of her new single, "You Need To Calm Down." In the photo, she sported a giant, butterfly-filled back tattoo. Was this one real? No, concluded Bustle. Elite Daily didn't think so either, noting that after "stalking the Instagram accounts of every celeb tattoo artist in Los Angeles," no one had come forward to claim the piece.
But what exactly did the tattoo mean? Cosmopolitan speculated that the snakes symbolized the massive feud between Kanye West and Taylor Swift. Remember when Kim Kardashian released supposed proof that Taylor Swift agreed to Kanye's lyrics on National Snake Day? We won't go back there. Taylor Swift clearly doesn't want to, and that's where the butterflies come in. Cosmopolitan thought Swift's back butterflies symbolized hope and metamorphosis, and marked a transition for the singer to the beginning of a "newer, brighter time in her life."