What Ashley Holt Has Been Doing Since She Quit Cake Boss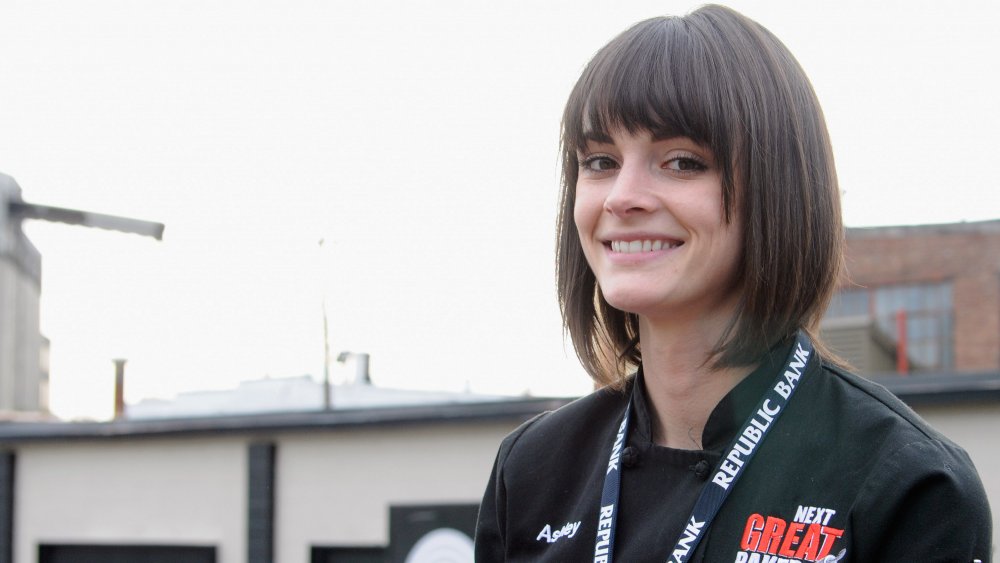 Stephen J. Cohen/Getty Images
Ashley Holt didn't make her first cake until she was 19 years old. When she won TLC's Next Great Baker, the 25-year-old former model (she left the industry when she realized, "why am I doing this to myself? I'm not happy. I'm starving myself") snagged a $100,000 cash prize and a coveted two-year apprenticeship in Buddy Valastro's New Jersey bakery (via News and Tribune). There, between 2012 and 2014, we watched her grow for two years on Cake Boss (via IMDb).
Sugar Monster Sweets, the bakery she opened with her Next Great Baker prize money, is up, running, and the bakery equivalent of Willie Wonka's chocolate factory. Professing a message to "spread love, positivity, and empowerment through dessert," there isn't really a cake you can't order, per the website. Flavor? We'd go bourbon vanilla. Frosting? Salted caramel, please. Filling?  We can't decide,  pistachio, or white chocolate mousse? Decoration? The sky is really the limit.  
 Meanwhile, thanks to  Holt's Instagram, we know she's keeping herself busy, playfully making cereal shaped like teeny croissants, winning the 2017 "Best in Show" at the New York Cakes Show, making ironic break-up cakes for ex-boyfriends. She's also baking up a storm for the likes of Elton John (a Rocket-shaped cake, of course) and Billy Joel (who took a picture next to Holt's creation).
Ashley Holt became a mother in 2018
Holt's daughter, Chloe, turned two in May 2020. On Instagram, Holt describes her pregnancy as "a total surprise" that "completely took [her] life for a right turn." Pregnancy was no cakewalk. "I was sick basically the entire time," writes Holt, "this brand I built for myself ... I now all of a sudden had no interest. It was soul-crushing." 
As Holt reflected afterward, "life will throw you curve balls and you just have to ... roll with it and figure it out." She knocked it out of the park. While Holt took as step back from the management of Sugar Monster Sweets, she and her best friend and business partner, Marisol Morley (Morley owns a bakery that shares a physical space with Sugar Monster Bakery in Brooklyn), opened Tiny Monster Academy in 2019. It's a place where people, young and old, can take classes, run by Holt, Morley, and "bosses bakers, makers and industry shakers." What can you learn at Tiny Monster Academy? Upcoming classes include an "Elements of Hip Hop" Cookie Class and an "Ever After" Cookie Class (Wedding-themed cookies, anyone?). "There was always so much magic happening under that roof it was a shame to not bring people in on it," Holt wrote about the Tiny Monster Academy opening (via Instagram). 
Ashley Holt works as lead food stylist for Today
You heard it right. Ashley Holt is back in television. She's not competing anymore, of course. Instead, she's taken on the role of lead food stylist at NBC's Today. "We are the magicians behind the curtain," Holt told HoneyBook, "I work with chefs and turn their recipes into a segment that is suitable for 3-5 minutes of live television ... It's not just about having the idea either, it's about knowing how to productively and efficiently execute these ideas, usually on a very tight budget and on a very quick turnaround."  
Since joining the show as a new mother in the fall of 2018, she's had the opportunity to work with Martha Stewart ("Ok. I can die happy now... Martha Freakin Stewart!!" she wrote on Instagram), teach the world how to make cream puffs, and, of course, make birthday cakes for her Today team. It was a queso-filled cake for Today co-host, Jenna Bush Hager. "I mean ... what else do you give someone who loves queso so much?!," posted Holt. No arguments there.