Details About Miranda Lambert And Maren Morris' Relationship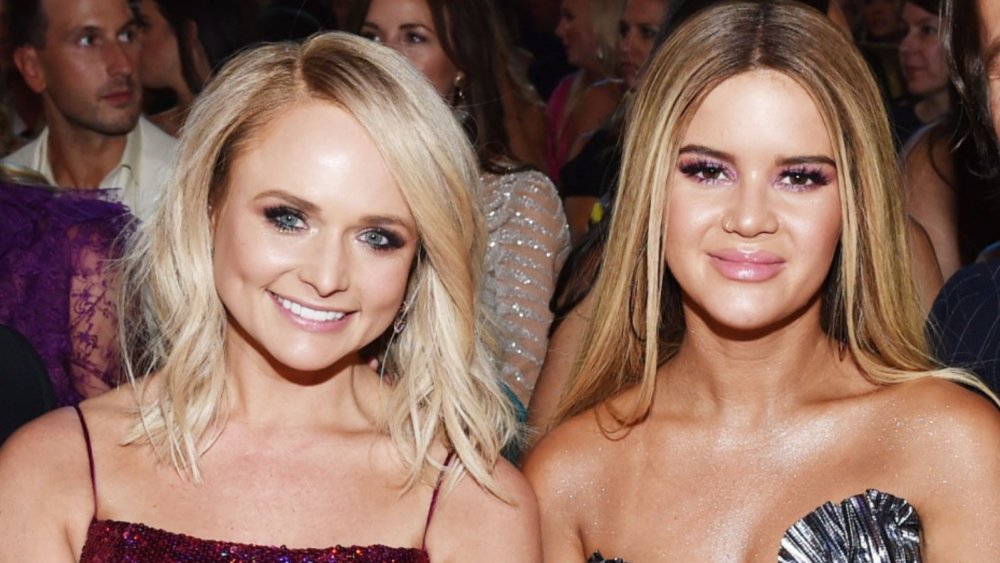 Denise Truscello/ACMA2019/Getty Images for ACM
Miranda Lambert and Maren Morris are two country music queens that we just can't get enough of and both happen to be nominated for Female Artist of the Year at Wednesday night's Academy of Country Music Awards. These two strong female superstars have signature vocals, successful careers, and a bit of southern sass in common already, so it made perfect sense that they would team up for a duet on Lambert's 2019 Wildcard album.
The song Lambert and Morris joined forces over is called "Way Too Pretty For Prison" which, according to Taste of Country, was inspired by a songwriting session between Lambert and Little Big Town's Karen Fairchild. The two had been drinking wine and Lambert reportedly told Fairchild not to drive home, insisting that she was "way too pretty for prison." Per PopCulture, when Lambert and her writing team finished the first verse the following day, she knew it needed to be a duet with Maren Morris. Lambert told the outlet she texted Morris right away saying, "'I have a duet about killing somebody. You in?" to which Morris replied, "Duh!"
Soon after, Morris joined Lambert on her Roadside Bars and Pink Guitars tour, where the two sang on another hit collaboration with Elle King, Ashley McBryde, Tenille Townes, and Caylee Hammack — a cover of the 1975 classic "Fooled Around and Fell In Love" (via Spin). Naturally, Lambert and Morris would form a friendship along the way and we can't help but be curious about the details.
Miranda Lambert knew Maren Morris was a star
Before Miranda Lambert and Maren Morris began making chart-topping music together, Lambert knew Morris was a force to be reckoned with. In an interview with Zane Lowe for Apple Music, Lambert described listening to Morris' EP and knowing she'd be the next big thing (via YouTube). Lambert noted, "She's brave but she's kind of aloof about it, she just does her thing." Lambert added that she and Morris are both Texas girls, which may explain the bond these two have maintained.
In July, Morris took to Instagram to show off a recent and very adorable gift from the "Bluebird" singer. The photo shows Morris' husband, Ryan Hurd, holding the couple's four-month-old son, Hayes, wearing a denim jacket with his name embroidered in sequins across the back, accented by a line of sparkly fringe. According to People, Lambert gifted mama Morris with a matching jacket for herself. If that's not the cutest thing ever, we don't know what is. 
We're looking forward to seeing how both of these ladies do at the 2020 ACM awards. Morris tweeted her list of nominations including one for "Fooled Around and Fell In Love," and the singer made sure to thank Lambert for including her on the line up adding, "Women cleaned up this year!" We couldn't agree more!