Details About Trisha Yearwood And Kelly Clarkson's Friendship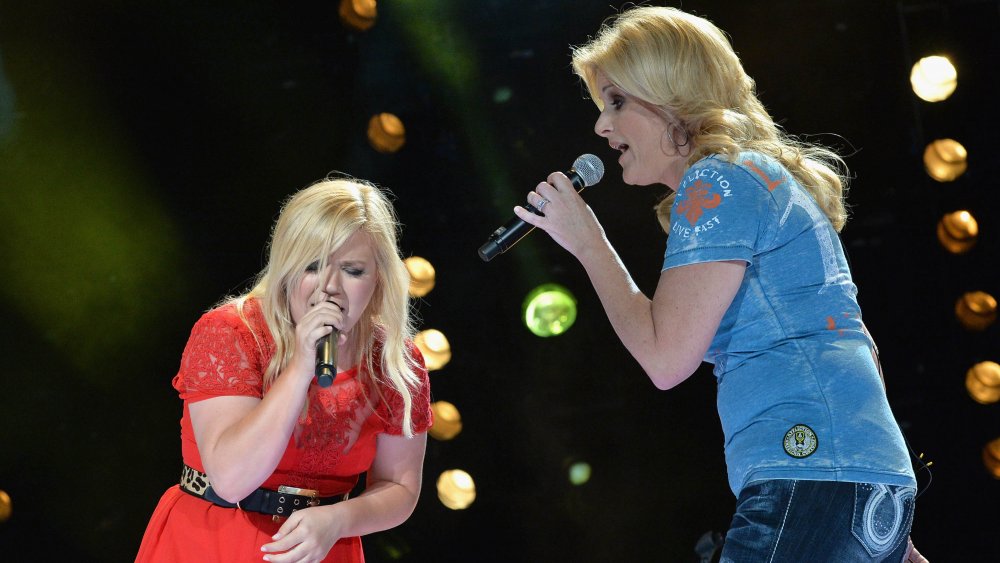 Rick Diamond/Getty Images
It's always exciting when two female powerhouse vocalists team up on a song, but it's even better to find out they are friends in real life. Trisha Yearwood and Kelly Clarkson have had a bond for years, dating back to early collaborations like Yearwood's 2014 hit "PrizeFighter." They teamed up again on Yearwood's 2019 song "Tell Me Something I Don't Know" from her album, Every Girl (via Idolator). This June they performed an unforgettable virtual duet on an episode of the quarantine version of The Kelly Clarkson Show, per One Country. As the two wrapped up the stellar performance of Yearwood's 1996 song "Believe Me Baby (I Lied)," Clarkson shouted, "I love you Trisha Yearwood. You are the greatest singer on this planet."
We know Trisha Yearwood feels the same way about Kelly Clarkson. In a 2019 interview with People, Yearwood described Clarkson's talent as unreal, saying "She's ridiculous, I love her." When the outlet asked Trisha about Kelly's ability to power through the pain of a burst appendix just prior to her hosting gig at the 2019 Billboard Music Awards and the trauma of a burst ovarian cyst a week later on the set of The Voice, Yearwood summed up her admiration by saying, "She's a pro." These two superstars clearly support each other, especially lately, in light of the June 4th announcement of Clarkson's divorce from her husband, Brandon Blackstock.
Trisha Yearwood defended Kelly Clarkson on social media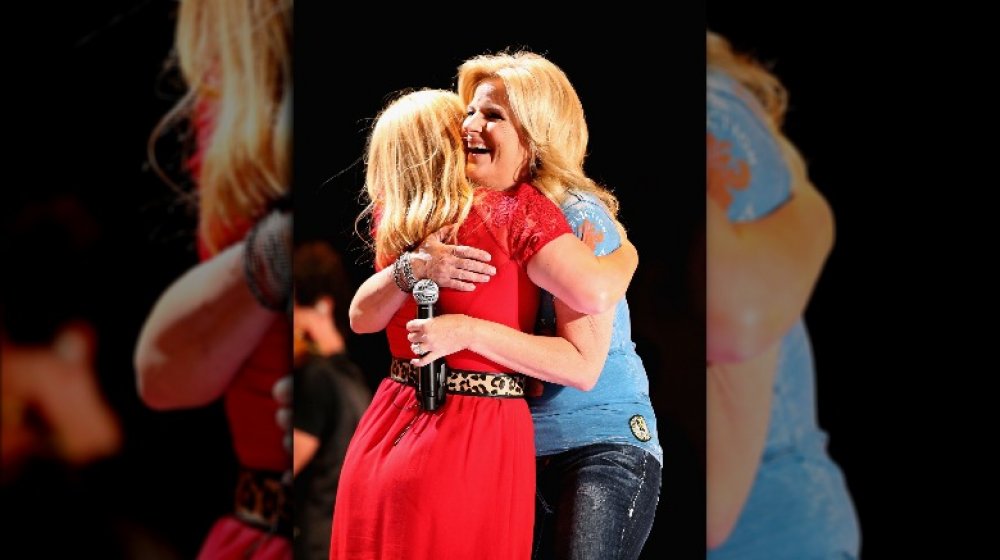 Rick Diamond/Getty Images
Living life in the public eye opens stars like Trisha Yearwood and Kelly Clarkson up to more than a little criticism on social media. When news of Clarkson's divorce broke, some judgy fans took notice of the career moves she was making around that time, including stepping in for Simon Cowell on America's Got Talent. According to ET Canada, one person said in a tweet that has since been deleted, "Now Kelly is taking Simon's place. No wonder her marriage didn't work... Surprised she has time for her kids... Not the good old country girl we fell in love with... It's all about Kelly being on TV... and no one else... no tears for her... but for her kids."
Clarkson took the high road by responding, "This can't be who you are deep down. I have more faith in your heart. Aim higher, please." Shortly thereafter, Trisha Yearwood spoke up for her friend, tweeting "How about a woman who is a great friend, amazing mom, does any job she's asked to do with joy and enthusiasm, and manages to be a freakin' sparkling rainbow when she walks into a room?! Aim higher is right." If you ask us, this is what female friendship looks like. Trisha Yearwood is set to perform at this year's Country Music Awards and it's fitting that Music Row reports both women are slated to receive stars on the Hollywood Walk of Fame in 2021.