What Happened To Melissa Morris From My 600-Lb Life?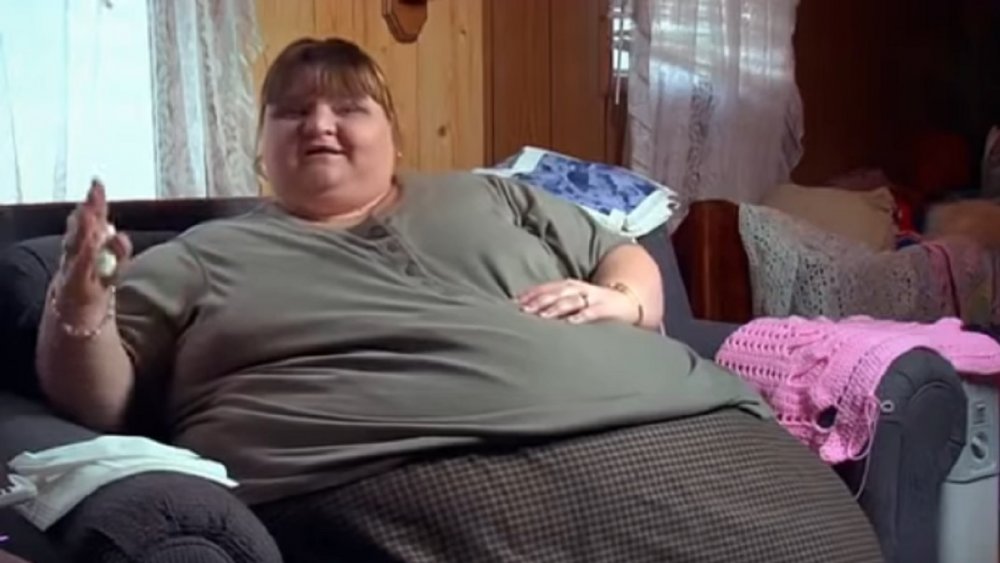 TLC's long-running reality show My 600-lb Life is truly one of a kind. Over more than 100 episodes, Houston-based surgeon Dr. Younan Nowzaradan, more commonly referred to as Dr. Now, has helped morbidly obese patients realize their weight loss goals and finally change their lifestyles for good. My 600-lb Life stays with these brave patients as they struggle to understand the gravity of their actions thus far, and documents their journey, often from the brink of death, to good health.
It's not an easy watch, but the show helps people who are desperately in need. And, in many instances, participants go on to become very successful in life, whether it's as social media stars sharing their stories with the masses, or elsewhere. In the case of My 600-lb Life's first ever star, Melissa Morris, life only really started for her once the show wrapped.
Mellissa Morris set the tone for My 600-lb Life
Melissa Morris was the first patient to ever feature on the show in 2012. As The Cinemaholic notes, the Texas native topped out at 653 pounds when she first appeared in Dr. Now's office. Her loving husband, Chris, found it difficult to say "no" to her and as a result Morris was used to a sedentary lifestyle where she was binge-eating around the clock. She could barely walk or do normal everyday activities and her dreams of having children one day seemed out of reach.
Morris' journey was incredibly inspirational, particularly as she adjusted to Dr. Now's infamously tough diet plan remarkably well. She got her gastric bypass surgery, started exercising regularly and eating properly and, after shedding excess weight, even underwent skin removal surgeries. After seven years with Dr. Now, Morris dropped an incredible 447 pounds, setting the bar for everybody who would feature on the show after her.
My 600-lb Life was just the beginning for Melissa Morris
The good news is Morris did eventually manage to conceive. According to her Instagram page, the reality star has three children. However, in a follow-up Where Are They Now? episode, Morris admitted to finding it tough to keep the weight off, gaining 100 pounds during her pregnancies. However, judging by recent photos of the mother-of-three, Morris is doing much better these days.
Although she's now divorced from Chris, Morris has a great job working with none other than Dr. Now. Elsewhere, she speaks publicly about her weight loss journey in a bid to help others with theirs, and has been a Weight Watchers (or WW as its now known) sponsor for many years, too. It's been a long and tough road for the original My 600-lb Life star, but Morris has risen to every challenge and these days is committed to being a healthy and loving mother to her three kids above all else.