Details You Didn't Know About J.J. Watt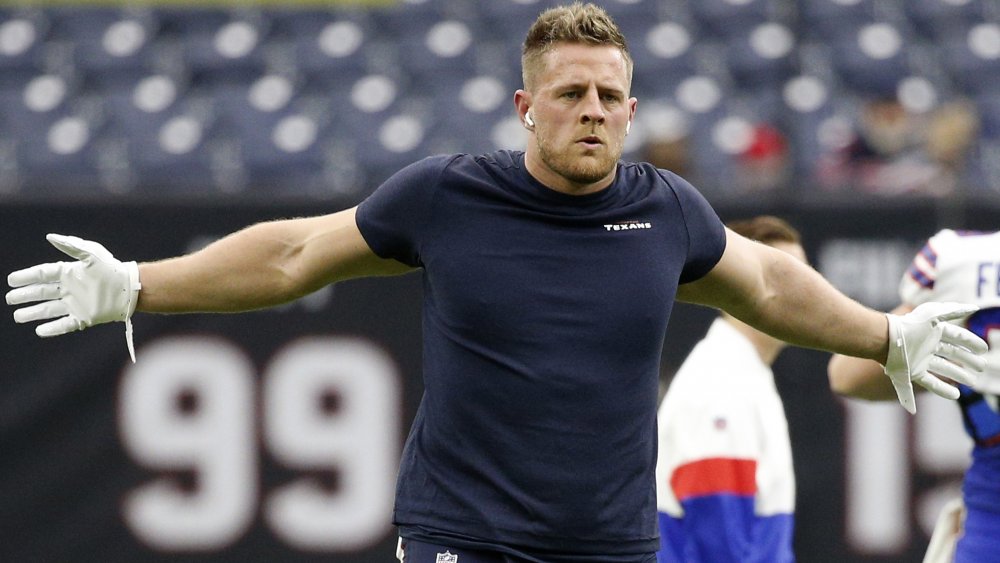 Bob Levey/Getty Images
J.J. Watt is one of the most recognizable names in football. Born in Pewaukee, Wisconsin, the defensive end for the Houston Texans boasts more than an impressive line of stats (via Milwaukee Journal Sentinel). 
Named the NFL's defensive player of the year in 2015, Watt is known for his intense work ethic, insatiable appetite for tackles, and even a sack that he performed without his helmet (via NFL). But, this football star didn't appear destined for the spotlight for most of his life. Joining the University of Wisconsin football team as a walk-on, after spending a season at Central Michigan, Watt wasn't a star recruit from the get-go. His first love was hockey, which he played until the age of seven, before setting his sights on becoming a Badger (via JJW Foundation).
Today, he's making impressive plays on and off the field, along with his countless endorsements and celebrity status that reaches far beyond the city limits of Houston. He was the face of Houston's relief effort to help those impacted by Hurricane Harvey in 2017 and raised more than $37 million for the community (via Sports Illustrated). His personal foundation provides funding to after-school athletic programs for those with insufficient funding and currently works with schools from Texas to Wisconsin (via JJW Foundation).
J.J. Watt is married to a soccer star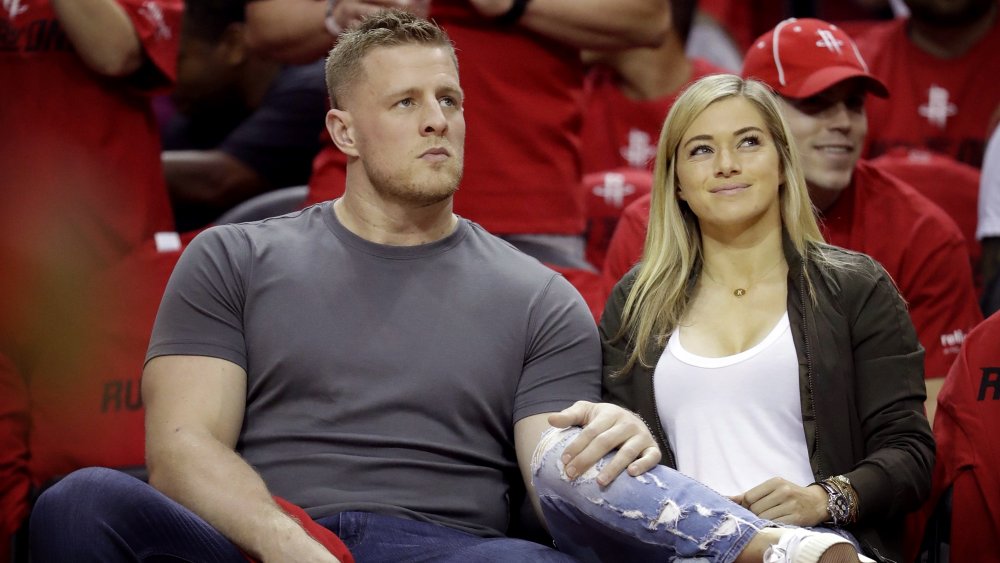 David J. Phillip/AP file
The Pro-Bowler married soccer star Kealia Ohai in February 2020 after dating for nearly four years (via Sporting News). Ohai played for the Houston Dash for five years and now plays for the Chicago Red Stars; she also earned a spot on the U.S. National Team. All of her achievements on the field are impressive, and even more so because the star athlete is blind in one eye. Nonetheless, Ohai continues to impress with her own sporting background alongside her husband's professional sports career.
The duo quarantined together at Watt's home in Wisconsin following their wedding, spending their honeymoon phase in quarantine (via People). But the NFL star noted, "It was great, we really enjoyed it. We got a chance to spend a lot of time together, to train, and just to be together after our wedding."
Sports seem to be at the center of his family life as well. Watt's two younger brothers play in the NFL: Derek plays for the Los Angeles Chargers and T.J. for the Pittsburgh Steelers (via SportsCasting). Sports, success, and philanthropy seem to run in the family.