The Stunning Transformation Of Lauren Alaina
Lauren Alaina was only 15 when she was thrust into stardom on season 10 of American Idol. But the 26-year-old chart-topper, with a big personality and a soft spot for her young fans, was already considered a talent in her hometown of Rossville, Georgia, where she started singing and entertaining at age three. (via All Music and Sounds Like Nashville).
Surrounded by music from a young age, Alaina started competing in talent shows and went on to win various pageants and competitions, inspiring her to more aggressively pursue a career as a country singer (via Ace Showbiz). Unfortunately, the road to stardom was challenging for the beautiful songstress. Feelings of insecurity, her parents' divorce, and being scrutinized and bullied online in her early teenage years resulted in a difficult struggle with an eating disorder that took years of hard work to overcome (via Parade).
The road to health was long, but Alaina has been open and honest with fans about her struggles, and even pulled inspiration from those difficult times to write some of her biggest hits (via Billboard). Posting an adorably awkward tween throwback photo to fans in 2017, she joked, "This is proof that we all have hope" (via Twitter). It's certainly an inspiring story to see how far Alaina has come as a confident and beautiful young celebrity both inside and out.
Lauren Alaina struggled with online bullies and her body image
Alaina was only 16 when her overwhelming talent landed her in second place to fellow country singer Scotty McCreery on American Idol in 2011 (via Ace Showbiz). Before her big win that ultimately catapulted her to superstardom, Alaina, like any contestant would, Googled herself during the competition. Sadly, instead of focusing on the fans and positive feedback, she found an online bully that had dubbed her Miss Piggy and put a pig nose and pig ears on every photo of her making fun of her appearance and weight (via Tennessean).
For an already insecure teen, this criticism was the catalyst that would lead to a years-long battle with bulimia that resulted in an unhealthy 40-pound weight loss (via Sounds Like Nashville). In an interview with the Tennessean she explained, "I think people kind of wondered how I was losing all of that weight. At the time, I was so sick, but I still wanted to be smaller. I'm 5' 8" and was wearing a size 0." A doctor's appointment to treat vocal cord polyps forced Alaina to examine her health, and thankfully with support from family, friends, and professionals, she was able to start a better relationship with food and body image.
Dancing with the Stars inspired Lauren Alaina's journey to fitness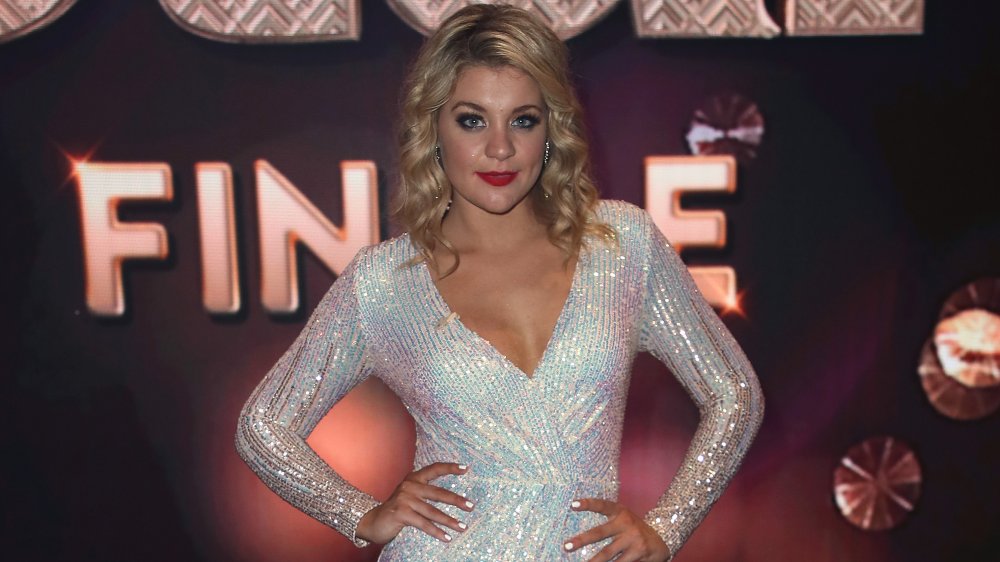 David Livingston/Getty Images
Alaina had been working with nutritionists and trainers for years before joining the cast of Dancing with the Stars in 2019, but the rigorous practices inspired her to take a more intense approach to her fitness regimes. She told US Weekly, "I am getting muscles all over the place." She lost 25 pounds and replaced it with muscle in just four months, even though she also fractured a rib in the process. She joked in the interview, "I might join a dance class in Nashville that is a lot less intense [after the show ends] because I would really like to stop breaking things, but I am enjoying it! I make a lot of jokes, I am very sarcastic but I love it."
Ultimately, the songstress placed fourth in the popular dance competition, but when it comes to her singing career, she's on top. There's a new album, Getting Over Him, released earlier this month, and a new gig as the host of a new Circle TV series, Jesus Calling: Stories of Faith, according to her website. Plus, she'll be presenting at the 2020 Academy of Country Music Awards, per The Boot. Alaina is not only at the top of her career professionally, she also seems to be living her best life personally.