Kamala Harris' Latest Fashion Choice Has People Talking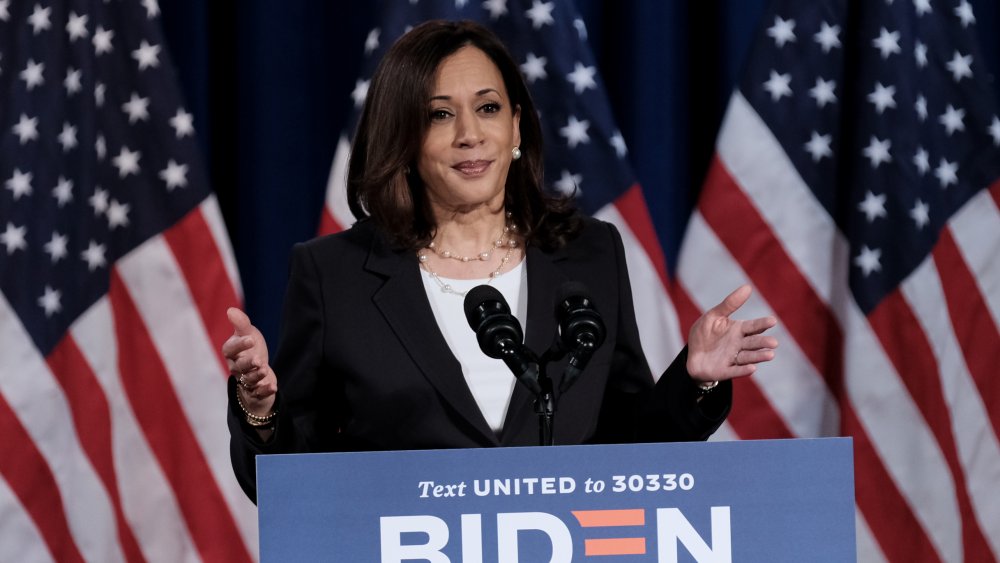 Michael A. Mccoy/Getty Images
Sen. Kamala Harris is already breaking boundaries by being the first woman of color to be nominated for a national office (via New York Times). But Harris is breaking the internet again today, for a different reason. The Democratic vice presidential nominee recently met with emergency service personnel in Fresno, CA, to assess the damage of the devastating wildfires, according to the Fresno Bee. She also spent the day at an evacuation center and stopped by a local fire station, but it was her shoe choice that really seemed to be catching people's attention. Harris wore a casual look that included jeans, a white t-shirt, green jacket and iconic Timberland boots. 
Social media lit up when they saw Harris rocking her "Timbs." One Twitter user wrote, "This is called swagger!" Another wrote, "Kamala THEE Harris in Timbs. I repeat, our next Vice President in Timbs." However, some weren't as enthusiastic about her style choice saying these shoes couldn't be genuinely called authentic Timberlands. They wrote, "I KNOW yall not excited about a politician in BONELESS TIMBS."
This isn't the first time Kamala Harris has created a splash with her footwear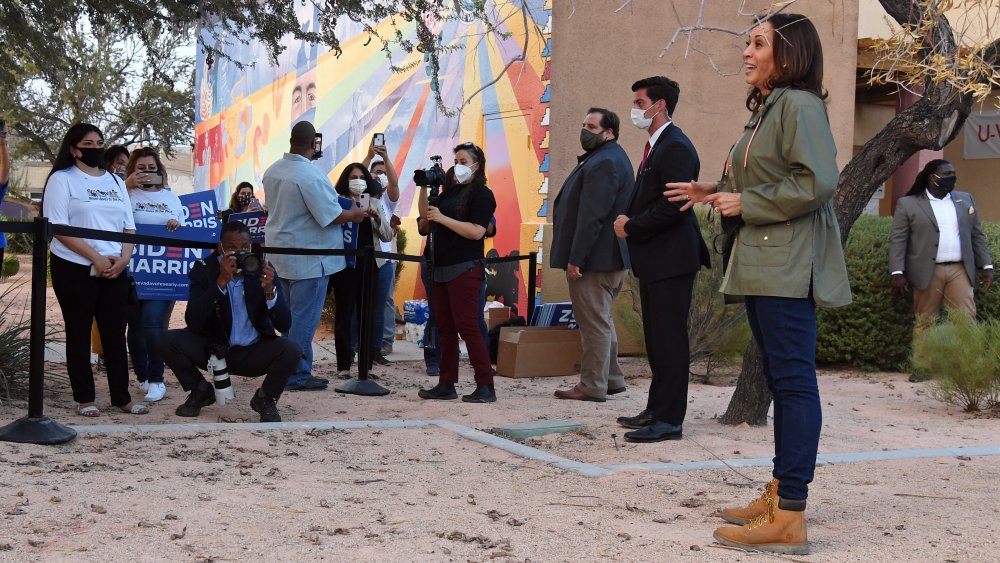 Ethan Miller/Getty Images
Harris also made waves when she hit the presidential campaign trail in Milwaukee wearing Converse sneakers, according to InStyle. The viral video of her stepping out in her Chucks has been viewed millions of times. One fan of the look wrote, "This is minuscule in the grand scheme of things, but seeing @KamalaHarris campaign in Converse makes me smile."
And if you think her love for sneakers is just for show, it isn't. She doesn't own just one pair of the classic shoes, InStyle reports she has an entire collection of them. This may not seem like a big deal, but you likely wouldn't have seen this decades ago. Women weren't even allowed to wear pants on the senate floor until 1993, according to the Washington Post. So it appears Harris is making history in many ways.