Why Everyone's Talking About Taylor Swift's Look At The ACMs
"But if I just showed up at your party. Would you have me? Would you want me?" croons Taylor Swift in the country ballad "Betty." The answer is, "Yes, Taylor — we always want you at our party." And when it comes to parties, Swift killed it again at the 2020 Academy of Country Music Awards. Even though she hasn't appeared at the awards show in five years, and hasn't performed one of her songs since 2013, the country world seemed more than willing to open their arms to one of their beloved young stars (via People).
Unlike past years, where Swift showed up in eye-catching, sparkling gowns, this year she went for a rather understated and casual alternative to the typical awards show dress. People reported that her look was all Stella McCartney. And while the singer still added some sparkle with a long-sleeved, high-necked sequin top in a flattering burgundy color, the head-to-toe was a more modest one, not revealing much skin at all. Instead, Swift highlighted her fabulous figure with immaculately tailored, high-waisted tan capris that brought some of the grit and accountability fans love from the "Betty" lyrics (via Genius). 
The stylish trousers also showed off a feminine subtlety with their detailing near the base of the tapered leg. Swift paired the look with summer sandals in black and a barely-there heel. In the words of one happy fan, "THIS LOOK IS EVERYTHING TO ME #ACMawards" (via Twitter).
Taylor Swift's look was self-styled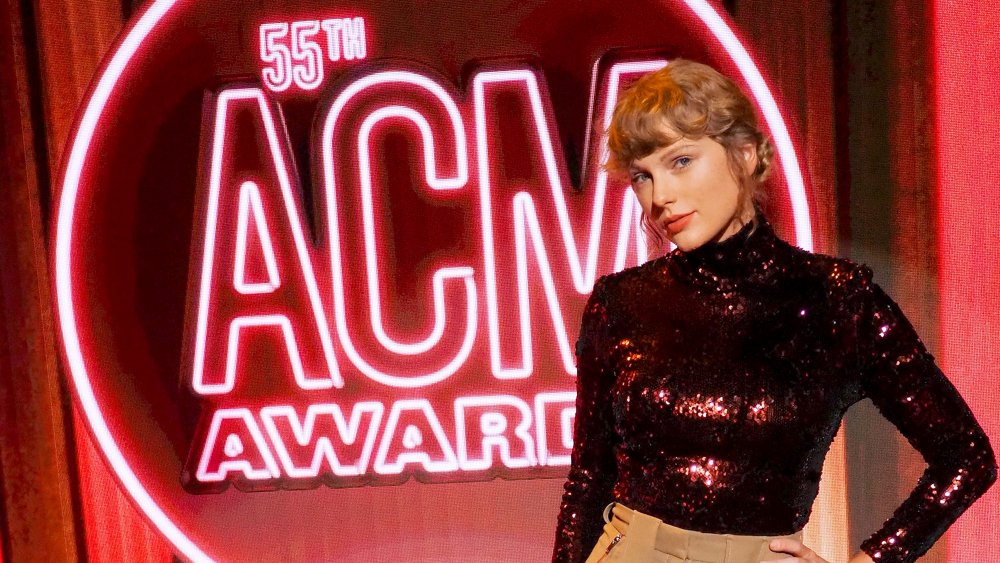 Tasrightsmanagement2020/Getty Images
Described by People as having done her own hair and makeup for the award show, as well as her own styling, it seems the top-selling artist really wanted to add a personal touch to this appearance — one that undoubtedly pleased her fans. Her curly hair was pulled back into a low bun with a few loose tendrils, while her makeup was subtle and natural looking and featured a warm, orange-red lip (via Marie Claire). 
It's thought that the different look may draw in part from her discussion of her hit single, "Betty," which is sung from the perspective of a 17-year-old boy, who is feeling insecure as he loses his first love. Says Swift on the backstory of her song, "I've always loved that in music you can kinda slip into different identities and you can sing from other people's perspectives. So that's what I did on this one" (via Twitter). Swift's tough-yet-feminine styling definitely gives a nod to a different character she might be exploring in the song.
In the words of another Swiftie, we definitely agree, "#ACMawards I've missed her! SHE LOOKS STUNNING OF COURSE!" (via Twitter). This appearance marks the first time Swift has performed the song "Betty" since the surprise July release of Folklore, an album that has won raves from critics and fans alike. Of her buzz-worthy return to the ACMs, Swift wrote, "Guys I don't know anything but I know I miss youuuuu" (via Twitter).
It's no surprise that Taylor Swift chose to wear Stella McCartney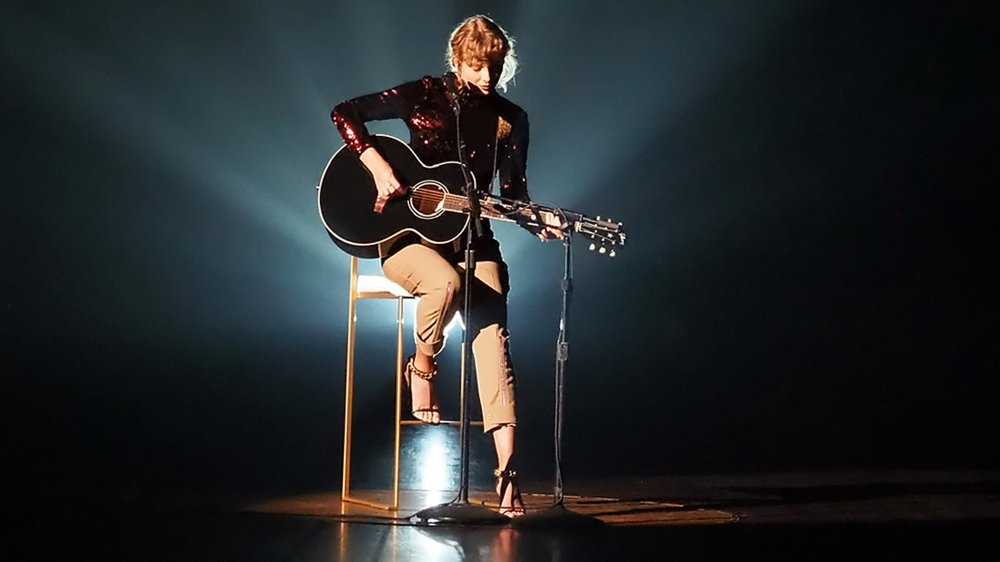 Tasrightsmanagement2020/Getty Images
When it comes to her fashion, Swift has certainly come a long way since her first appearance at the ACMs all the way back in 2006. Just 16 years old at the time, she walked the red carpet in a colorful, handkerchief-style dress with dark brown cowboy boots, per Cosmopolitan. And who could forget her signature blonde ringlets that completed each look? But since her early years, Swift's look has certainly evolved with looks that are more polished and sophisticated, as is befitting the budding queen of country/pop.
Her decision to wear head-to-toe Stella McCartney for this year's ACMs should come as no surprise to anyone, as the singer and designer enjoyed a collaboration in 2019 — and even opened up a pop-up store together, featuring a merchandise collection in support of Swift's  album, Lover (via Fashionista). Just how did the two first pair up? Turns out, they met at one of Swift's concerts in London (via Vogue). "When I started spending more time in London, Stella and I would go on walks, have cocktails, and talk about life," Swift said. "So when it came time to write this album, I name checked her in one of my songs, and when I played her the album, I said, 'Should we do something?'"  
At the time, Swift remarked of the collaboration on Twitter: It's been SO much fun to work/dream up cute stuff with my friend @stellamccartney to create a line inspired by my new album Lover." And the two have seemingly remained friends, with Swift choosing to wear McCartney's designs on her big return to the ACMs.