Why Everyone's Loving Miranda Lambert's ACM Awards Look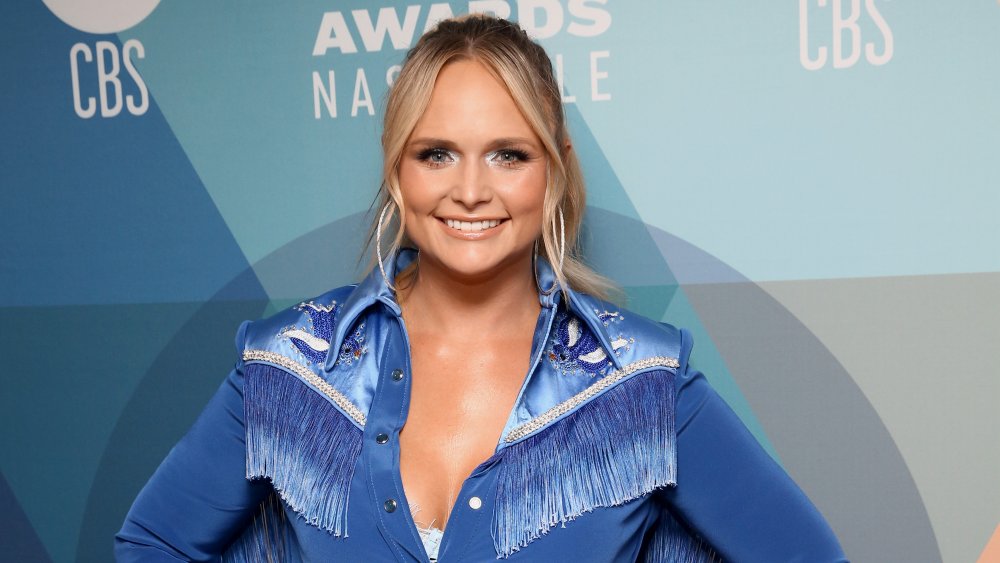 Terry Wyatt/acma2020/Getty Images
Miranda Lambert will "turn the light on in my soul, and keep a bluebird in my heart," in her hit song Bluebird, (via Taste of Country). Bringing us back to the heart of country music, Lambert performed an acoustic version of the hit single with cowriters Dick and Natalie Hemby at this year's ACMs (via People). The empty seats in what would normally be a packed venue added to the haunting melody and soulful performance. Simple and unplugged, Lambert's outfit appeared to match the theme with a blue Western shirt and embellished black jeans. 
Spotlights illuminated Lambert's healthy summer glow, reminiscent of sunshine and country picnics. She completed her look with a tousled ponytail and large hoop earrings. A sparkle of blue eye shadow added a little pop to her fresh-looking face. And if you looked closer, her attire had a surprising flash of glamour.
Miranda Lambert wore a bluebird on her shoulder
Lambert not only has a figurative bluebird in her heart, but she had two literal bluebirds on her shoulder. Clearly custom embroidering, the bluebird theme was tied together in both her blue makeup and shirt. There was a hidden shine and sparkle in the overall darkness of her outfit with what appeared to be crystal-detailing of her pants and a sparkling chunky belt. Like the lyrics of her song, she seemed to be telling us that there's brightness within the darkness.
Lambert noted that the song itself was inspired by a well-known Charles Bukowski poem where he describes his inner-bluebird as a metaphor for his inner hope and creativity through a darker period of time (via New Break). Lambert was experiencing her own hope as a newlywed while the song was written, and fans can embrace the same message as this performance shared a little light in a darker 2020.
One Lambert fan summed it up best when they shared, "Love the song, Love the outfit, Love the woman" (via Twitter).