The Truth About Jodie Comer And Sandra Oh's Relationship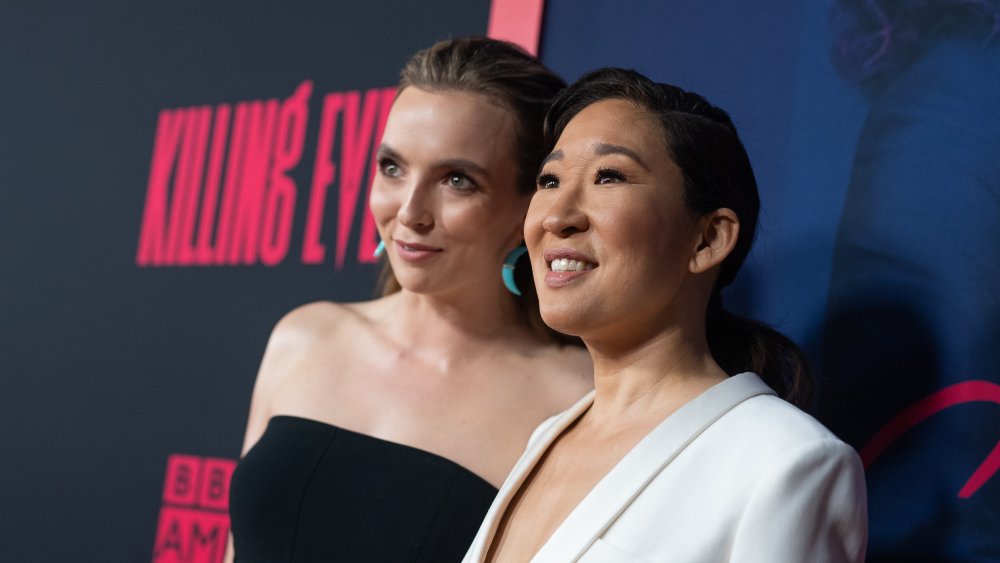 Emma Mcintyre/Getty Images
They kissed. They tried to kill each other. They shared scintillating discussions over shepherd's pie. As former MI6 agent Eve Polastri and Russian assassin Villanelle, Killing Eve stars Sandra Oh and Jodie Comer are completely obsessed with each other. But are they friends in real life?
It's a valid question considering the two are up against each other for Outstanding Lead Actress in a Drama Series for the second year in a row at this year's Emmys. And if you really want to speculate about potential sources of drama between these fiery actors, keep in mind that Grey's Anatomy alum Oh has been in this biz longer than Comer, garnering 12 Emmy nominations in the last 15 years with nary a win, according to the award show's official site. Meanwhile, Comer has been nominated for two Emmys so far and took home a trophy in 2019.
Jodie Comer and Sandra Oh have nothing but love for each other
If you were expecting Sandra Oh to fly into an Eve Polastri-like rage at last year's Emmys, think again. While the actor did jump out of her chair when Gwyneth Paltrow announced Jodie Comer as the winner, it was to give Comer a heartfelt hug (via HuffPost). "What a nice, genuine moment between Sandra Oh and Jodie Comer," posted Variety's Elizabeth Wagmeister (via Twitter). She added, "so nice to see women supporting women." Comer returned the love, letting Oh know how much she appreciated her before taking the stage. "I just didn't expect it," Comer admitted to Entertainment Tonight. "The women in that category are so phenomenal, and I felt very lucky to be there."
In truth, these two female leads have had an undeniable connection from the beginning. "When we first met and had our first read together, I knew we had good chemistry," Oh observed (via Daily Mail). "I could just tell because of the way we were listening together and I could actually feel the way we were reacting to each other." The duo are often seen holding hands and hugging (via PopSugar), and Oh even brought Comer as her date to the 2019 Golden Globes (via Yahoo! Entertainment). It was there she made history as the first person of Asian descent to host the show and also win multiple Globes, clinching her second one that year for her role in Killing Eve (via The Atlantic).
"Jodie and I have a profound relationship," Oh noted earlier this year (via The Sun). "At this point, having done three seasons, we trust each other when the magic is happening. That's how we work it."