What You Don't Know About Ruth Bader Ginsburg's Kids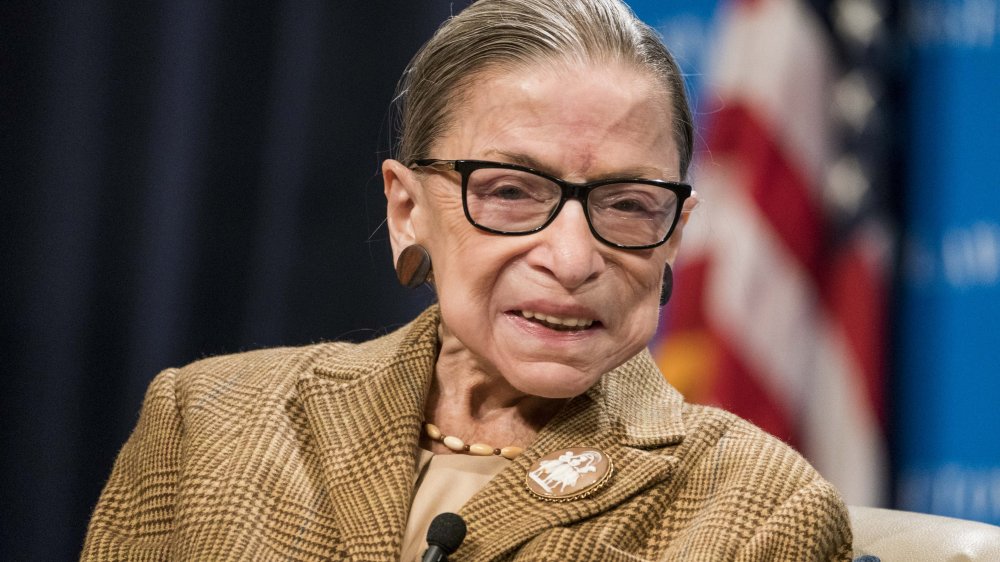 Sarah Silbiger/Getty Images
Supreme Court Justice and consistent champion of women's rights Ruth Bader Ginsburg died on Friday, September 18th, 2020 at the age of 87, according to CNN. Appointed in 1993 to the Supreme Court by then-president of the United States Bill Clinton, Ginsburg died from complications of metastatic pancreatic cancer. Ginsburg (dubbed "Notorious R.B.G." in recent years by her younger fans) was admired for her liberal viewpoints, long-established commitment to feminist thinking, and track record of voting progressively on hot topic issues like same-sex marriage, abortion rights, and immigration. She leaves behind two children, Jane and James. Her husband, Martin Ginsburg, died in 2010.
Being a loving mother and part of a caring family was important to Ruth Bader Ginsburg. According to Refinery29, Ginsburg gave birth to her first child, Jane, in 1955 — right before she and her husband were entering law school. The outlet states (via an interview given to The Atlantic) that Ginsburg said having Jane around during this time gave her "...better balance, better sense of proportions of what matters, I felt each part of my life gave me respite from the other."
Both the Ginsburg children are very successful
As Jane Ginsburg was born to two Harvard Law graduates, into a life surrounded by law text books and influential thinkers, it's fitting that she grew up to become a prominent lawyer herself. Refinery29 states that Jane followed in her mother's footsteps, attending Harvard and serving on the Harvard Law Review just as her mother did all those years ago. After graduating with degrees from Harvard Law, the University of Chicago, and the Université de Paris II, Jane is now the faculty director of Columbia's Kernochan Center for Law, Media, and the Arts. The prestigious University describes Jane Ginsburg as "a renowned authority on intellectual property law and a staunch defender of authors' rights."
Ruth Bader Ginsburg also has a son, James, born in 1965. While James did also attend law school, he decided to pursue a different path and became a record executive, eventually going on to found Cedille Records, a Chicago-based not-for-profit label that supports classical musicians in the city. In an article penned for The Hollywood Reporter, James himself wrote that Ginsburg's pregnancy with him was a happy surprise, as they had been told his father Martin was infertile after a battle with testicular cancer. During James' childhood, Ginsburg found classical music to be one of the best ways to calm her son, whom she jokingly described to friends as a "lively child." 
It seems Ruth Bader Ginsburg's legacy of standing up for others rubbed off on her children, who honor her through their work to this day.