The Truth About Ruth Bader Ginsburg's Relationship With Bill Clinton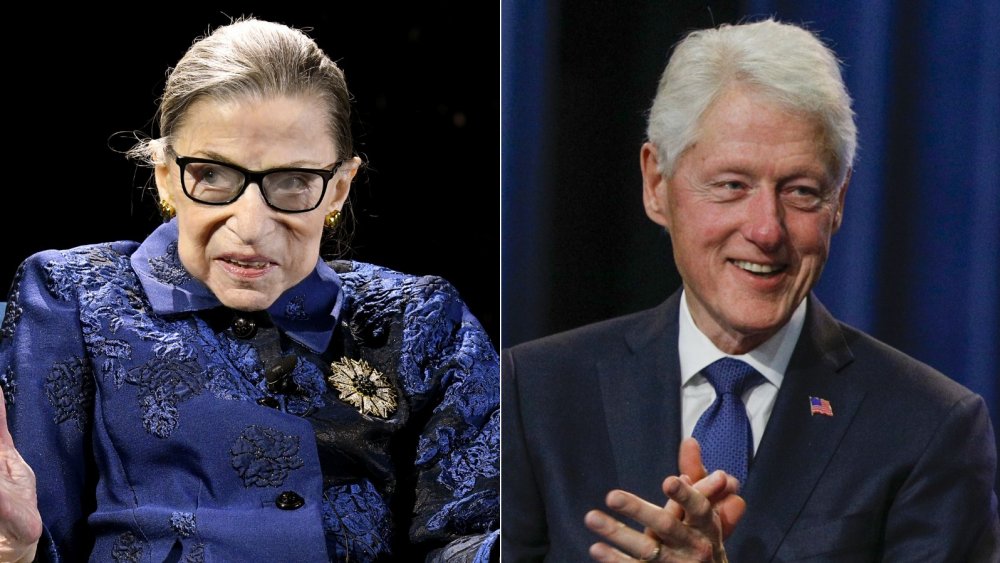 Eugene Gologursky, Bill Pugliano/Getty Images
Ruth Bader Ginsburg, the second woman ever to serve on the Supreme Court and a pioneer for gender equality, passed away Friday, September 18, from metastatic pancreatic cancer. Heartfelt tributes to Justice Ginsburg are pouring in, including a statement from former President Bill Clinton, who appointed Ginsburg to the Supreme Court in 1993 (via ABC). Clinton's statement spoke to the equal rights leader's character, saying, "She was a magnificent judge and a wonderful person — a brilliant lawyer with a caring heart, common sense, fierce devotion to fairness and equality, and boundless courage in the face of her own adversity."
Clinton noted the enormous impact Ginsburg had on our nation by adding, "Her 27 years on the Court exceeded even my highest expectations when I appointed her. Her landmark opinions advancing gender equality, marriage equality, the rights of people with disabilities, the rights of immigrants, and so many more moved us closer to 'a more perfect union.' Her powerful dissents, especially her ringing defense of voting rights and other equal protection claims, reminded us that we walk away from our Constitution's promise at our peril, And she did it all with kindness, grace, and calm, treating even her strongest adversaries with respect."
Former President Clinton's comments illustrate his admiration for Justice Ginsburg, and a look inside their relationship reveals the two had a bond that was built on respect.
Bill Clinton knew Ruth Bader Ginsburg was the right woman for the job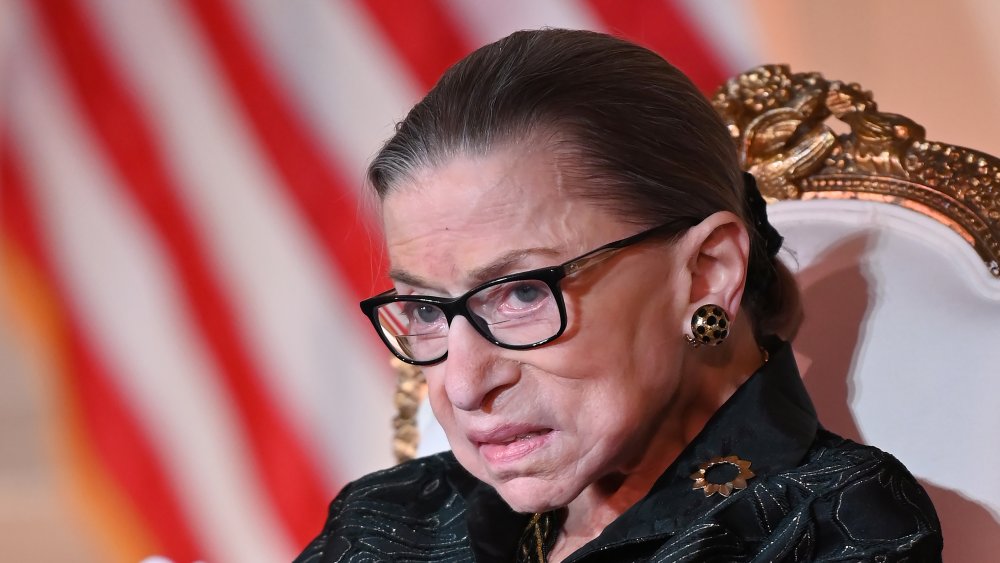 Shannon Finney/Getty Images
In a 2019 conversation at Georgetown University Law Center, Clinton offered some insight into his first meeting with Ruth Bader Ginsburg. He assessed her as "completely on the level" and said he "knew after about 10 minutes that I was going to give her the job," (via The New York Times). Clinton valued Ginsburg's honesty in sharing some criticism of the Supreme Court's broad ruling on abortion rights, despite her pro-choice stance. Clinton reportedly said, "She made a heck of a case. We were just two people alone, and she was telling me what she honestly thought."
According to ABC News, Ginsburg found Bill Clinton just as relatable. The women's rights leader described him as easy to talk to, noting, "I've had the experience with some men that they have some discomfort talking to a woman. It was not that way talking with President Clinton."
Friday evening, former president Clinton posted a photo on Twitter of himself and Justice Ginsburg on the day he announced her 1993 Supreme Court nomination. On that occasion, per The Washington Post, Bill Clinton called Ginsburg a "healer" and noted, "Throughout her life, she has repeatedly stood for the individual, the person less well-off, the outsider in society, and has given those people greater hope by telling them they have a place in our legal system." Clinton's appointment of Ruth Bader Ginsburg to Supreme Court Justice led to 27 more years of her honorable pursuit of those efforts, a journey that will be remembered long after her death.