Jimmy Kimmel's Controversial Joke At The Emmys Has People Upset
Jimmy Kimmel has been losing possible Emmy Awards to John Oliver in the category of Outstanding Variety Talk Show for years now. Since Oliver clinched the award for his work on Last Week Tonight five years ago, he hasn't let go of it. In 2016, Kimmel invited Oliver on Jimmy Kimmel Live to celebrate Oliver's win. "I'm just so happy to be nominated with so many other great shows," Oliver told Kimmel five years ago. To which Kimmel shot back, "Can I just say, I don't think you really mean that." "Yes I do," Oliver insisted. "No, you don't," Kimmel replied. Friendly rivalry? Maybe. Kimmel has two Emmys of his own, both for a Live  Outstanding Variety Special. But while the late show talk host has been up for the Oustanding Variety Talk Show Category 10 times, he's yet to clinch it. Suffice to say, he must be chomping at the bit (via Television Academy). 
 2020 might have been his year. Except for the fact that Kimmel was up against John Oliver, again. This time, during a first-ever socially-distanced show, Oliver accepted his Emmy amidst a rain shower of gold confetti and from an exploding magic box, which Oliver described as "technically a small bomb." What was in Kimmel's magic box? A participation Emmy, and a Young Sheldon DVD set. "That's way better than a stupid Emmy," Kimmel said. Even Kimmel's three-year-old son, Billy, could tell you that that's code for: Kimmel would rather not spend time thinking about it.  
How fans are reacting to Jimmy Kimmel's ICE joke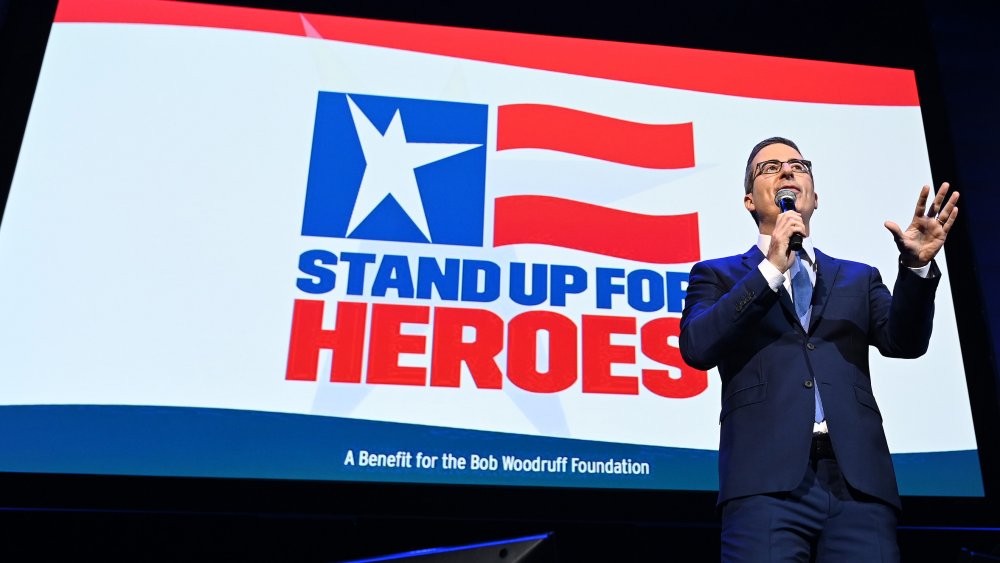 Bryan Bedder/Getty Images
While the 2020 Emmys host didn't have to hand Oliver his Emmy in person, he did go out of his way to take a swing at him. Sure, Kimmel congratulated Oliver on his win. But after doing so, the host of Jimmy Kimmel Live looked his virtual audience in the eye and said, "I will be reporting him to ICE [Immigrations and Customs Enforcement] tomorrow." The joke seems out of character for Kimmel, who has used his show in the past to criticize President Trump's immigration reforms, and for throwing "Welcome to America" ceremonies (via Time). "We seem to have forgotten that this is a nation of immigrants — people who came here because they believe they can build a better life. Every week, immigrants from all over the world take the oath of citizenship in courthouses, libraries, auditoriums all across the country without much pomp or circumstance," said Kimmel, "I think becoming an American shouldn't look like a visit to the DMV."
Twitter, however, is outraged. "Not Jimmy Kimmel making an ICE joke ... kids in cages and women being forced to have hysterectomies is not a joke," shot back one Emmys viewer (via Twitter).  Another tweeted that Kimmel should be "kicked off the show." A third incensed tweet, linking to an article reporting inhumane conditions at ICE facilities, noted, "Jimmy Kimmel joking about ICE is in incredibly poor taste — if you don't know what's happening right now in ICE facilities, you should."
Oliver hasn't yet commented on Kimmel's joke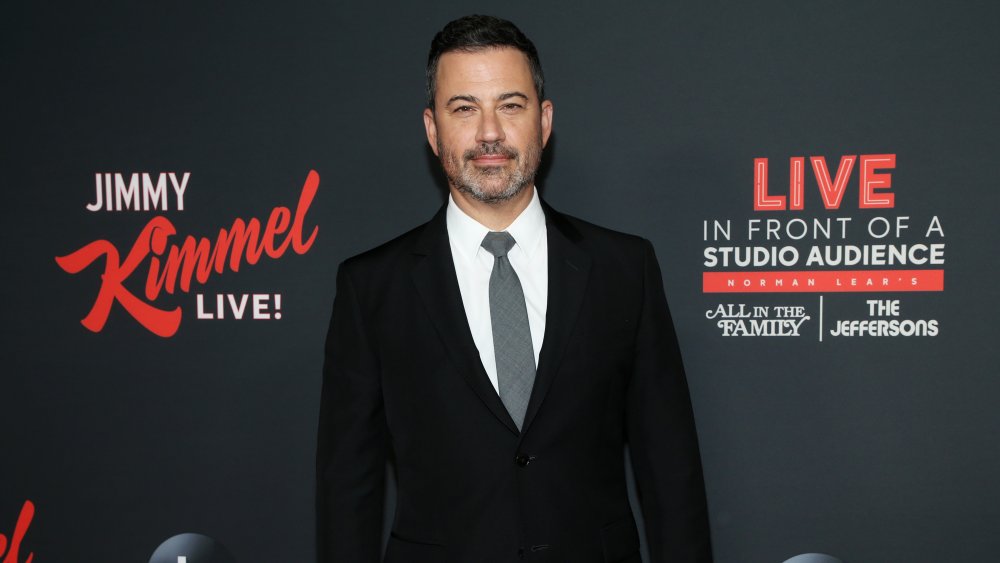 Phillip Faraone/Getty Images
The Twitterverse isn't, of course, particularly concerned about John Oliver. Oliver got his U.S. Citizenship in December 2019, after over a decade of living in the country (via The Hollywood Reporter). In 2020, he went on several talk shows to talk about how difficult the path to citizenship had been. "I mean it's really bad," he told Jimmy Fallon in June (via YouTube). "And it's bad for me ... that's what I guess is the scary canary in the coal mine, it's bad for a white man coming from Britain who has the help of first Comedy Central and then HBO lawyers." In February, the five-time Emmy-award winner told Stephen Colbert that he couldn't quite believe he'd actually achieved citizenship. "Even the day of the ceremony, I kind of thought it was going to be a trap," Oliver said. "There was part of me that literally thought they would open the door and there'd just be plastic sheeting on the ground like in Goodfellas and just Jared Kushner sitting in a swivel chair stroking a hairless cat," he said. "That would've made more sense to me than the thing I wanted happening."
His 2020 press circuit is far from the first time that John Oliver has criticized the US immigration system. He has also used his show to expose the injustices in ICE immigration courts (via YouTube). And he has pointed out how dysfunctional the United States' legal immigration system can be (via YouTube). Oliver has yet to comment on Kimmel's joke.