Schitt's Creek Just Did Something No Other Show Has Ever Done
Jamie Mccarthy/Getty Images
The show may be called Schitt's Creek but they're hardly up their namesake body of water without a paddle ... much less without an award to their name. In fact, the show pretty much swept the 2020 Emmys, winning absolutely every darn award it possibly could. In the show's sixth and final season, it sure went out with a bang — in fact, with a bigger bang than The Big Bang Theory, which only nabbed three Emmys in its final year (and only has 10 in all).
While everyone knew the 2020 Emmys were going to be something new and different in every way, this is something nobody (with the possible exception of the show's cast) saw coming. Who could have guessed that for the first time ever, one show would manage to completely dominate its entire category and claim every single award for comedy? According to Just Jared, Schitt's Creek's feat is something entirely unexpected, and it's not anything we're likely to see again anytime soon, either.
What Emmys did Schitt's Creek win?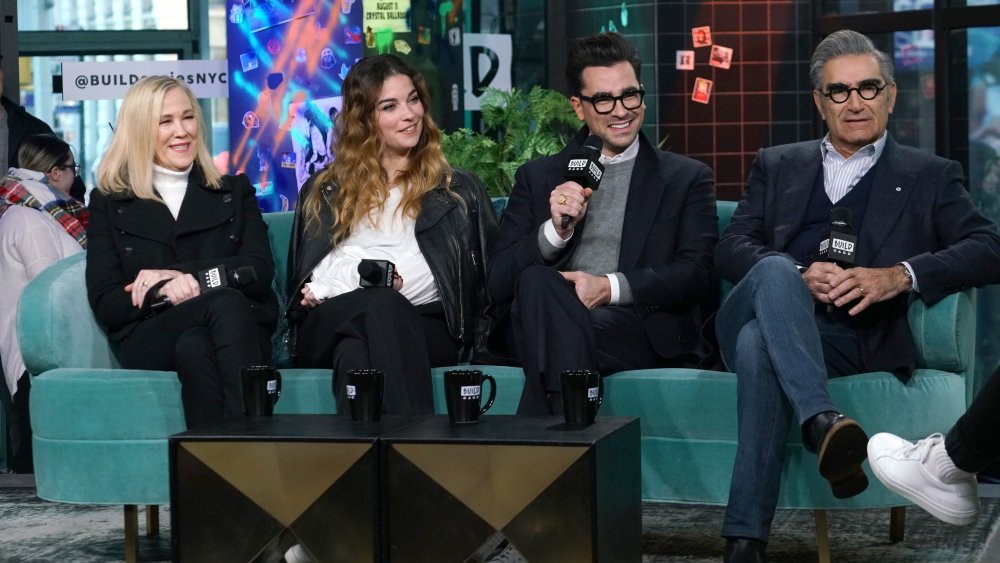 Manny Carabel/Getty Images
According to The New York Times, the Schitt's-storm kicked off with Catherine O'Hara, who accepted her first-ever acting Emmy by saying "This is so cool ... I will forever be grateful to Eugene and Daniel Levy for the opportunity to play a woman of a certain age — my age — who gets to fully be her ridiculous self." Eugene Levy himself was the next to win for best actor, and a kilt-clad Dan Levy picked up his own statuette for best supporting actor. Annie Murphy rounded out the quartet of acting awards by picking up best supporting actress, and then it was on to best writing for a comedy series (Dan Levy and his knees, once again, took center stage for the Schitt's Creek episode "Happy Ending"), best directing for a comedy series (Andrew Cividino and, again, Dan Levy, for "Happy Ending"), and, of course, best comedy (via The New York Times). The show had previously picked up two Emmys for casting and costumes at the off-camera Creative Arts awards last week.
While fans may miss this well-beloved series, it's likely that the rest of Hollywood's funny-makers are relieved that there may be a few awards for them to claim next year!